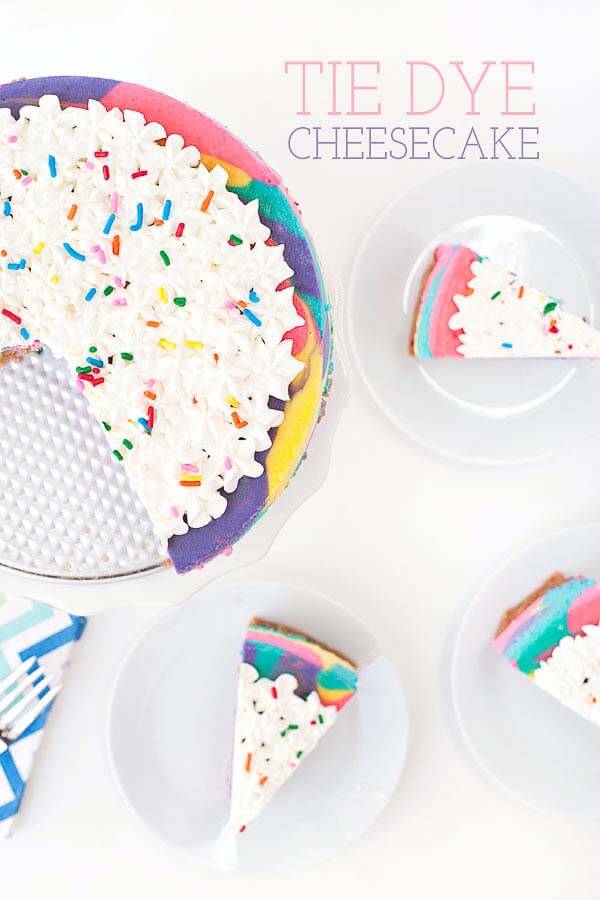 After a pretty emotional weekend, I thought I would kick off this week with something fun, bright and full of sprinkles. This Tie Dye Cheesecake definitely fits into all of those categories.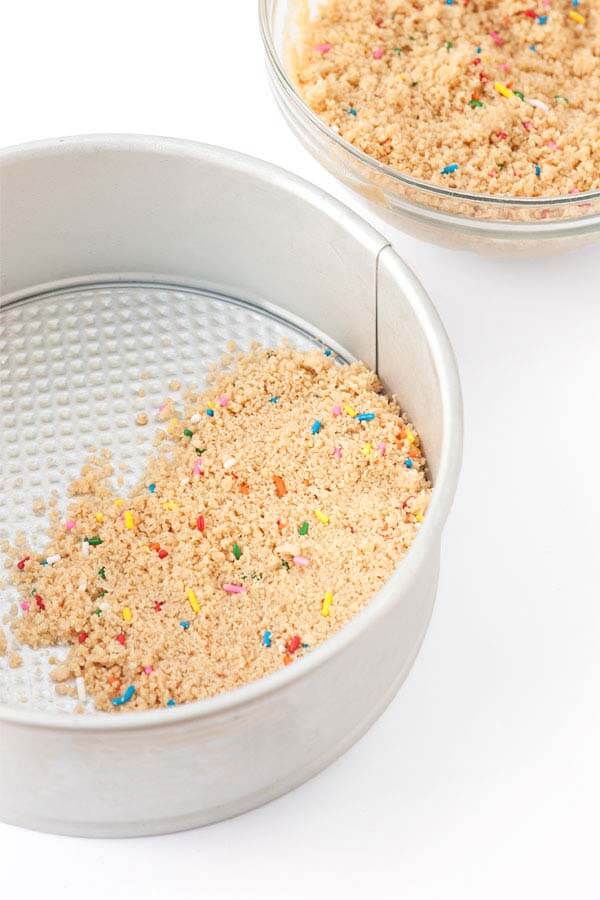 I feel like cheesecake is one of those things you either love or your hate. There are not many people out there who have a "meh" feeling about cheesecake. But no matter how you feel about eating cheesecake, you have to admit this one is pretty to look at.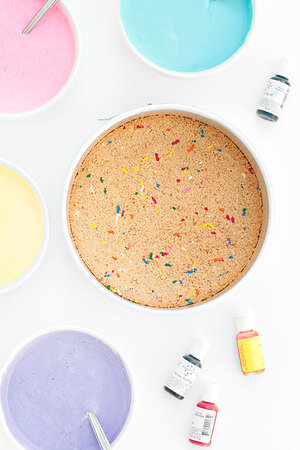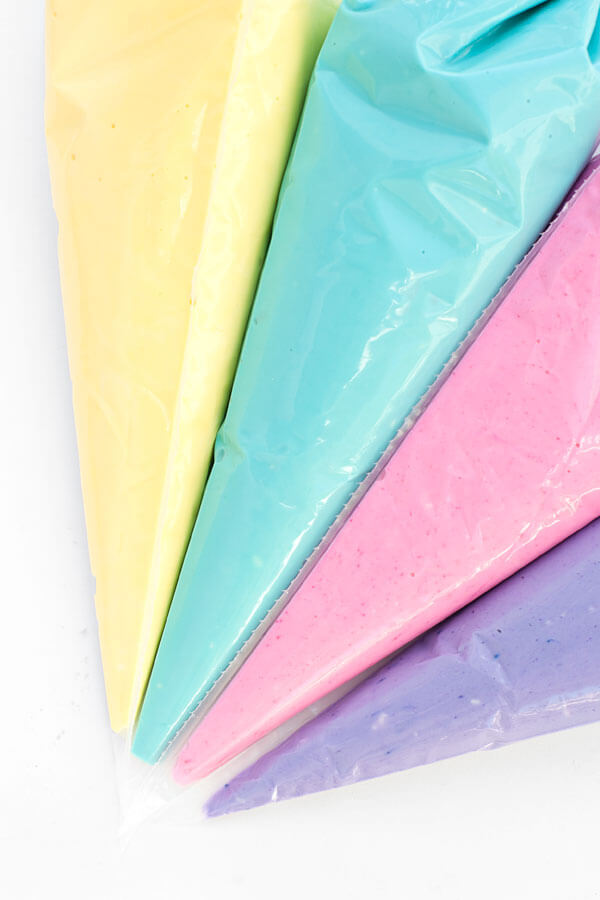 But if you happen to be one of those people who love cheesecake (like me) I think you will be pretty happy with this recipe. I switched out the traditional graham cracker crust for a confetti Golden Oreo one, and topped the whole thing off with a simple whipped cream and sprinkle topping! It's simple, delicious and pretty! What more could you ask for?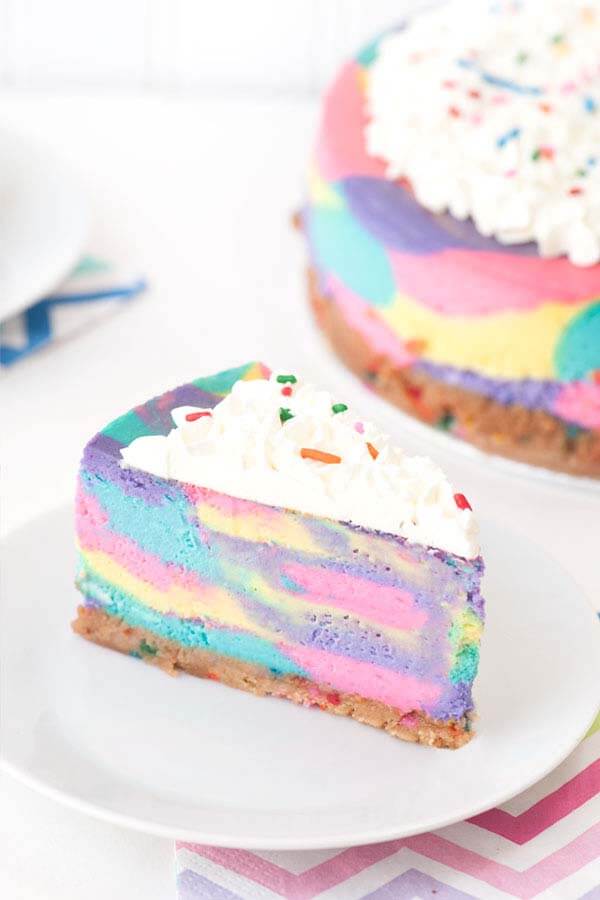 TIE DYE CHEESECAKE
Ingredients
CRUST
2 cups crushed Golden Oreos

3 tablespoons melted butter

1 tablespoon sprinkles
FILLING
2 pounds cream cheese, room temperature

1 1/3 cups sugar

4 eggs

1 tablespoon vanilla extract

1/4 teaspoon salt

2/3 cup sour cream

2/3 cup heavy whipping cream

Food coloring
TOPPING
1 cup heavy whipping cream

1-2 tablespoons powdered sugar

Sprinkles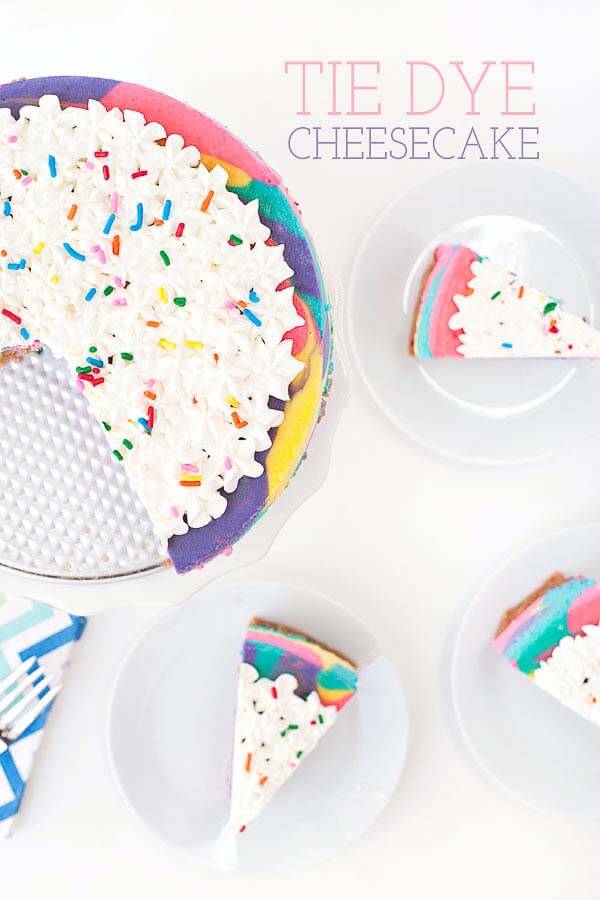 Instructions
For the crust
Preheat the oven to 350 degrees.

Prepare a 9" springform pan with cooking spray.

In a small bowl combine Oreo crumbs and melted butter until throughly combined.

Press crumb mixture into the bottom of the pan and about 1/2 inch up the side.

Bake 12 - 15 minutes until the crumbs are set.
For the filling
Preheat oven to 325 degrees.

In a stand mixer, fitted with a paddle attachment, cream cream cheese until light and fluffy.

Add sugar and beat on high for an additional 3 minutes.

Add vanilla extract and salt and mix until just combined.

Add eggs, one at a time, scraping down the side of the bowl with a spatula after each addition.

Add sour cream and mix until combined.

Add heavy cream and mix until combined.

Divide the batter into four bowls. Add a few drops of food coloring to each one.

Transfer colorful batter to four separate pipping bags. Twist the tops and and place them in a large bowl.

Starting with one color, cut the bottom of the pipping bag and place a few generous dollops of batter all over the crust. Repeat with another colors (making sure you evenly distribute them) until you reach the top of the pan.

Once your dollops are filled to the top, stick a knife down into the batter and make a swirling like motion all over the pan.

Wrap the outside of your springform pan in aluminum foil.

Place the pan inside a high-sided roasting pan.

Create a water bath by filling the roasting pan with hot water until you reach halfway up the side of the cheesecake pan.

After an hour and a half, turn the oven off and crack the door open 1 inch.

Leave the cheesecake like this for 1 hour.

After an hour, take the cheesecake out of the oven and place aluminum foil over the top (making sure the foil does not actually touch the cheesecake).

Place in the refrigerator for 4 hours.
For the topping
In a stand mixer fitted with a whisk attachment, mix heavy whipping cream on a high speed until it begins to thicken.

Add powdered sugar and whip until the cream has become firm.

Put whipping cream into a prepared piping bag with a star tip.

Pipe stars all over the top of the cheesecake.