A CLASSIC VANILLA CAKE SLATHERED WITH A LEMONY BUTTERCREAM AND A DELICIOUS HOMEMADE LEMON CURD.

Lemons are one of the few fruits that are in season all year long. That means you can make delicious lemony desserts whenever your heart desires. And let me tell you, there are a LOT of great lemon desserts out there.
And today's recipe is at the top of that lemon dessert list. It is a tender vanilla cake filled with the most delightful lemon curd and then finished off with a fresh buttercream.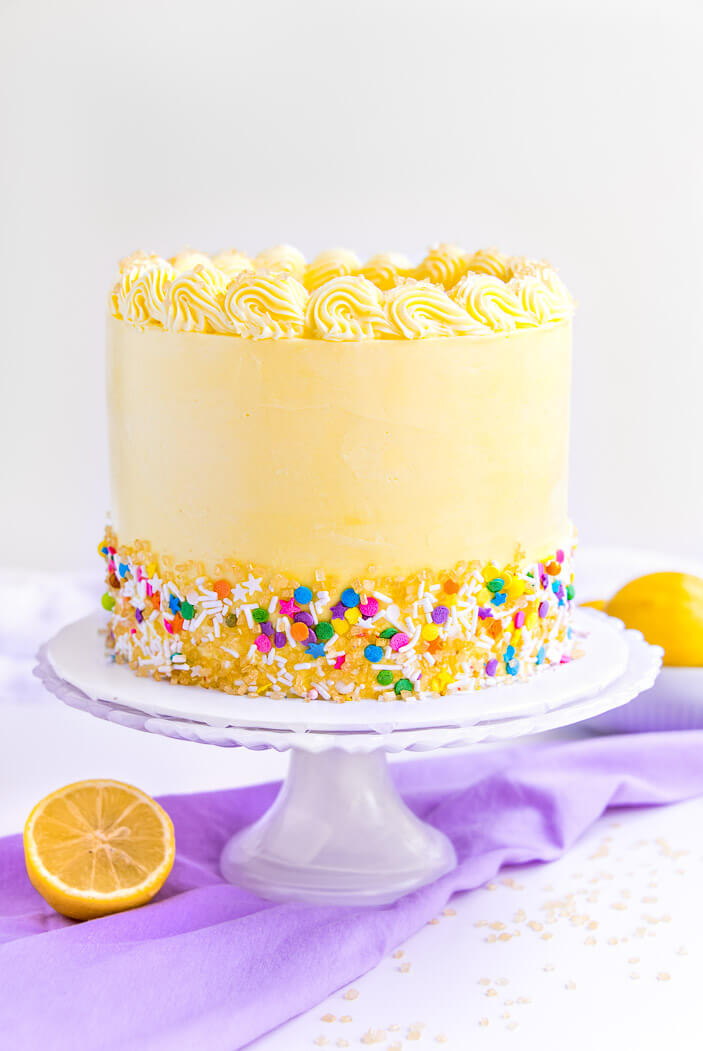 Now you might be thinking – that sounds nice, but…WTF is lemon curd? Well, I'm so glad you asked because I am going to tell you.
WHAT IS LEMON CURD?
Lemon curd is a decadent dessert topping or spread. In this recipe, we are using it as a filling. It is very easy to make and comes together pretty quickly on the stove. In order to use it in this cake, you do have to let it cool in the fridge until it sets. But it is totally worth the wait.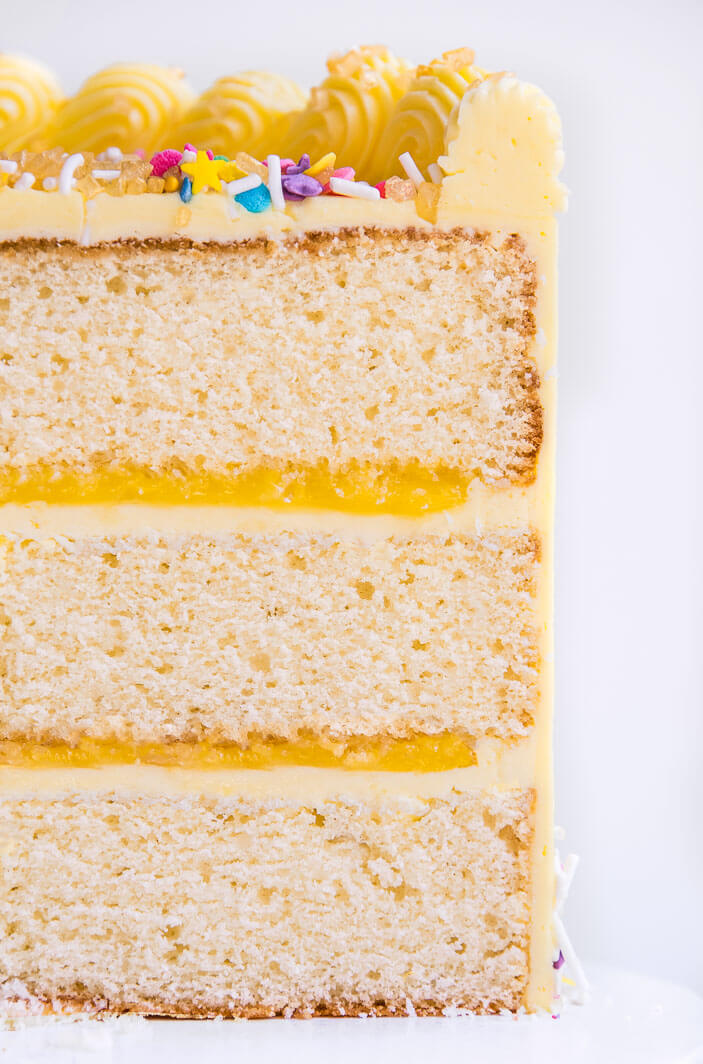 So now that we have established that Lemon Curd is delicious, how do we add it to our cake? Well, that's a little more complicated. You see, Lemon Curd falls under what I like to call the "squishy" filling category. These fillings don't have enough strength to support a second or third layer of cake going on top of them. So we need to create a moat.
HOW TO ADD CAKE FILLING
A cake moat is made by creating a circle of frosting around the rim of your cake layer. Then you fill the inside of this rim with your "squishy" filling. The rim acts as the wall that keeps your moat contained and your foundation sturdy. In other words, it stops your filling from squeezing out the sides and making a huge mess. You can see how I do this below.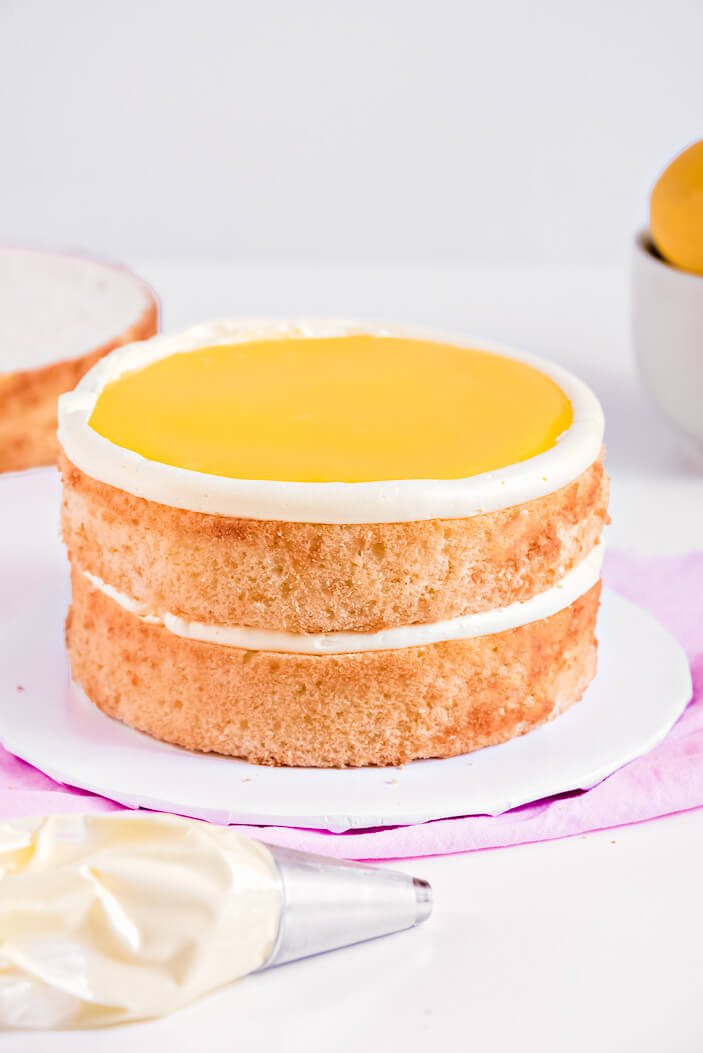 So there you have it! Lemony deliciousness with a new super useful cake decorating technique!
Happy Baking.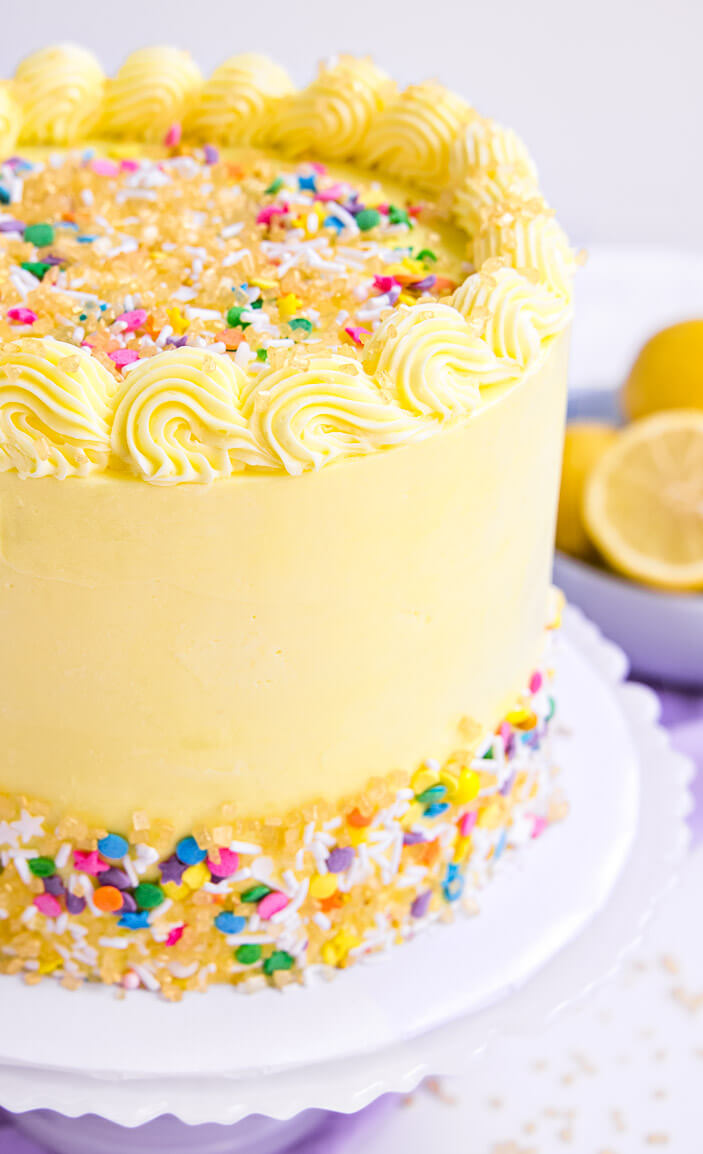 VANILLA LAYER CAKE WITH LEMON CURD
Ingredients
LEMON CURD
1/4 cup lemon juice

Zest of three lemons

3 egg yolks

1/2 teaspoon of cornstarch

1/2 cup sugar

1/4 cup unsalted butter, cut into pieces
VANILLA CAKE
2 eggs + 1 egg white, room temperature

1 cup whole milk, room temperature

2 1/4 teaspoons pure vanilla extract

3 cups cake flour, sifted

1 3/4 cups sugar

1 tablespoon + 1 teaspoon baking powder

3/4 teaspoon salt

12 tablespoons unsalted butter, room temperature
ITALIAN BUTTERCREAM
2 cups unsalted butter, room temperature

5 egg whites

1 cup sugar, divided

1 1/2 teaspoons vanilla

Water

Candy thermometer

Yellow food coloring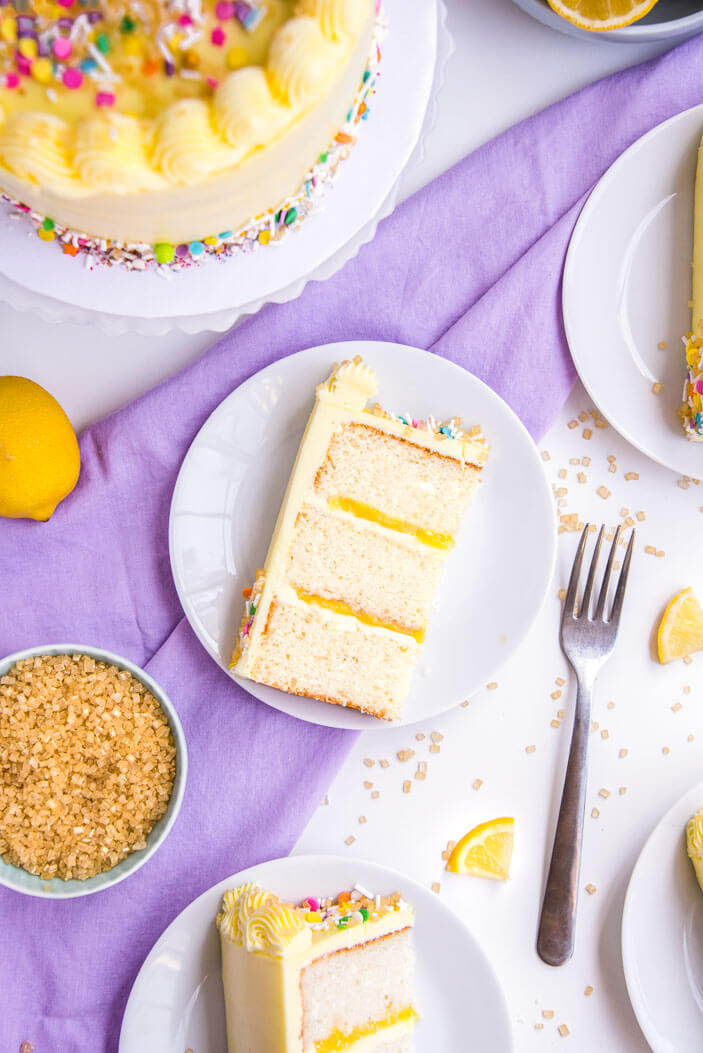 Instructions
LEMON CURD
In small saucepan, combine lemon zest, lemon juice, egg yolks, sugar, corn starch and butter.

Cook on low heat until everything is combined.

Once everything is combined, increase the heat to medium. Stirring every 30 seconds, cook the mixture 12-15 minutes, or until it thickens.

Pour the curd into a heat proof bowl. Place a piece of plastic wrap over the lemon mixture. Press it down so it directly touches the curd.

Set aside and allow the curd to come to room temperature.

Once the curd is set, divide it into three portions. Two portions go in between the layers.
VANILLA CAKE
Preheat oven to 350 degrees. Prepare three 6" cake pans with pam and parchment.

In a medium bowl combine eggs, egg white and the vanilla. Set aside.

In a bowl with an electric mixer fitted with a paddle attachment, combine dry ingredients and mix on a low speed for 30 seconds.

Add butter and milk. Mix on a low speed until just combined.

Increase to medium speed and mix for 1-2 minutes.

Scrape down the sides of the bowl and add egg mixture in 2 separate batches. Beat on medium speed until it is just combined.

Divide batter into three cake pans. Bake for 30-35 minutes, or until a toothpick comes out clean.

Let cakes cool for 10-15 minutes and then remove from cake pans. Place cakes on wire racks until completely cool.
ITALIAN BUTTERCREAM
In a small sauce pan put 3/4 cup of sugar and cover the sugar with a little bit of water until the sugar looks like wet sand. Cook on a stove top over high heat until it reaches 248 degrees (you will need a candy thermometer).

While the sugar is cooking, whip eggs whites in a bowl of an electric mixer fitted with the paddle attachment at a high speed until they reach soft peaks.

Once the egg whites reach soft peaks add the other 1/4 cup of sugar and mix on a high speed until the egg whites reach stiff peaks. You can keep mixing the egg whites at a high speed until the sugar is done cooking.

Once the sugar reaches 248 degrees immediately take it off the stove. While the mixer is still running on high speed, add the sugar syrup to the egg white mixture. Mix on a high speed for 30 minutes.

After 30 minutes, add the room temperature butter and mix on a high speed for 5-10 minutes until the butter is fully combined and the mixture resembles buttercream.

Add vanilla and mix until just combined.

Add yellow food coloring until you get desired color.