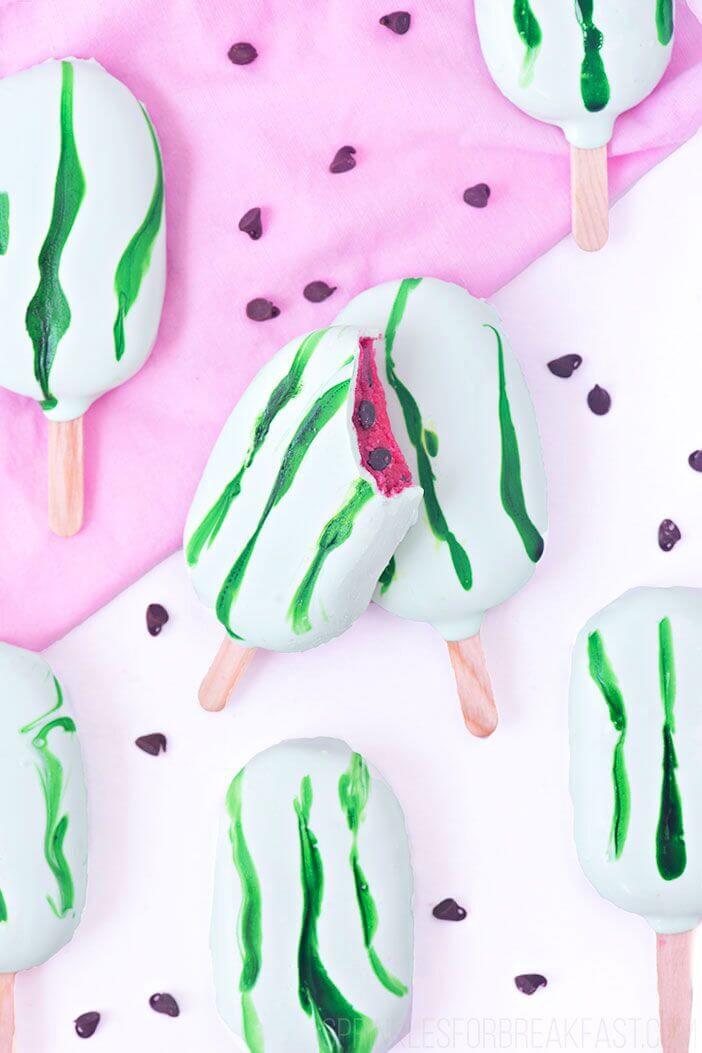 Have you ever tried to make something without having the proper tools? I am in no way "handy" around the house, but I am pretty well seasoned when it comes to putting together Ikea furniture. And if you have ever attempted your own DIY ikea project, you know that the little Ikea Spinny Tool (definitely the official name for it) is pretty important. You can try a million other tools to get those special Ikea nails in there – but there is no way your furniture will hold up without that stupid Spinny Tool.
Bottom line – sometimes there is no substitute for the real deal. In attempting to make these pops, I found this out the hard way. Some time last year, these adorable little mini cake pops started popping up (pun intended) all over Instagram. Obviously, I wanted in on the trend, but I was having trouble finding the right mold.
After a few failed attempts at various cake shops, I started started googling random things:
– "silicone cake pop mold"
– "mini cake pops that look like popsicles"
– "mini cakesicles on instagram"
– "how to make mini caksicles like the Australians do" (this is where most of the bakers who were making them were from)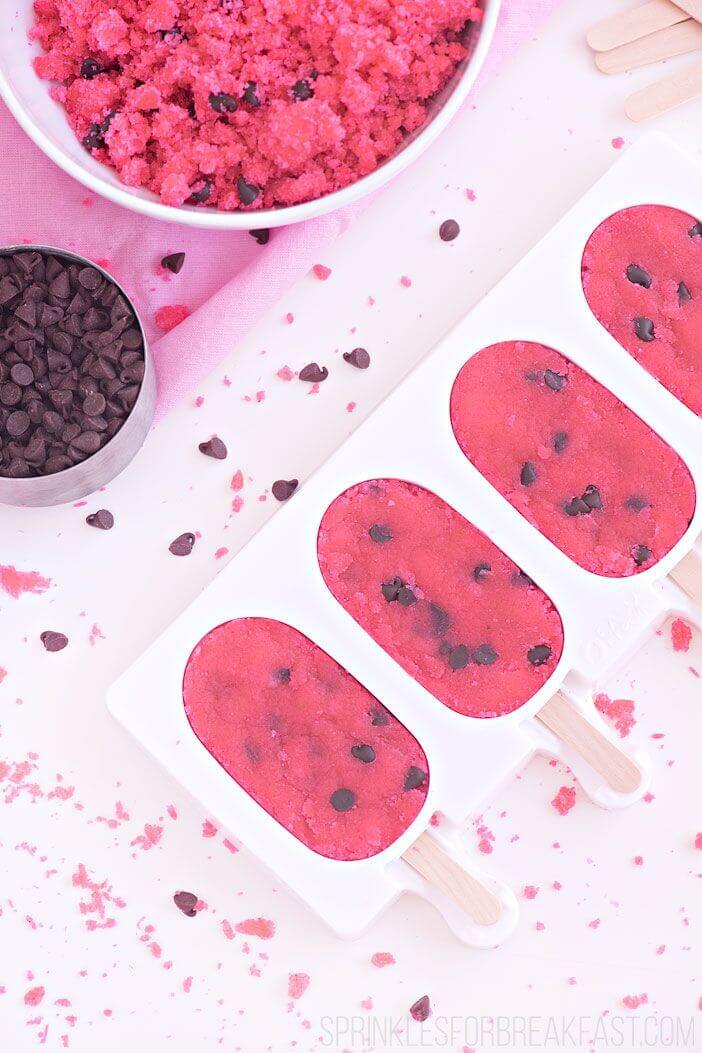 Not surprisingly, I couldn't find the mold anywhere. I ordered a few different items that looked like they might give me a similar look – but they all turned out to be very very wrong.
After a few disasters in the kitchen and months of searching – I FINALLY found them. Apparently, they are called "Mini Classic Easy Cream Silicone Mold" – of course, why didn't I think of that?! And THIS is the only place I could find them.
So after a lot of trial and error…I give you these mini chocolate chip Watermelon Cake Pops! Basically, I am obsessed with them and they are crazy easy to make once you get your hands on the right mold!
Side note – if anyone ever finds a suitable replacement for the Spinny Tool – let me know!
WATERMELON POPS
Ingredients
VANILLA CAKE
6 tablespoons unsalted butter, room temperature

2 tablespoons vegetable oil

3/4 cup + 2 tablespoons sugar

1 egg + 1 egg white

1/2 tablespoon vanilla

1/2 cup + 2 tablespoons cake flour

1/2 cup + 2 tablespoons all purpose flour

1/4 teaspoon salt

1 teaspoon baking powder

1/2 cup milk

Pink food coloring
FOR THE POPS
About 3 tablespoons of frosting

1/4 cup mini chocolate chips

12 oz white melting chocolate

Green candy coloring

Small popsicle sticks

Toothpicks

Silicone ice cream pop mold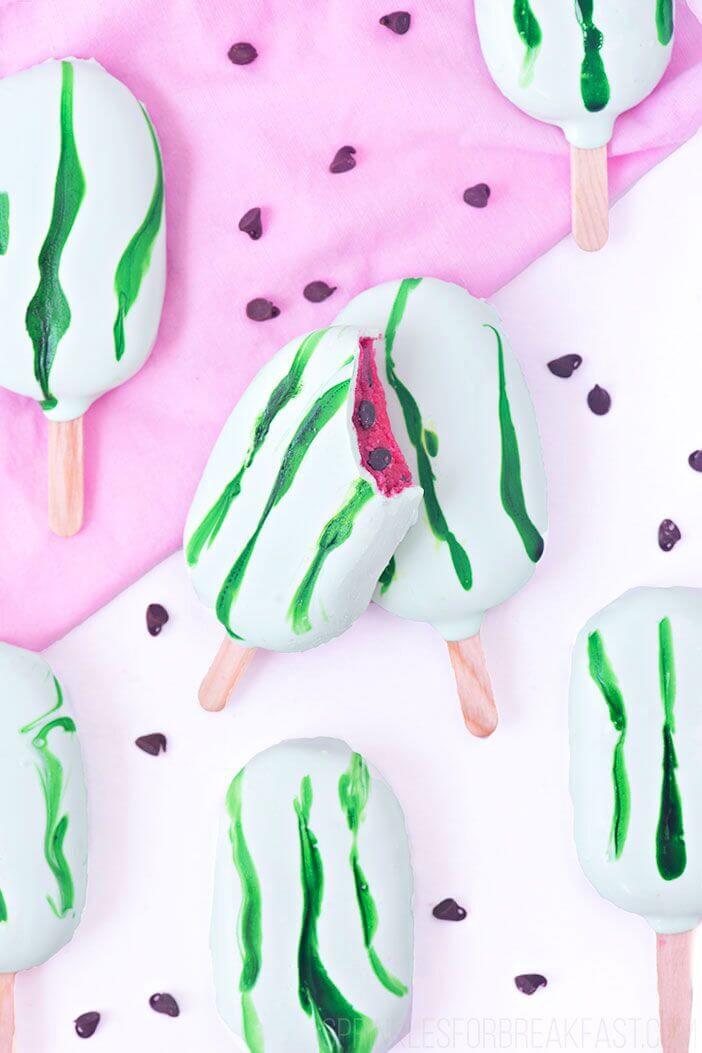 Instructions
FOR THE CAKE:
Preheat the oven to 350 degrees. Prepare a 8x8" pan with parchment and non-stick spray.

In a stand mixer fitted with a paddle attachment, combine butter, sugar and oil on a low speed until just combined. About 1 minute.

Add eggs and vanilla on medium/low speed. Mix until combined.

Add flours, salt, and baking powder. Mix on a low speed until just combined.

Slowly stream in milk. Mix until combined.

Add a few drop of pink food coloring. Mix until combined.

Pour batter into prepared pan. Bake for 20-25 minutes.

Set pan on a wire rack to cool.
ASSEMBLY:
Once the cake is cooled, use your hands or two forks and to crumble the cake into fine crumbs.

Add mini chocolate chips and mix them into cake crumbs.

Add buttercream and mix with hands or fork until the buttercream is fully incorporated. You want the mixture to be just moist enough to roll into balls.

Tightly pack cake mixture into cake pop molds. Place popsicle stick into the bottom and remove the cake pop.

Repeat with remaining cake mixture.

Place pops into the fridge for at least 1 hour.

Place melting chocolate in a bowl and melt according to instructions on package.

Once melted, use a toothpick to add some green candy coloring until you get desired color.

Hold cake pop over the bowl and use a spoon to pour chocolate all over the pop.

Use a fresh toothpick to draw three lines pretty close together at the center of the pop.