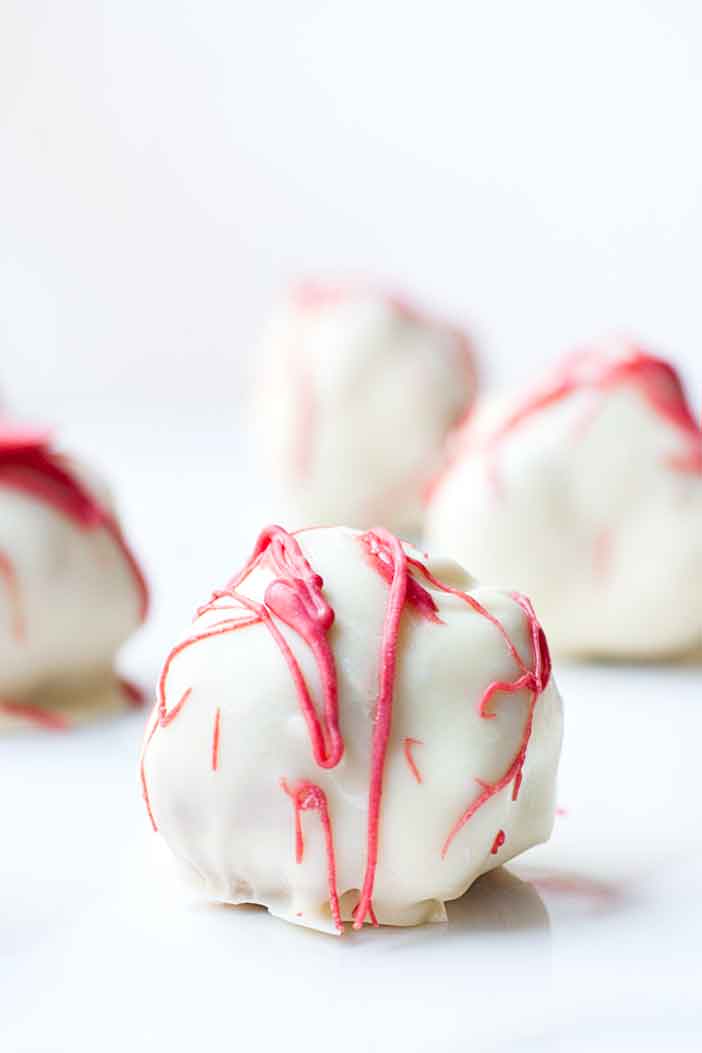 In the past I have always called February 14th Valentine's Day. It was simple, universal, and to be honest, I had never really thought of calling it anything different. But this year, my friend introduced me to a new name, and I think it is much better than the original. It really captures the true essence of the holiday, and the vast impact it has on our culture. So from now on, February 14th will be known as Men Panicking Day.
For some reason this holiday seems to put pressure on men. If you don't believe me, go into any candy/cupcake/bake shop on February 14th and just watch. I guarantee there will be more than one man running in for a last minute gift looking very stressed.
In honor of this new name, I decided to make something simple for this special holiday. I took an old recipe and changed it up a little, and it turned out to be great. Whether you are a man or a woman, panicked or calm, these White Chocolate Peanut Butter Truffles are a delicious (and easy) way to impress someone you love. And if they don't like white chocolate, you can try the dark chocolate version.
WHITE CHOCOLATE PEANUT BUTTER PRETZEL TRUFFLES
Ingredients
1 1/4 cups crushed pretzels

1 cup creamy peanut butter

2 tbsp butter, softened

4 tbsp brown sugar

1/4 tsp salt

6 tbsp powdered sugar

2 1/2 cups white chocolate. I would recommend using a good white chocolate, like Ghirardelli. That means no Nestle white chocolate chips – they do not melt very well.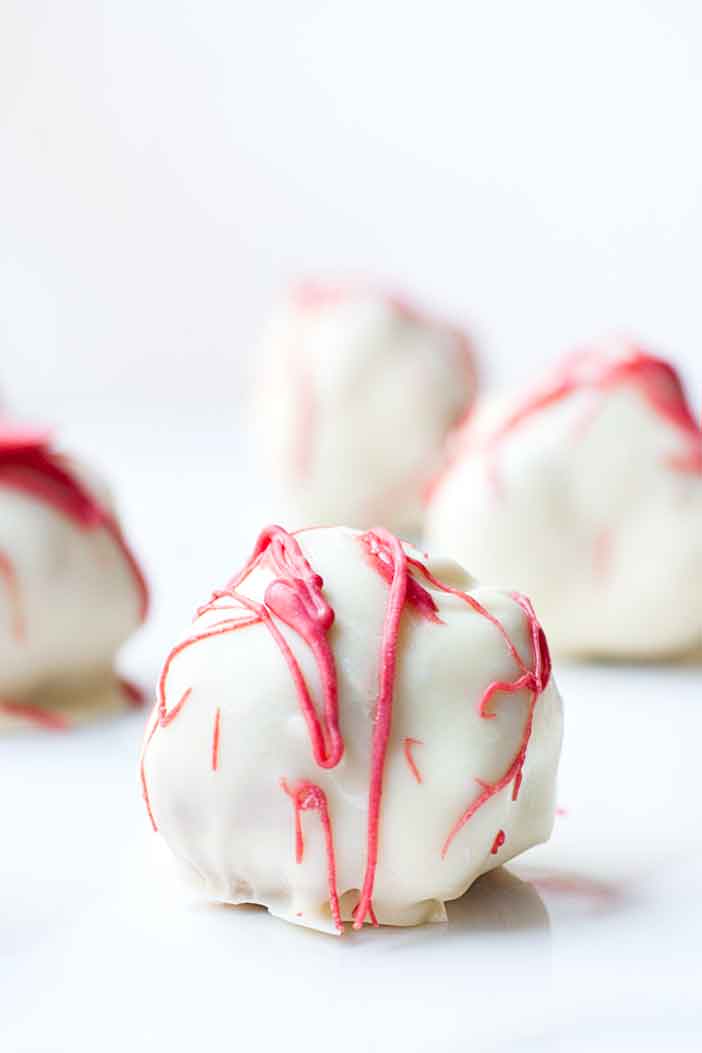 Instructions
Put pretzels in a plastic bag and crush into small bits.

In a medium bowl, combine peanut butter, butter, brown sugar and salt. Stir until all ingredients are completely blended and smooth.

Add pretzel bits to peanut butter mixture and mix thoroughly.

Add powdered sugar and, mix thoroughly.

Now take a spoonful of the mixture and form into a ball. (If the peanut butter starts sticking to your fingers, run your fingers under cold water, and begin rolling again).

Place balls onto a plate or cookie sheet lined with wax or parchment paper. Put into the freezer to chill for at least 20 minutes.

After the peanut butter balls have chilled, prepare your chocolate. Put the white chocolate into a small microwaveable bowl. Microwave for 30 seconds and then stir. Then continue this microwave/stir routine at 10 second intervals until the chocolate is completely melted.

Place one peanut butter ball into the melted chocolate and gently roll it around with a fork until completely coated. Remove from the bowl with the fork and place onto a sheet of wax or parchment paper. Repeat for all other balls.

Once they are all coated, place them back in the freezer for another 20-30 minutes.
Colored Splatter
Use food coloring to dye extra white chocolate the desired color. (Only add a little bit of food coloring at a time. If you add too much it can turn the chocolate hard)

Put the colored chocolate back in the microwave for 10 seconds so it is easier to splatter.

Dip a spoon into the chocolate and then hold the spoon two inches over the balls and move your hand back and forth.

Repeat until you cover all the balls. Place in the refrigerator for another 10-15 minutes. 
Drawing with White Chocolate
When white chocolate is runny it is very easy to draw with, and once it is dry it can be used as decorations.

Place warm chocolate into a piping bag with a tip (or just draw with the edge of a fork or spoon) and draw whatever you want onto parchment paper. 

Set aside for at least 15 minutes, and once it is dry you can peel it off the parchment. Flip design over to use the back smooth side and attach the rough side to the truffle with a little dab of melted white chocolate
Notes
**remember if you are doing letters - draw them backwards!
*Makes about 18 balls