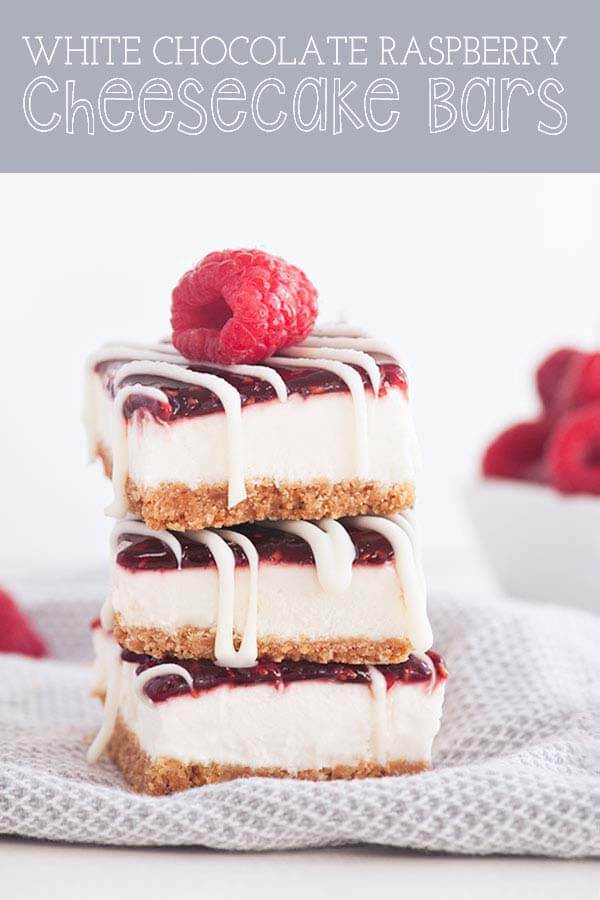 Summer is all about the fresh berries. Any farmers market you attend between June and early September will be full of delicious, ripe berries just waiting to be eaten. But what happens when summer ends?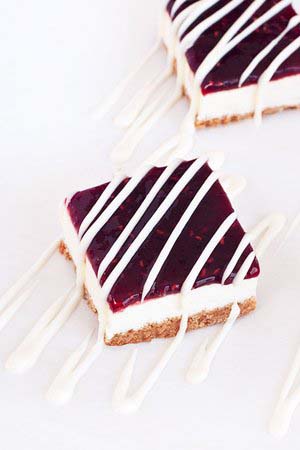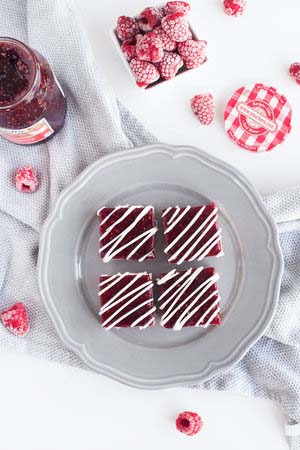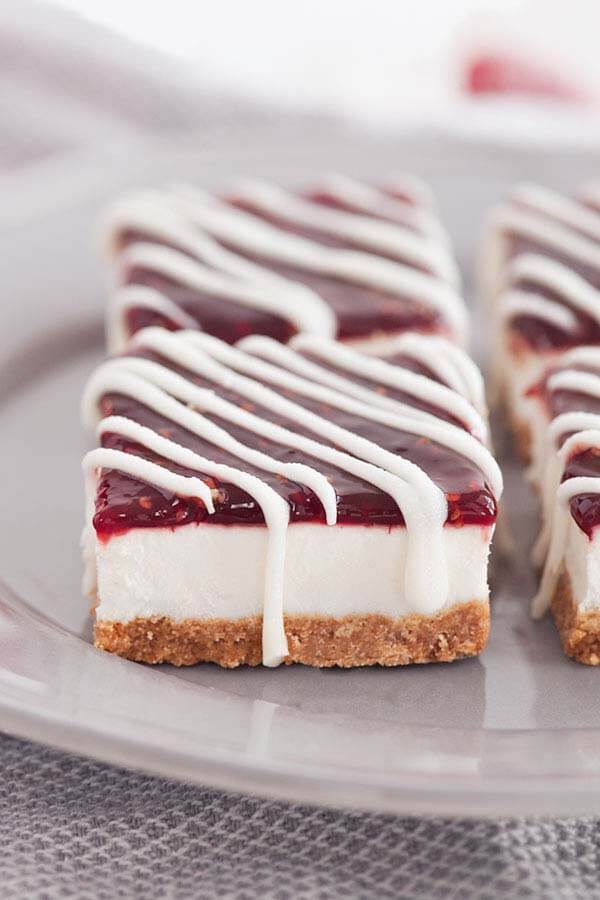 Luckily, there are still a few ways you can sneak some berrylicious flavor into your baked goods. First, you can always freeze your berries so you have them on hand all year around. The second option is using jams or preserves – which is exactly what I used for today's recipe.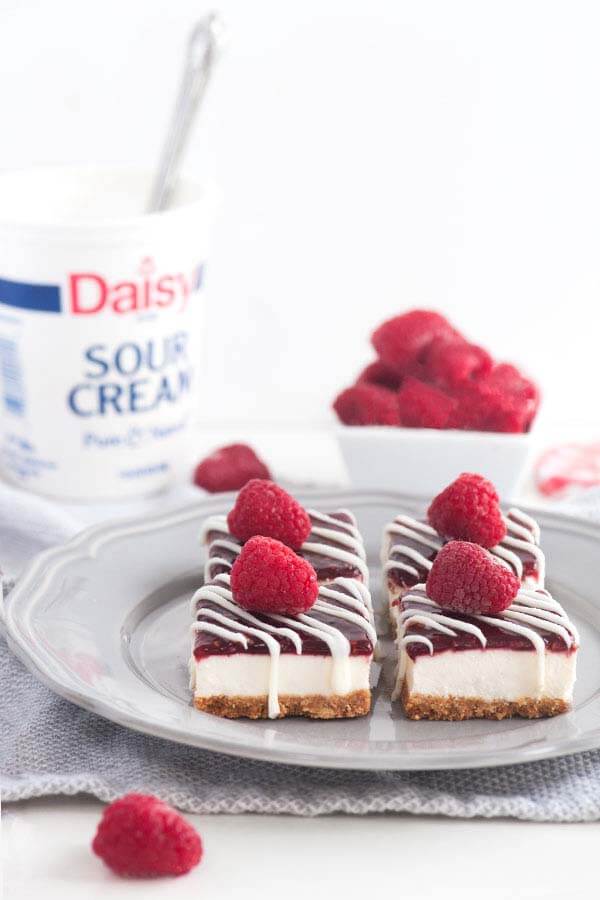 These no bake cheesecake bars have the classic creaminess of a traditional cheesecake with the added bonus of a raspberry preserve topping and a white chocolate drizzle to add some crunch. They are super easy to make, delicious to eat and can be served chilled or frozen. My brother LOVES these when they are just out of the freezer. So you can try both options and decide which way you prefer.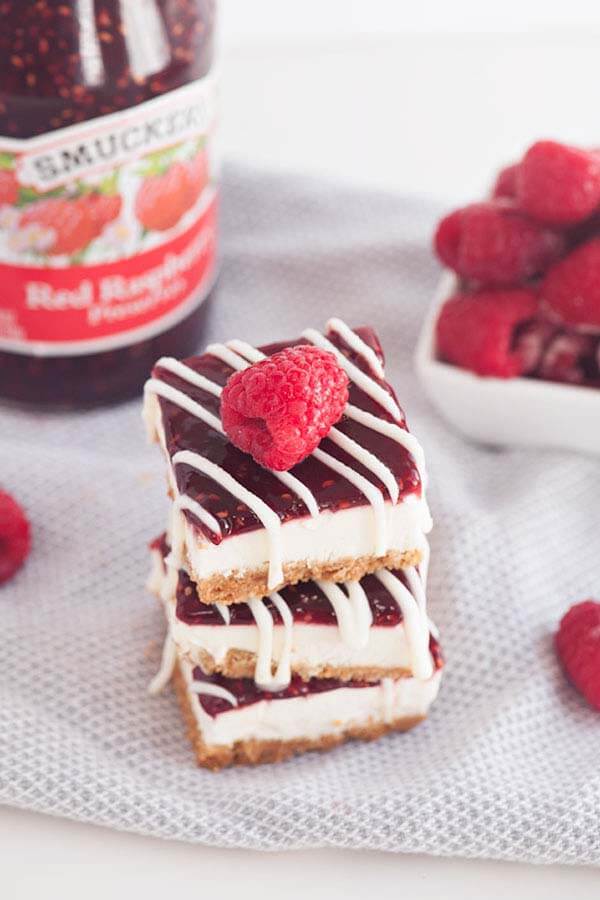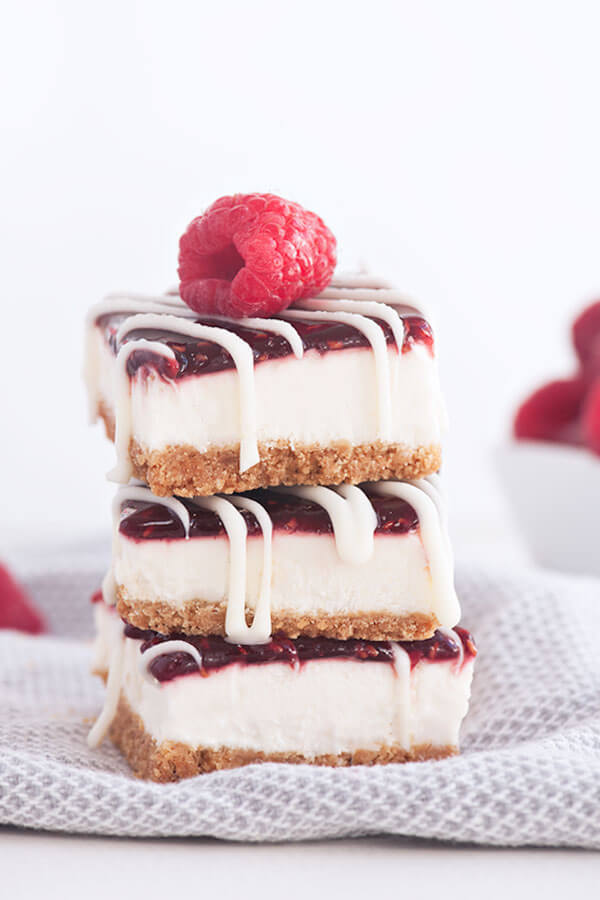 WHITE CHOCOLATE RASPBERRY CHEESECAKE BARS
Ingredients
CRUST
2 cup graham cracker crumbs

1/2 cup unsalted butter, melted
NO BAKE CHEESECAKE FILLING
16 oz. cream cheese, room temperature

1 cup powdered sugar

1/2 cup sour cream

3/4 cup heavy cream, cold

2 teaspoon vanilla extract

1 1/4 cups raspberry preserves
TOPPING
8 oz. high quality white chocolate

20 Raspberries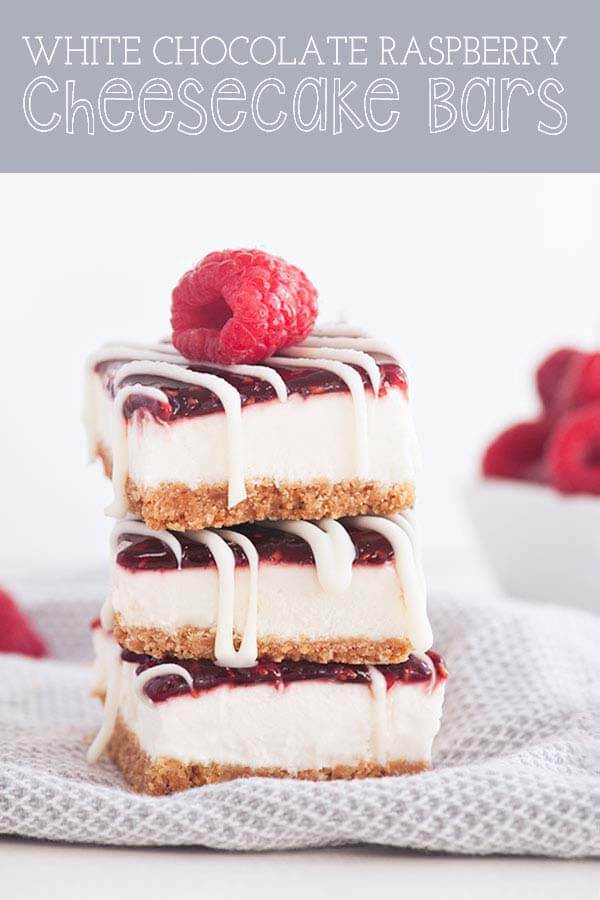 Instructions
For the crust:
Preheat the oven to 350 degrees and prepare a 9x13" baking pan with non-stick spray and parchment paper.

Melt butter and combine with graham cracker crumbs.

Place mixture into the pan and pat down until it makes one even layer.
For the cheesecake filling:
In a stand mixer with a paddle attachment, mix cream cheese until light a fluffy.

Add powdered sugar. Mix until combined.

Add sour cream, heavy cream and vanilla extract. Mix until thick and creamy (5 minutes).

Layer cheesecake mixture on top of cooled crust. Using an offset spatula spread it into an even layer.

Place in the fridge for 2 hours.

Once cheesecake is set, add raspberry preserves. Put back in the fridge for 2 hours.
For the topping:
In a microwave safe bowl, melt chocolate in 30 second intervals. Place melted chocolate into a piping bag.

Take cheesecake out of the fridge. Remove from the pan and but into 2x2" squares.

Cut a hole in the edge of the piping bag and drizzle chocolate over each square.

Add raspberry on top and place back in fridge (or freezer) until ready to serve.