It's Friday, and thanks to Rebecca Black, it will forever be my favorite day of the week. She's all like, "It's Friday, Friday. Gotta get down on Fridayyy" and I am sitting here like, you know what Rebecca Black? You are right. It is Friday, and I am gonna get down. But before I do that, I am going to share this cake with you guys. This is such a simple way to decorate a cake, and it is so cute (and delicious). All we did was take our basic Vanilla Vanilla Cake and added some Birthday Cake Crumble. We used an offset spatula to create the rustic look with the buttercream, and then piled the crumble on the top and on the base of the cake. Super easy and super festive! Now I am off to go listen to this song a few more times and try to figure out what I am going to do tonight. Have a good weekend everyone!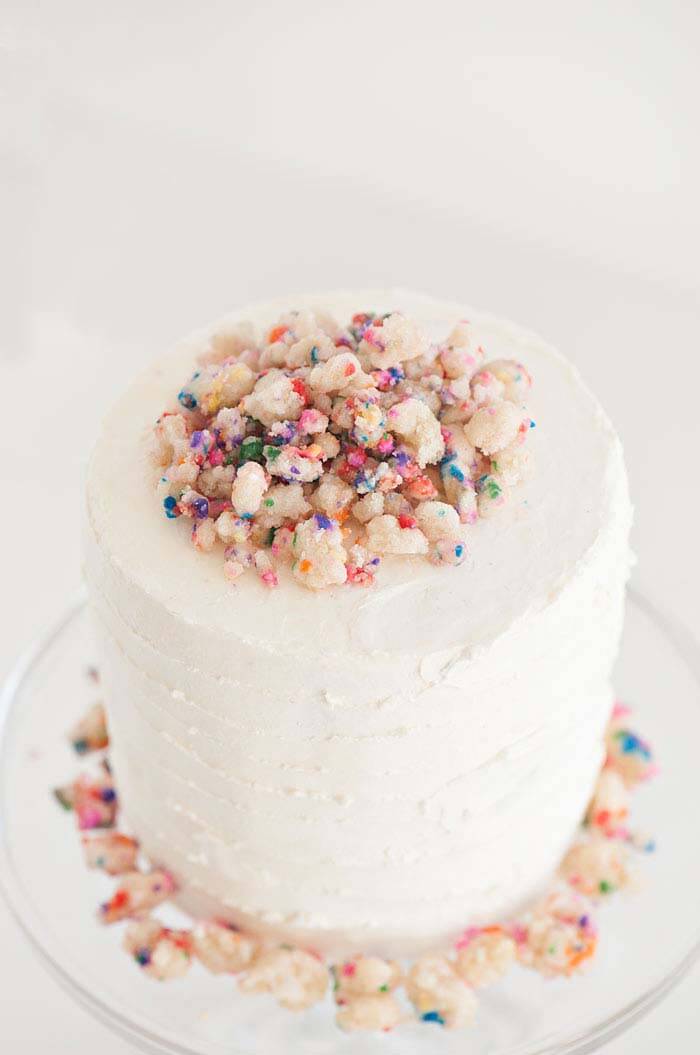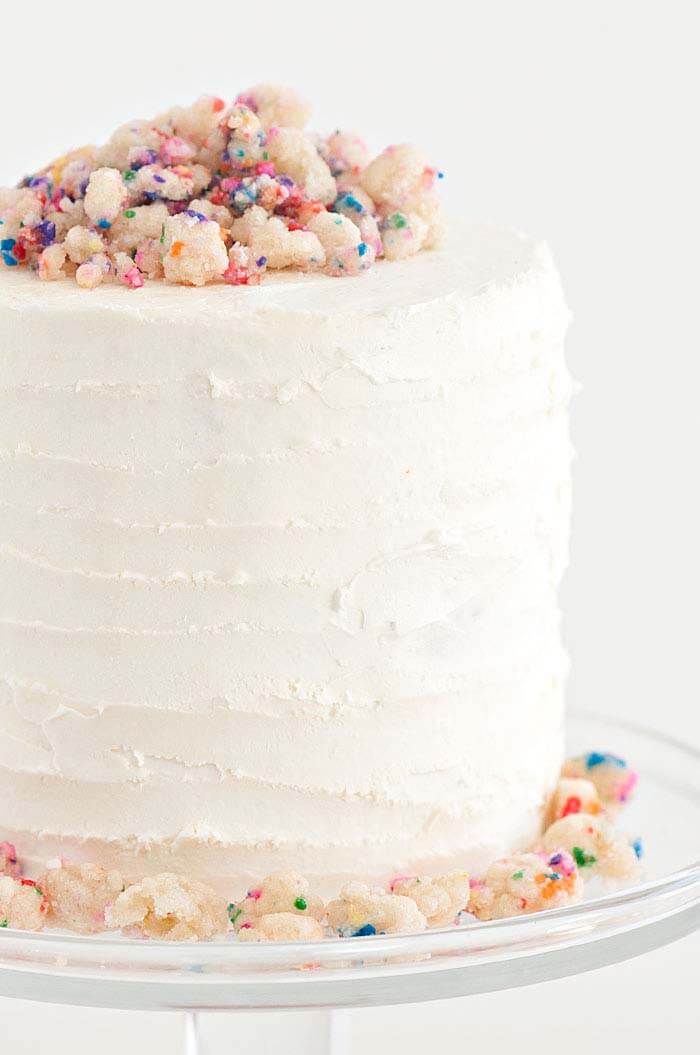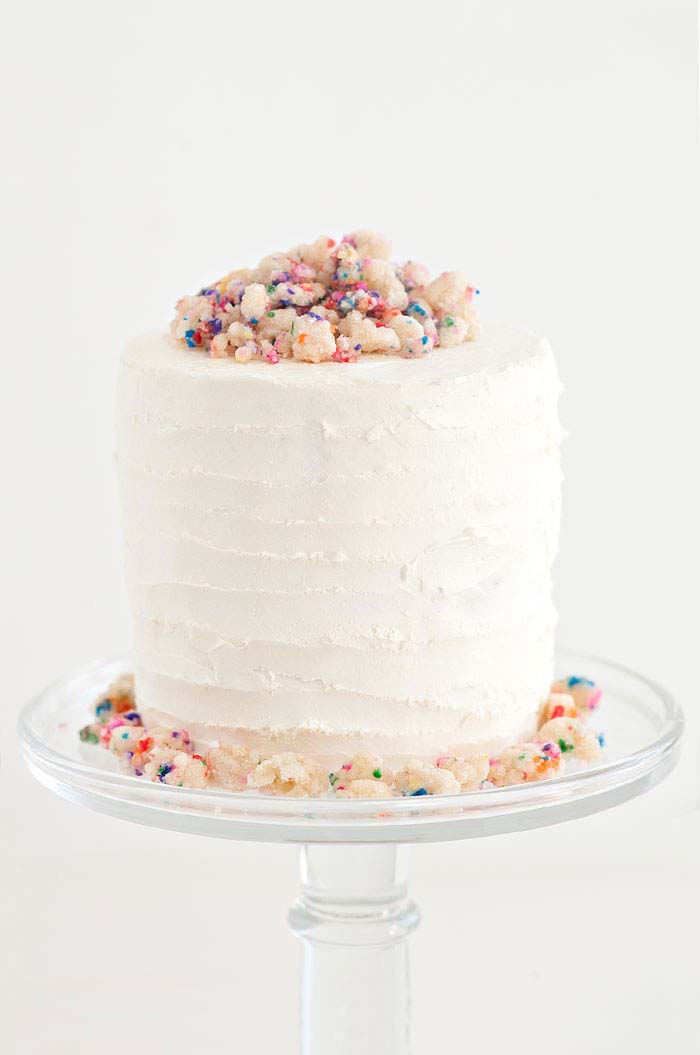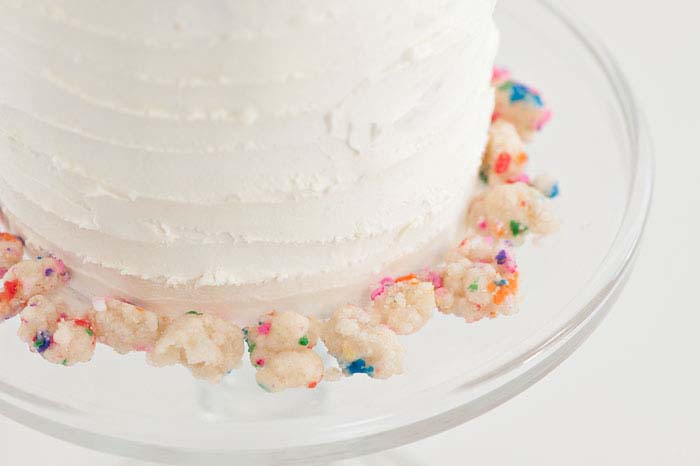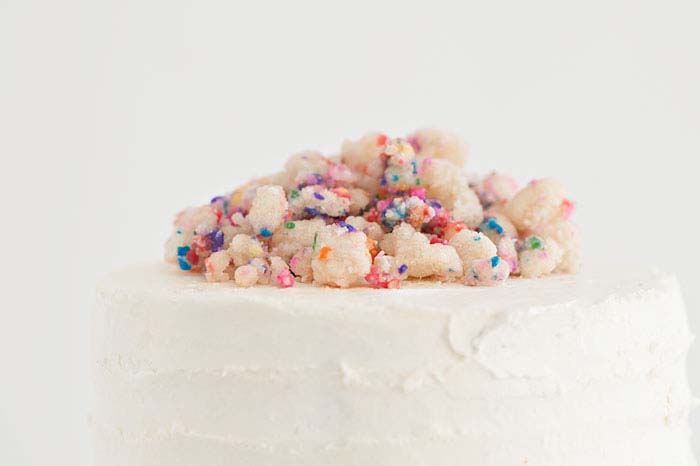 BIRTHDAY CRUMBLE CAKE
Ingredients
CAKE
5 large egg whites at room temperature

1 cup whole milk at room temperature

1 1/4 teaspoons clear imitation vanilla

1 1/4 teaspoon pure vanilla extract

3 cups cake flour, sifted

1 3/4 cups sugar

1 tablespoon + 1 teaspoon baking powder

3/4 teaspoon salt

12 tablespoons unsalted butter, at room temperature and cut into cubes
CRUMBS
1/2 cup sugar

1 1/2 tablespoons brown sugar

3/4 cup cake flour

1/2 teaspoon baking powder

1/2 teaspoon salt

1/4 cup canola oil

1 tablespoon clear vanilla extract

2 tablespoons sprinkles
BUTTERCREAM
1 lb (2 cups) room temperature butter

5 egg whites

1 cup sugar, divided

1 teaspoon clear imitation vanilla

1 teaspoon pure vanilla extract

water

candy thermometer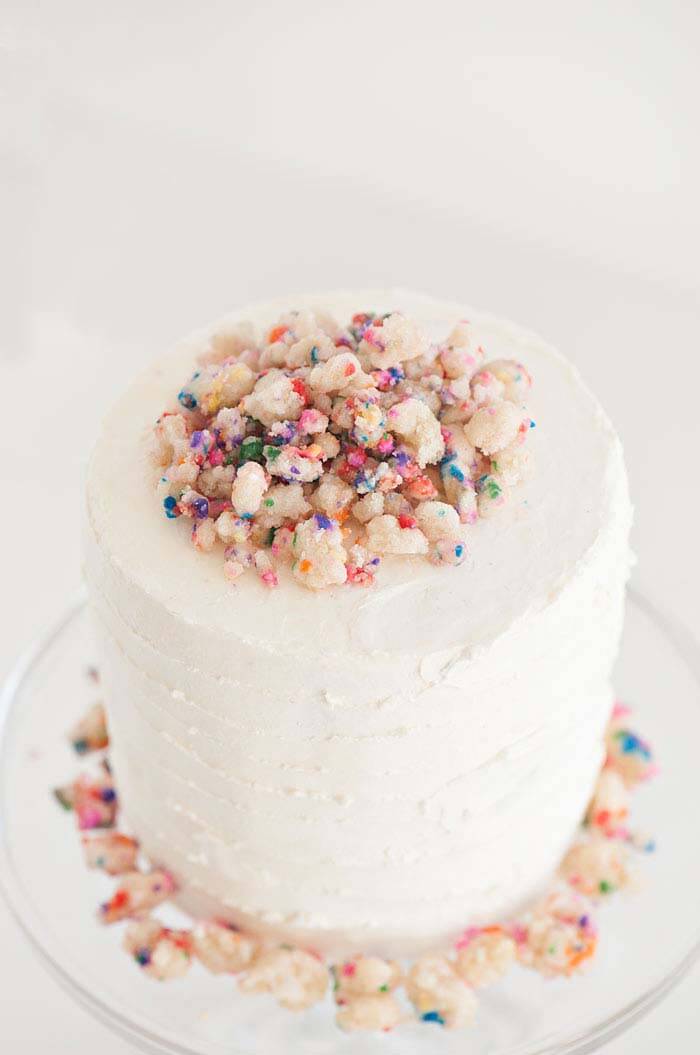 Instructions
For the cake:
Preheat oven to 350 degrees. Prepare three 9" cake pans with pam and parchment. You also need to make sure that all the ingredients are at room temperature. This is very important.

In a medium bowl combine and stir the egg whites, 1/4 cup of milk, and the vanillas. Set aside.

In the bowl of an electric mixer fitted with the paddle attachment, combine the dry ingredients together on low speed for 30 seconds.

Add the butter and remaining milk, and mix on a low speed until just combined. Increase to medium speed and mix for 1-2 minutes.

Scrape the sides of the bowl and begin to add the egg mixture in 2 separate batches, beat on medium speed until it is just combined. (No more than 45 seconds after each addition)

Divide the batter between the two cake pans.

Bake for 25-30 minutes or until a toothpick comes out clean.

Let cool on racks until cooled completely.
For the crumble:
Preheat the oven to 350 degrees and prepare a baking sheet with parchment paper.

In a mixer fitted with a paddle attachment, combine sugars, flour, baking powder salt and sprinkles on low speed.

Stream in canola oil and vanilla and turn the mixer to medium/high speed.

Let the mixer run until the mixture turns into small clusters (about 2 minutes)

Spread the mixture evenly on prepared baking sheet and bake for 10 minutes.

Let the mixture cool for 8 - 10 minutes and then break the baked crumble into smaller pieces.

Set aside until they are cool.
For the buttercream:
In a small sauce pan put 3/4 cup of sugar and cover the sugar with a little bit of water until the sugar looks like wet sand. Cook on a stove top over high heat until it reaches 248 degrees (you will need a candy thermometer).

While the sugar is cooking, whip eggs whites in a bowl of an electric mixer fitted with the paddle attachment at a high speed until they reach soft peaks.

Once the egg whites reach soft peaks add the other 1/4 cup of sugar and mix on a high speed until the egg whites reach stiff peaks. You can keep mixing the egg whites at a high speed until the sugar is done cooking.

Once the sugar reaches 248 degrees, immediately add it to the egg white mixture. Mix on a high speed for 30 minutes.

After 30 minutes, add the room temperature butter and mix on a high speed for 5-10 minutes until the butter is fully combined and the mixture resembles buttercream.

Add vanillas and mix until just combined.
Assembly
Once cakes are cool, take them out of the pans, and place one layer onto a cake plate. Using an offset spatula, spread 1 cup of frosting on the cake. Sprinkle crumble on top of frosting.

Turn the second layer upside down (so the bottom is face up) and gently place it on top of the first layer.

Repeat with the third layer.

Use the remaining frosting to frost the rest of the cake. Start with a generous amount on the top and work your way to the sides.

Add a generous amount of crumble to the top of the cake and around the base of the cake.