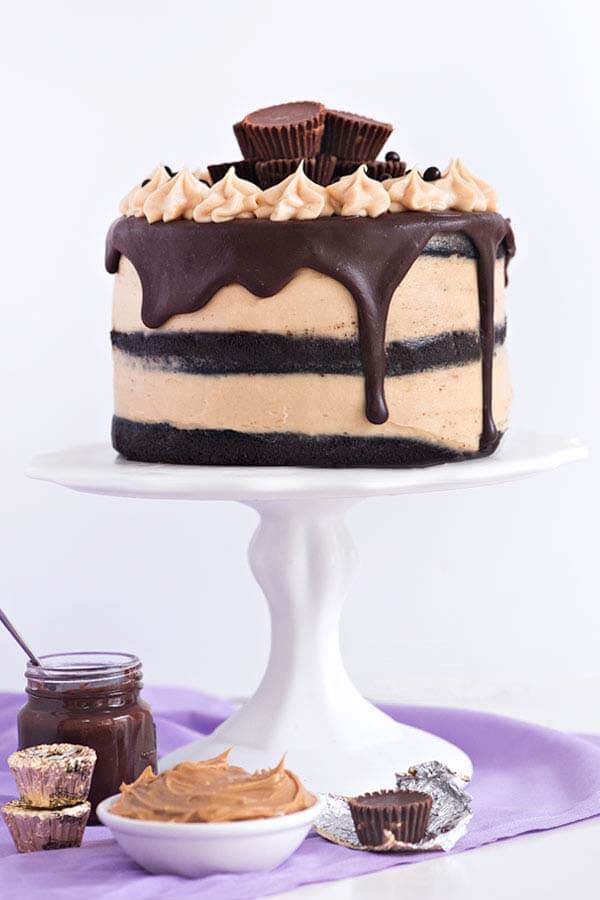 Over the years I have learned that chocolate and peanut butter can fix pretty much anything. It may not be a perfect solution in the long run, but in the moment, it can definitely do the trick. So last week, this cake really came in handy.
We all know rejection really sucks. And I don't mean getting ghosted by a boy after you were texting for three weeks (although, that also sucks). I am talking about rejection in life.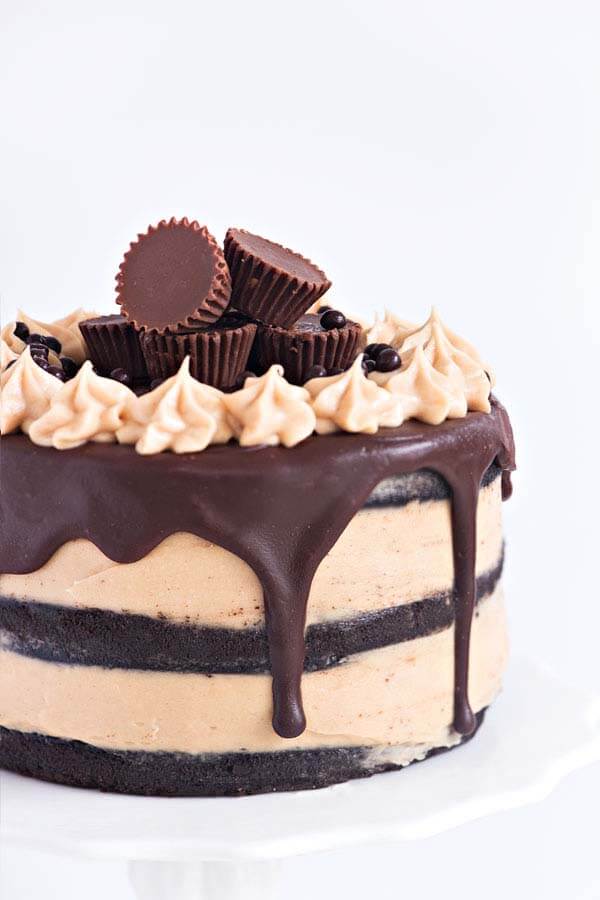 Last week I submitted a proposal I thought I was FOR SURE going to get. It was a pretty big company, but I thought my work was good enough to prove to them I was able to take on the project. I was so confident about it, I even went out and bought the products for the shoot. Now looking back, I probably jinxed myself by doing this. Note to self, don't go out and buy anything before you actually get the job.
Then I got an email that said something along the lines of, "Sorry…your aesthetic does not match what we are looking for." Ummm, what?! I sat there yelling at the computer "My aesthetic is JUST FINE thank you very much"! I was so annoyed. I am a perfectionist – so it doesn't go over that well when I am told I am not the right fit.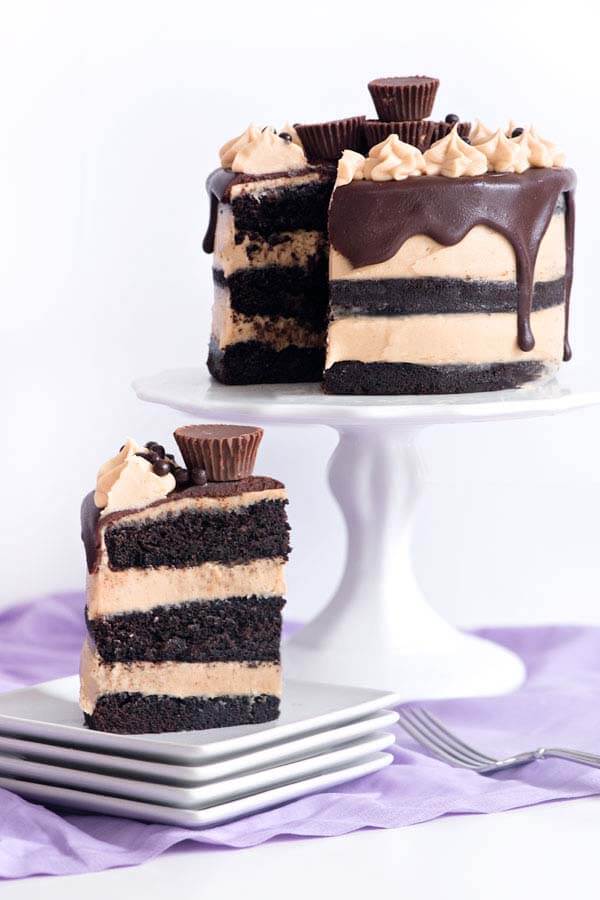 This is where the Peanut Butter Cup Cake comes in. When I am upset, I head straight for the kitchen. This time, I came up with a chocolate cake piled high with my favorite peanut butter frosting and topped off with a decadent chocolate ganache. And of course, I decorated it with mini peanut butter cups to pack as much of the peanut butter/chocolate combo as possible. Eating a slice of this cake never tasted so good.
Cake recipe adapted from HERE.
CHOCOLATE PEANUT BUTTER CUP CAKE
Ingredients
CHOCOLATE CAKE
2 cups sugar

1 3/4 cups all-purpose flour

3/4 cup unsweetened cocoa powder

2 teaspoons baking soda

1 teaspoon baking powder

1 teaspoon salt

2 eggs

1 cup buttermilk

1 cup strong black coffee

1/2 cup vegetable oil

2 teaspoons vanilla extract
PEANUT BUTTER FROSTING
1 1/2 sticks of unsalted butter

3 3/4 cups powdered sugar

3/4 cup creamy peanut butter

1/2 cup milk

2 teaspoons vanilla extract
GANACHE
1/2 cup heavy cream

4 oz. dark chocolate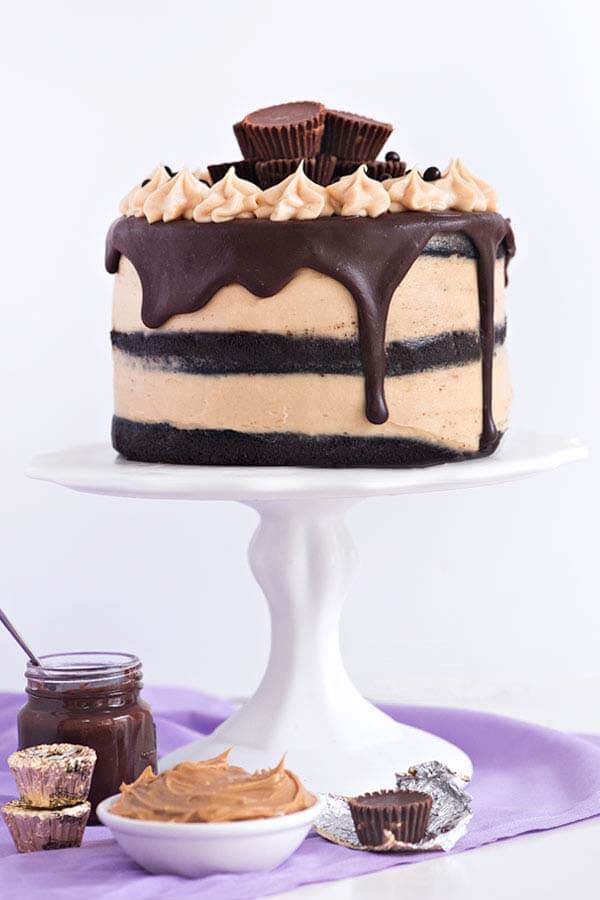 Instructions
FOR THE CAKE:
Preheat the oven to 350°F, and line three 8" cake pans with parchment.

In the bowl of a stand mixer fitted with the paddle attachment, combine the sugar, flour, cocoa, baking soda, baking powder and salt. Mix on low until dry ingredients are thoroughly combined.

On low speed add eggs, buttermilk, coffee, oil and vanilla.

Once everything is combined beat on medium speed for 1 minute.

Divide batter evenly between the three pans.

Bake for 20-24 minutes, or until wooden toothpick comes out clean.

Place on a cooling rack to cool.
FOR THE FROSTING:
In the bowl of a stand mixer fitted with the whisk attachment or in a large bowl with an electric mixer, mix butter until light and fluffy.

Add powdered sugar, milk and vanilla and mix on low speed until combined.

Add peanut butter and mix on high speed until light and fluffy (about 5 minutes).
FOR THE GANACHE:
Chop chocolate and place it in a medium bowl. Set aside.

Place heavy cream in a pot over medium heat. Allow to come to a boil.

Once the cream is boiling, pour over chopped chocolate. Whisk together cream and chocolate until shiny and smooth.