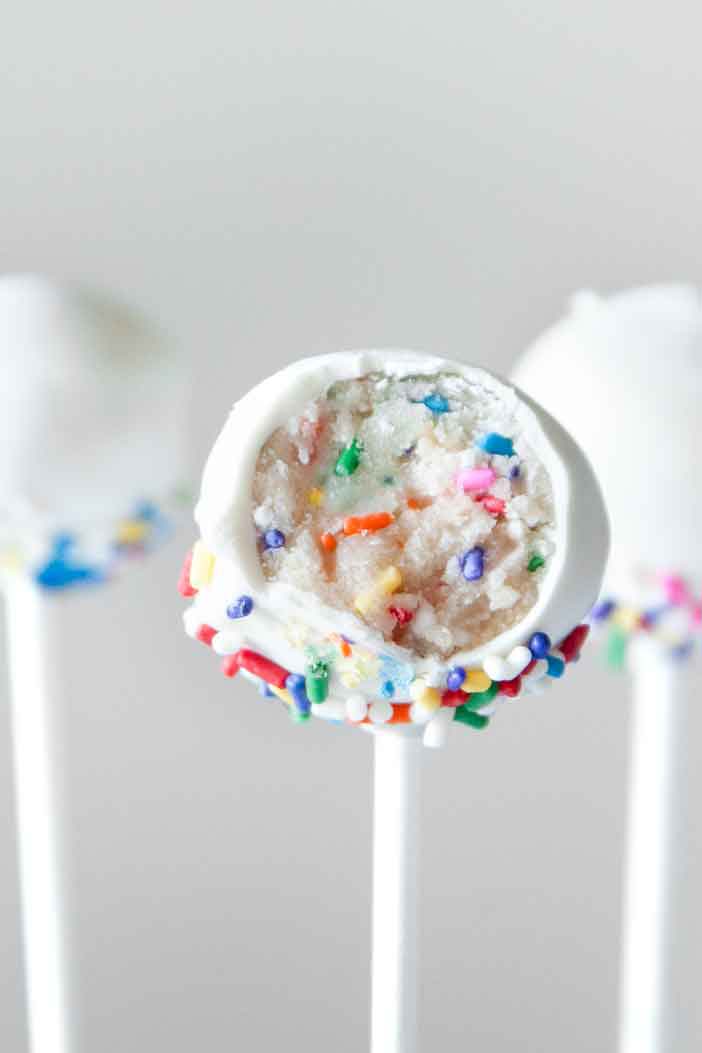 Here at Sprinkles for Breakfast, we have a thing for sprinkles. It's not really our fault. They are colorful, cute, and scream "PARTY" wherever they go. How could we not love them? They just make everything look and taste better. So this week, we decided to add them to our favorite Vanilla Vanilla Cake Pops. While these cake pops are delicious on their own, adding our favorite ingredient turned them into some serious PARTY POPS! Enjoy!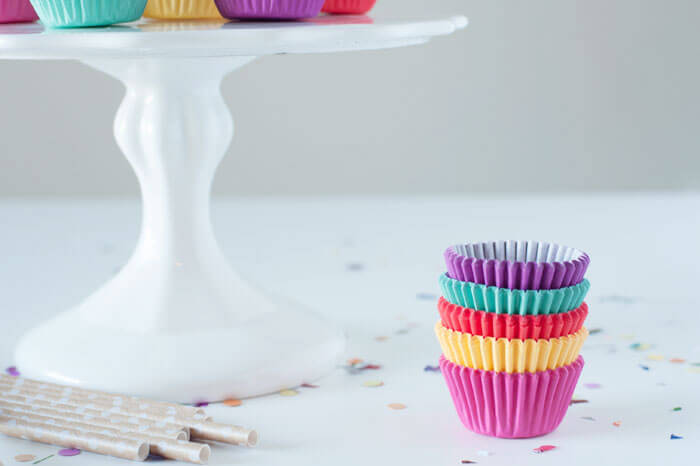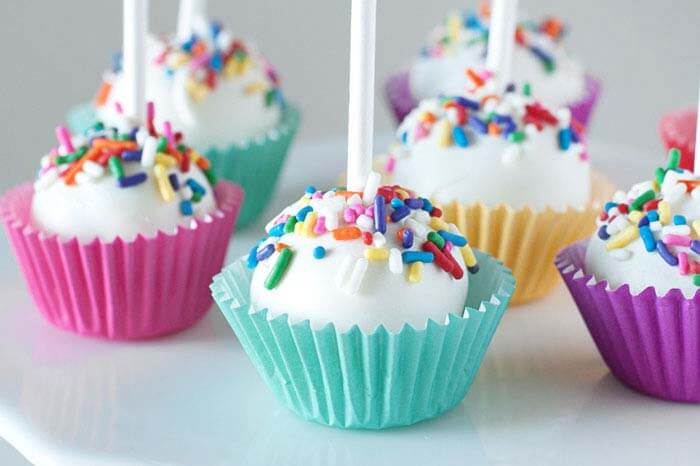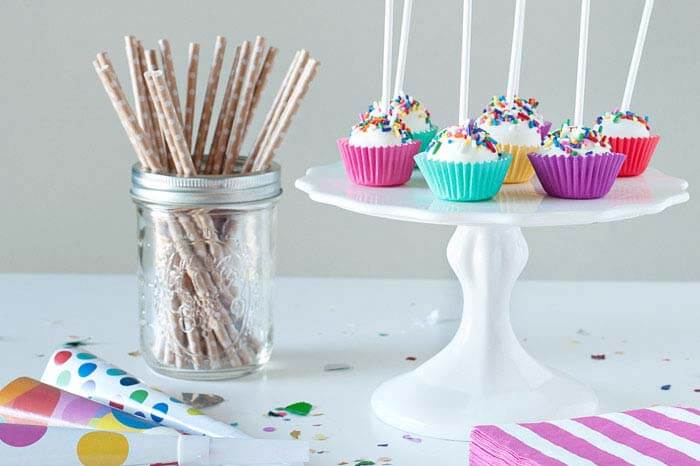 CONFETTI CAKE POPS
Ingredients
CAKE
5 large egg whites (room temperature)

1 cup whole milk (room temperature)

2 1/4 tsp pure vanilla extract

3 cups cake flour, sifted

1 3/4 cups sugar

1 tbs + 1 tsp baking powder

3/4 tsp salt

12 tbs unsalted butter, at room temperature and cut into cubes
BUTTERCREAM
1 cup butter (room temperature)

3 egg whites

1/2 cup sugar

1 tsp vanilla extract

water

candy thermometer

Sprinkles

White Coating Chocolate

Lollipop sticks

Styrofoam Cake Block

Piping Gel & small paint brush

Colorful mini cupcake liners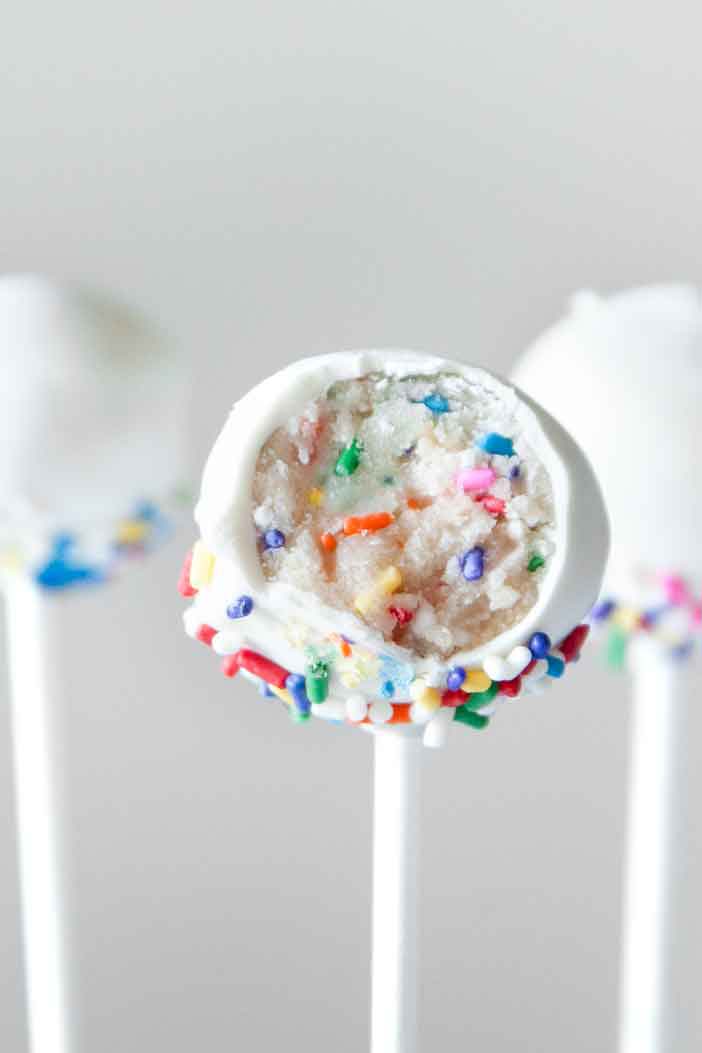 Instructions
For the cake:
Preheat oven to 350 degrees. Grease a 13 X 9" pan with butter and line with parchment. Also make sure that all the ingredients are at room temperature. This is very important.

In a medium bowl combine and stir the egg whites, 1/4 cup of milk and the vanilla. Set aside.

In the bowl of an electric mixer fitted with the paddle attachment combine the dry ingredients together on low speed for 30 seconds.

Add the butter and remaining milk and mix on a low speed until just combined. Increase to medium speed and mix for 1-2 minutes.

Scrape the sides of the bowl and begin to add the egg mixture in 2 separate batches, beat on medium speed until it is just combined. (No more than 45 seconds after each addition)

Fill prepared pan with batter.

Bake for 30-35 minutes, rotating the pan halfway through. You will know the cake is done when a cake tester comes clean when inserted into the center or when you press the top of the cake with your finger and the cake bounces back. Let cool on racks until cooled completely.
For the buttercream:
In a small sauce pan put 1/2 cup (minus 1 tbs) of sugar. Cover the sugar with a little bit of water until the sugar looks like wet sand. Cook on a stove top over high heat until it reaches 248 degrees on a candy thermometer.

While the sugar is cooking use a stand mixer with a whisk attachment to whip egg whites on a high speed until they reach soft peaks.

Once you have soft peaks add the remaining 1 tbs of sugar and mix on a high speed until the egg whites become stiff peaks. You can keep mixing the egg whites at a high speed until the sugar is done cooking.

Once the sugar reaches 248 degrees immediately add it to the egg white mixture. Mix on a high speed for 20 minutes.

Now add the room temperature butter and mix on a high speed for 5-10 minutes until the butter is fully combined and the mixture resembles buttercream.

Add vanilla and mix until just combined.
Assembly
Once the cake is cooled, use your hands or two forks and to crumble the cake into fine crumbs.

Add 1 tablespoon of sprinkles and mix it into cake crumbs. Repeat this until the sprinkles are distributed evenly among the crumbs.

In a separate bowl mix the cake crumbs and the buttercream. For every 1 cup of cake crumbs add 1-2 tbs of buttercream. Mix with hands or fork until the buttercream is fully incorporated. You want the mixture to be just moist enough to roll into balls.

Using a small ice cream scoop, scoop out a small amount of mixture and roll between cupped hands until you reach the desired round shape.

Put balls on a plate and cover with plastic wrap. Place in refrigerator for at least 4 hours.

Place coating chocolates in a deep bowl so you will be able to submerge the entire ball in the chocolate. Melt chocolates.

Dip lollipop stick into chocolate and then into the middle of a cake ball.

Dip cake ball into the chocolate until it is completely covered. Hold it sideways over the bowl and rotate it and tap it so the excess chocolate comes off.

When the excess chocolate has dripped off, push the lollipop stick into styrofoam block to dry.

Once chocolate is dry, paint the top part of the ball around the stick with piping gel and add sprinkle decorations.

Place each pop into an individual mini cupcake liner.