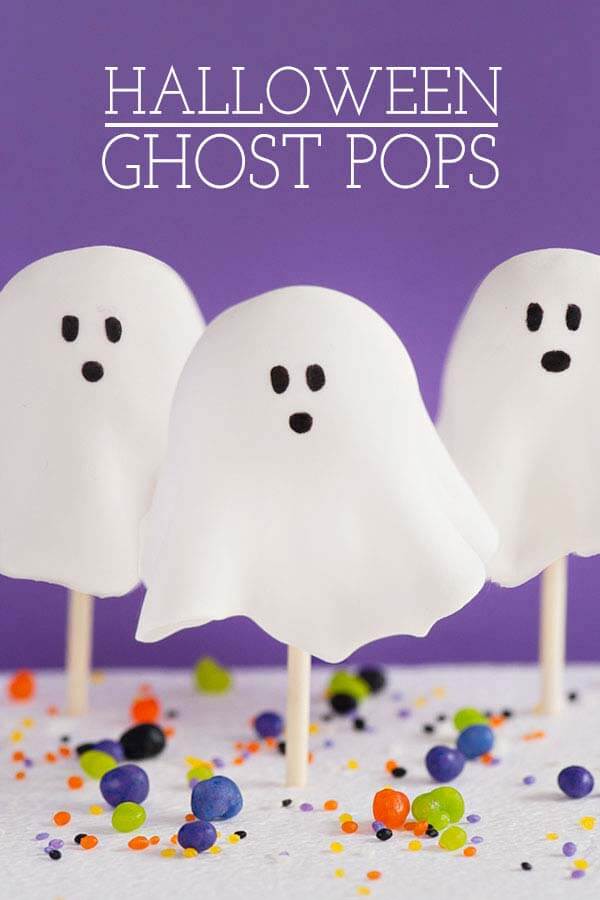 Halloween is just around the corner! I can't believe we are already more than halfway through October! How did that happen?! I still have so much Halloween prep to do! Pumpkins to carve, costumes to make, parties to plan…the list does on and on.
In case you didn't already know…I kind of love Halloween. It's by far my favorite holiday, and not just because it's a great excuse to eat a bunch of candy. Don't get me wrong…excess amounts of candy is a great reason to love Halloween, but for me it's really all about the costumes.
I mean…my dog already has four costumes and I can't make any promises that she won't have a fifth by the time Halloween actually gets here. I understand I have a problem…but I am ok with it.
But you can't have all those costumes without an AWESOME party. And what's a good party without some amazing food? Last year I made these Marshmallow Mummy Pops and this Spider Web Cheesecake (still one of my favorites), so this year I went with Ghosts. A simple cake pop recipe turns into an epic Halloween Themed treat! If you are having a Halloween Party yourself, these should definitely be on your to do list!
HALLOWEEN GHOST CAKE POPS
Ingredients
1/4 cup + 2 tablespoons unsalted butter, room temperature

2 tablespoons vegetable oil

3/4 cup + 2 tablespoons sugar

1 egg + 1 egg white

1/2 tablespoon vanilla

1/2 cup + 2 tablespoons cake flour

1/2 cup + 2 tablespoons all purpose flour

1/4 teaspoon salt

1 teaspoon baking powder

1/2 cup buttermilk
FOR THE POPS
About 3 tablespoons of frosting

1/2 cup sprinkles, divided

White melting chocolate

Edible Pen

Fondant

3 1/2" circle cookie cutter

Lollipop sticks

Styrofoam block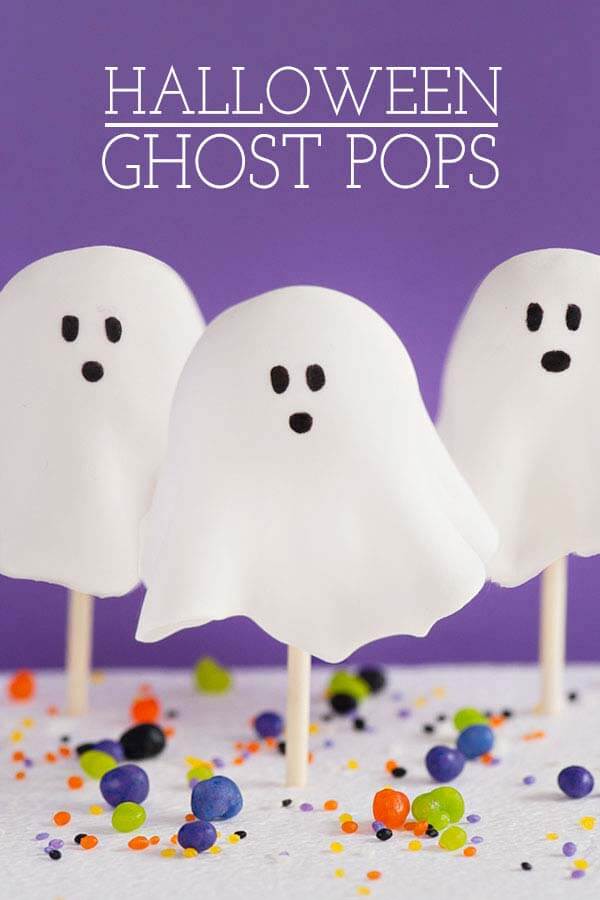 Instructions
For the cake:
Preheat the oven to 350 degrees. Prepare a 8x8" pan with parchment and non-stick spray.

In a stand mixer fitted with a paddle attachment, combine butter, sugar and oil on a low speed until just combined. About 1 minute.

Add eggs and vanilla on medium/low speed. Mix until combined.

Add flours, salt, and baking powder. Mix on a low speed until just combined.

Slowly stream in buttermilk. Mix until combined.

Pour batter into prepared pan. Bake for 20-25 minutes.

Set pans on a cooling rack to cool.
Assembly:
Once the cake is cooled, use your hands or two forks and to crumble the cake into fine crumbs.

Add buttercream and mix with hands or fork until the buttercream is fully incorporated. You want the mixture to be just moist enough to roll into balls.

Using a small ice cream scoop, scoop out a small amount of mixture and roll between cupped hands until you reach the desired round shape.

Put balls on a plate and cover with plastic wrap. Place in refrigerator for at least 4 hours.

Place coating chocolates in a deep bowl so you will be able to submerge the entire ball in the chocolate. Melt chocolates.

Dip lollipop stick into chocolate and then into the middle of the ball. Let sit for 2 minutes.

Dip cake ball into the chocolate until it is completely covered. Hold it sideways over the bowl and rotate it and tap it so the excess chocolate comes off.

Push the lollipop stick into styrofoam block to dry.

Once the chocolate is dry, roll out fondant and cut out a circle with cookie cutter. Place the middle of the circle at the top of the cake pop. Pull down the sides so it covers the cake pop completely and looks like a ghost.

Use edible pen to make eyes and mouth.