This Holiday Coconut Cake Recipe is made with a delicious chocolate cake and coconut buttercream. Then we take it to the next level with coconut snow and a pastel forest of edible trees.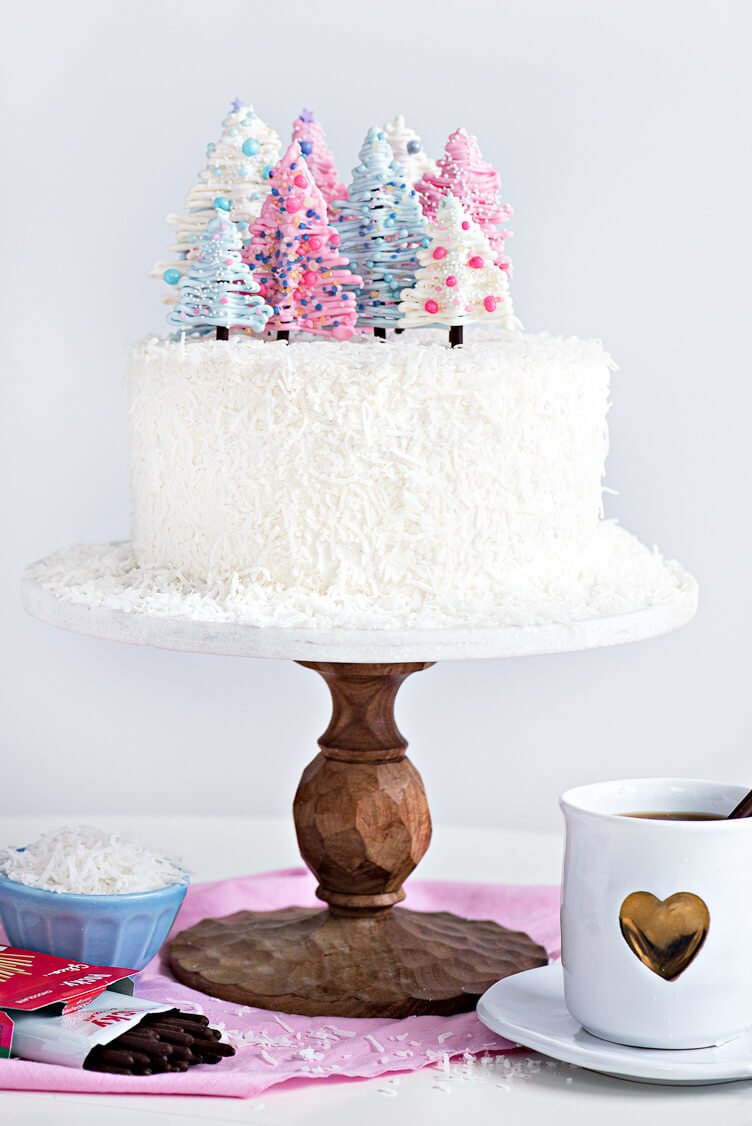 What's the best way to impress guests this holiday season? With an epic Winter Wonderland Cake of course! They won't be able to stop talking about this decadent chocolate cake, piled high with coconut buttercream and topped off with the most adorable Pocky Sprinkle Tree Forest.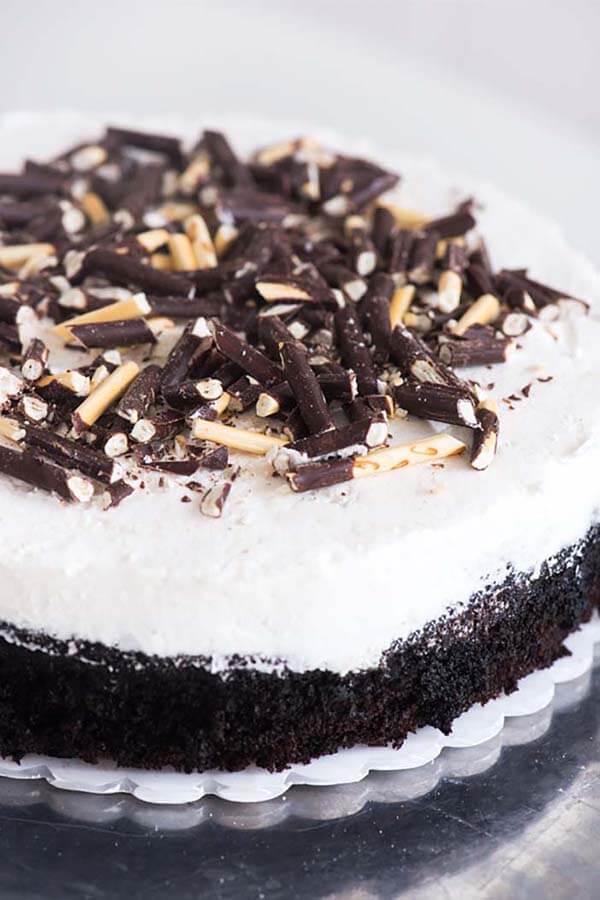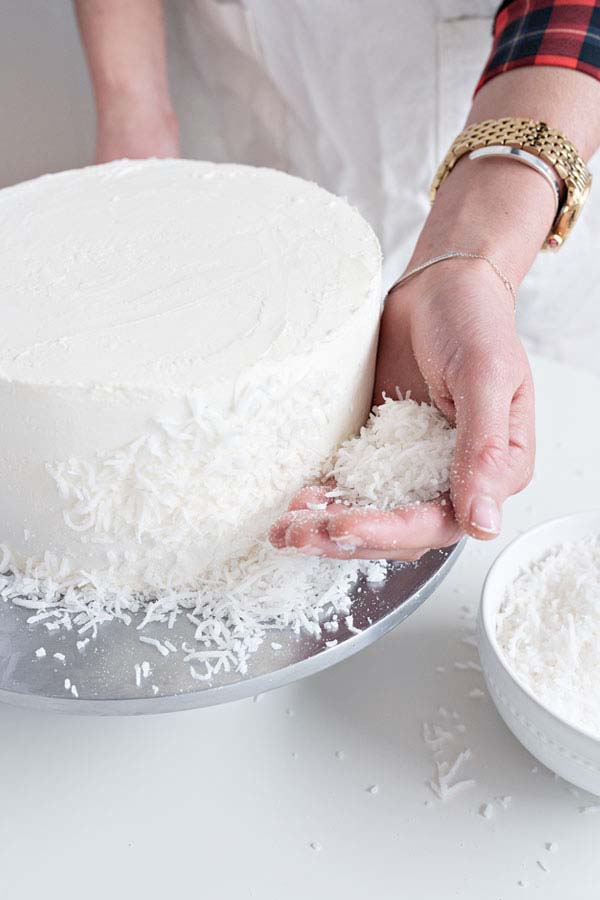 Basically, this holiday coconut cake recipe is perfect dessert for entertaining this winter. The cake itself is an easy one-bowl chocolate cake that is almost impossible to screw up. It also so moist you can make it a few days in advance and keep in it in the fridge until a few hours before you are ready to serve it.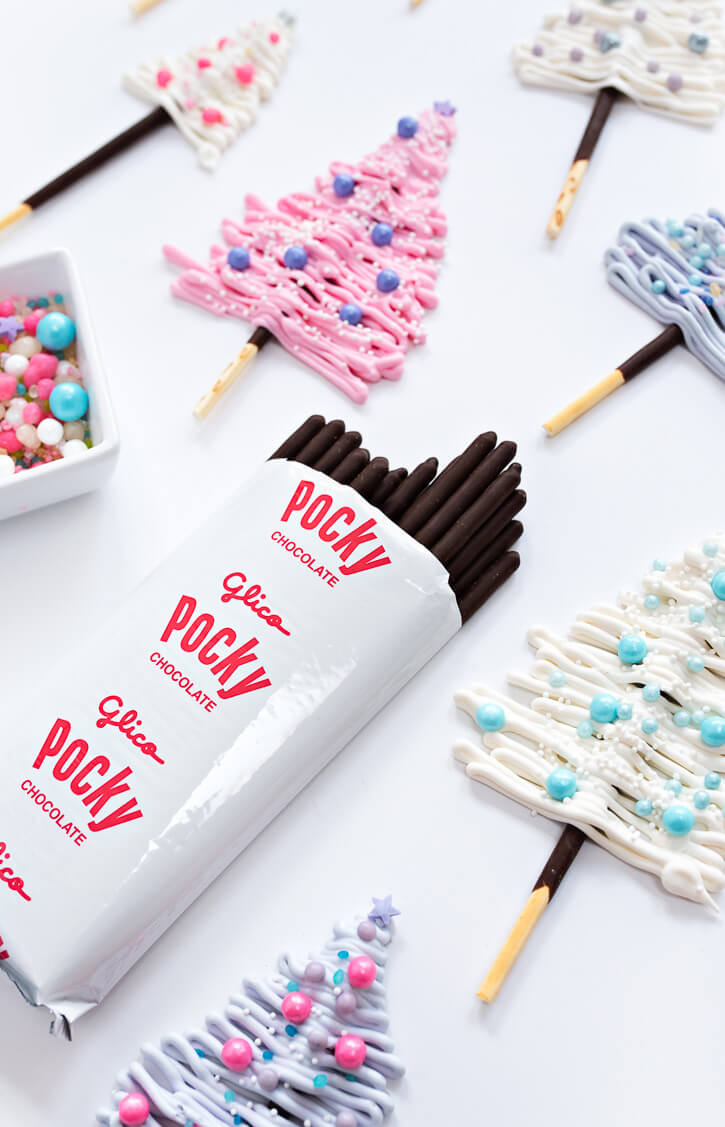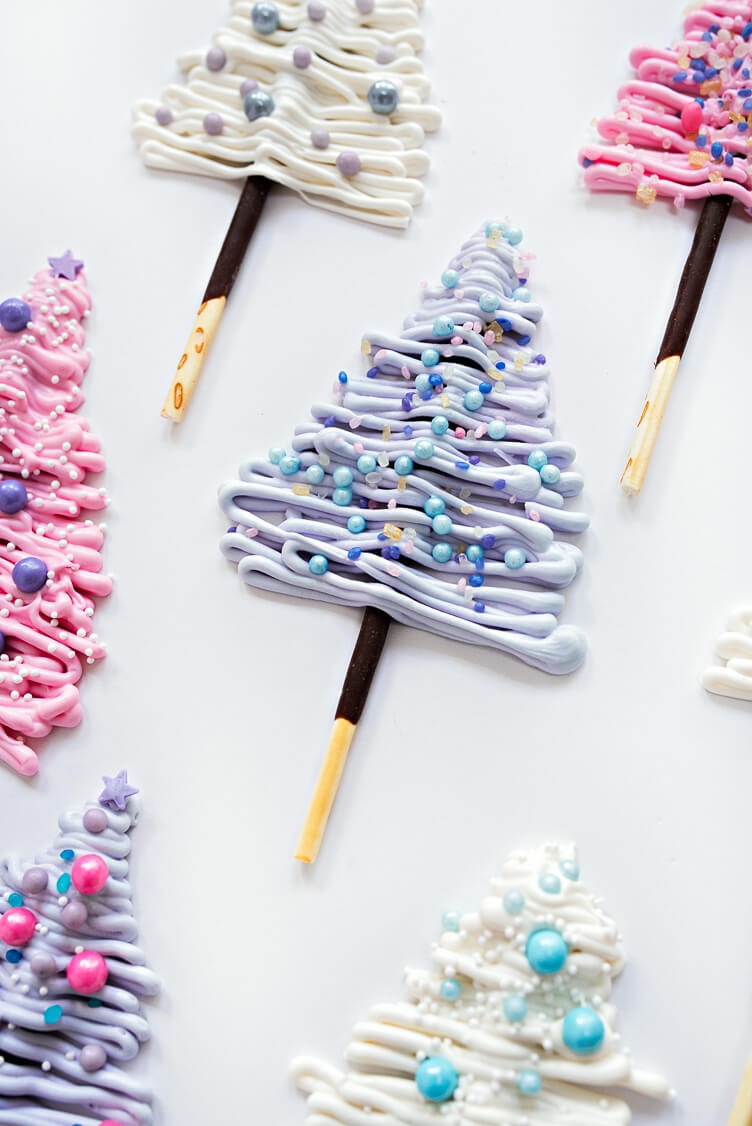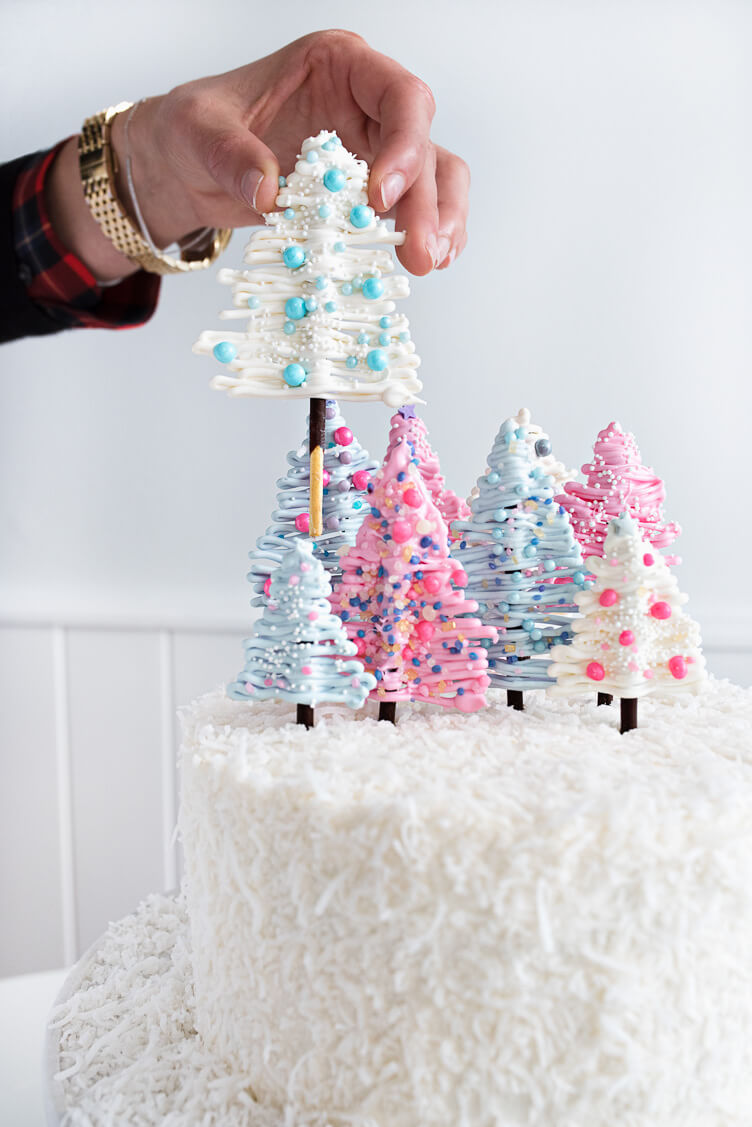 But my favorite part about this cake is definitely the Pocky Sprinkle Tree Forest. A couple months ago I made a Cookies and Cream Pocky Cake that I loved so much, I started looking for other ways to incorporate them into my baking. This was the result. I went with a pastel color palate (because pastels make me happy), but you can also use a more traditional green if you want.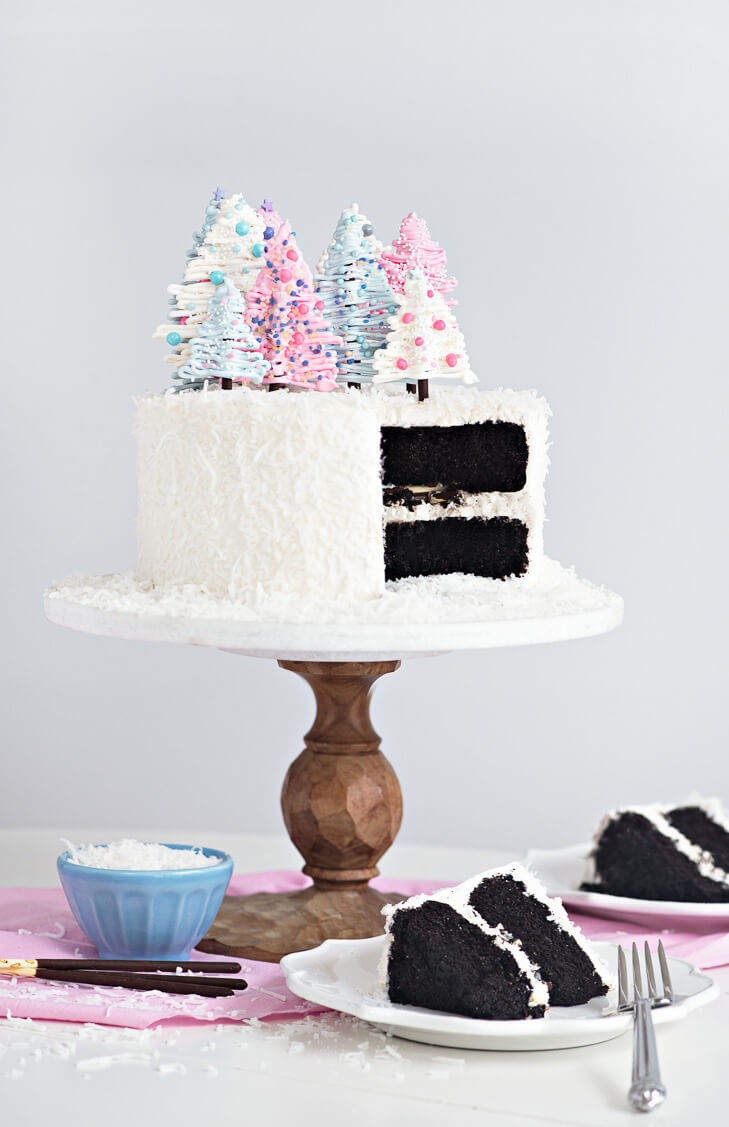 Once you are done decorating your forest, the extra Pocky Sticks can double as treats! They can be snacks for the kids, or drink stirrers for the adults! It's a win win!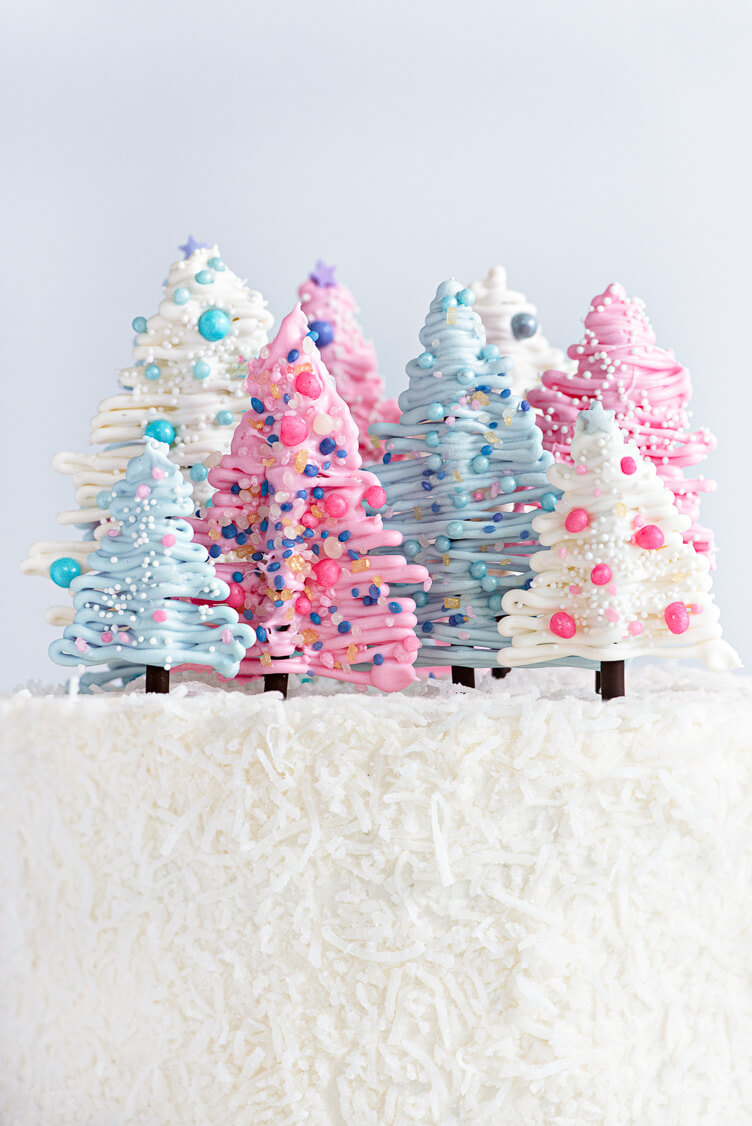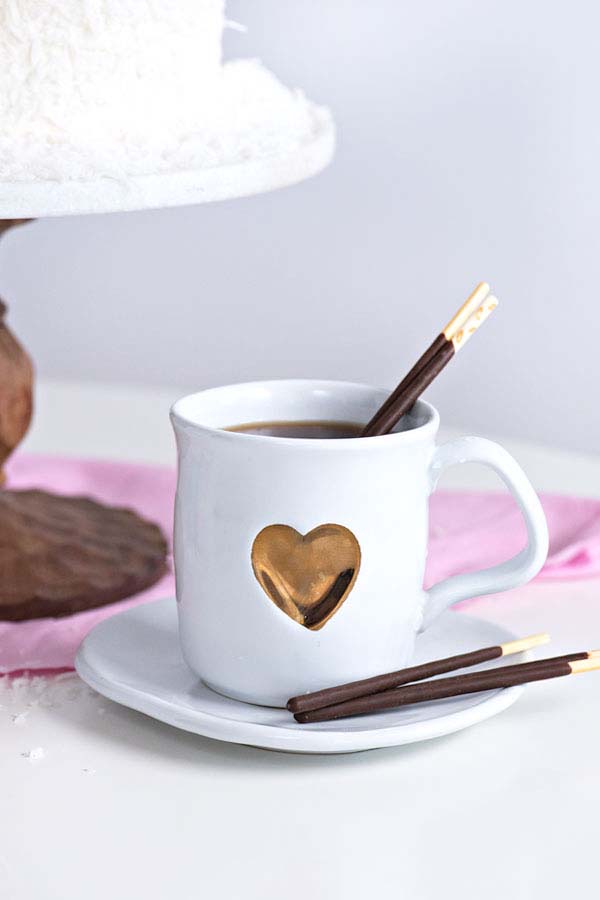 This post was sponsored by Pocky and the recipe is adapted from here.
CHOCOLATE COCONUT WINTER WONDERLAND CAKE
Ingredients
TOPPING
Shredded coconut

1 package Original Pocky Sticks

Melting chocolate

Chocolate Coloring

Sprinkles

Small round piping tip (I used Ateco #4)
CHOCOLATE CAKE
2 cups sugar

1 3/4 cups flour

3/4 cup cocoa powder

2 tsp baking soda

1 tsp baking powder

1 tsp kosher salt

2 eggs

1 cup buttermilk

1 cup coffee

1/2 cup vegetable oil

2 tsp vanilla extract
COCONUT BUTTERCREAM
1 1/2 cups sugar

6 egg whites

1 1/2 cups unsalted butter, room temperature

2 tsp vanilla extract

1/4 tsp salt

2/3 cups coconut milk

1 cup Pocky Sticks, chopped (used for filling)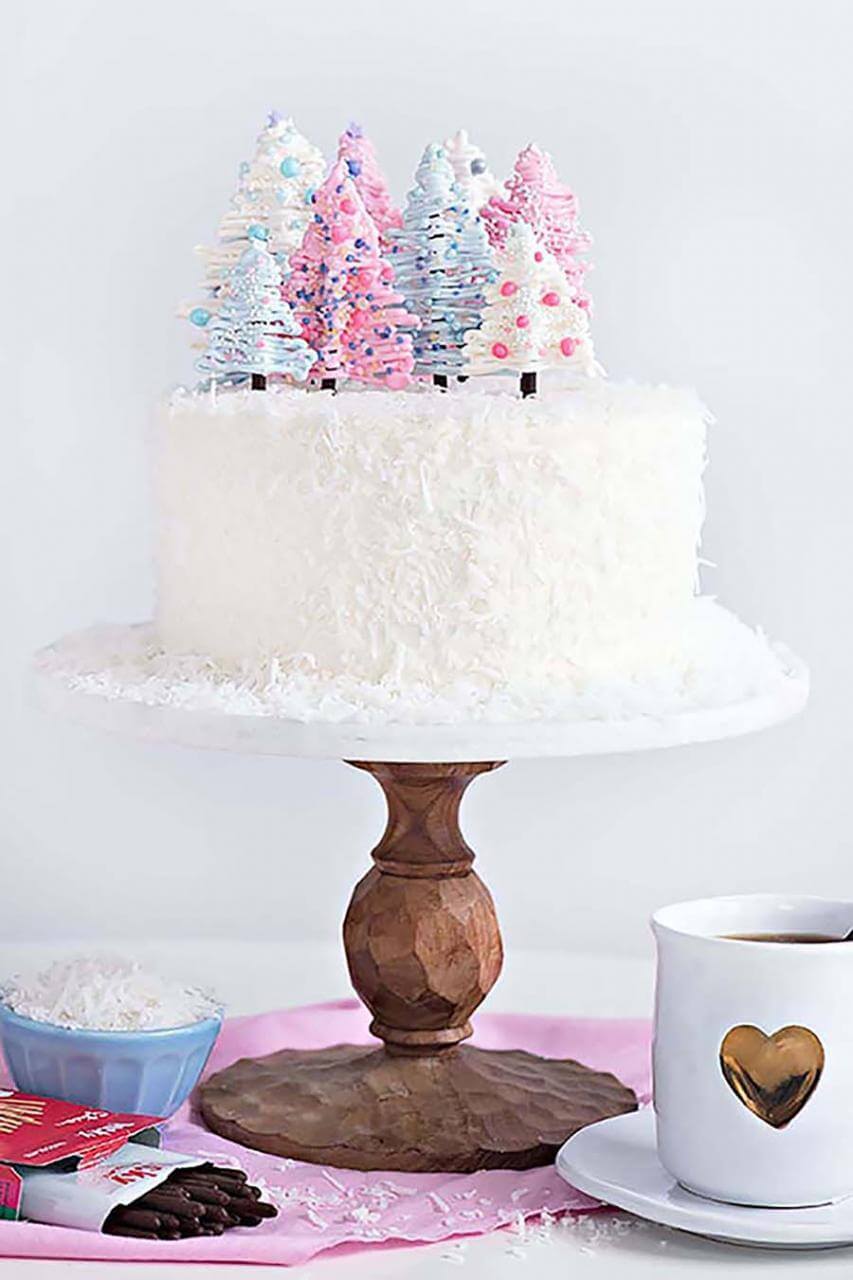 Instructions
For the topping:
Prepare a piping bag with a small round tip and a piece of parchment paper lined with Pocky Sticks.

In a microwave bowl, melt chocolate in 30 second intervals. Use chocolate coloring to change the color of the chocolate to desired color.

Place chocolate in piping bag and pipe lines back and forth over pocky stick. Start small on the top and then get larger as you go down the stick.

Immediately add sprinkles.
For the cake:
Preheat the oven to 350°F, prepare two 8" cake pans with non-stick cooking spray and parchment rounds.

In the bowl of a stand mixer fitted with the paddle attachment, combine the sugar, flour, cocoa, baking soda, baking powder and salt. Mix on low until dry ingredients are thoroughly combined.

On low speed add eggs, buttermilk, coffee, oil and vanilla.

Once everything is combined beat on medium speed for 1 minute.

Divide batter between two pans and bake for 25-30 minutes, or until wooden toothpick inserted in center comes out clean.

Transfer pans to wire rack and let cool completely.
For the buttercream:
Put sugar and egg whites in the top of a double boiler or a heatproof bowl over a pan of simmering water. Whisk every 15-30 seconds until it is warm to the touch in the center (about 5-8 minutes).

Using a stand mixer with a whisk attachment, pour heated mixture into mixing bowl. Turn the mixer on medium-high and mix for 5 minutes. The mixture will become thick, glossy and pure white.

Turn speed to high and mix until the sides of the bowl are cool. (about 3-5 minutes)

Once the sugar mixture is cool, put mixture on low speed and gradually add butter. Turn back to high speed. The mixture will look curdled at first, but it will eventually whip into a buttercream consistency.

Once it looks like buttercream, turn the speed back to medium and add extract, salt and coconut milk. Whip for about 2-4 minutes until everything is incorporated.
ASSEMBLY
Once cakes are cool, take them out of the pans. Place one layer onto a cake plate. Using an offset spatula, spread 1 cup of frosting on the cake. Add ¾ cup of chopped Pocky Sticks.

Turn the second layer upside down (so the bottom is face up) and gently place it on top of the first layer.

Use the remaining frosting to frost the rest of the cake. Start with a generous amount on the top and work your way to the sides.

Once cake is frosted, cover with shredded coconut.

About an hour before serving, arrange trees on top of cake as desired.
FOR THE BUTTERCREAM
VERY IMPORTANT NOTE - At first this buttercream will look like you did it wrong. It will look lumpy and like it is not coming together. But don't freak out! Make sure you do the whole recipe all the way through and I promise it will come together!