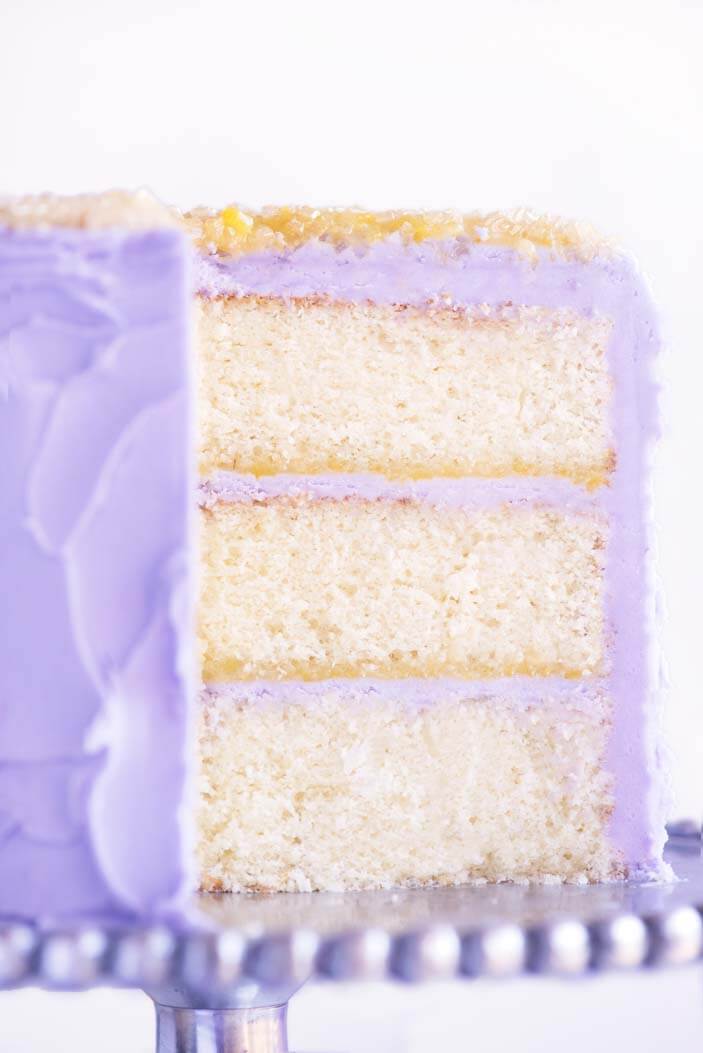 When vanilla cake is done well, it's pretty freaking amazing on its own. It doesn't NEED to be slathered in buttercream or a ganache or berry compote. It's perfectly delicious all on its own.
But, since I am all about living your best life – I'm like, why wouldn't you want to take an already amazing cake and take it to the next level with some special add ons? How about a silky smooth Lavender Buttercream and a fresh homemade lemon curd? Sounds pretty good right?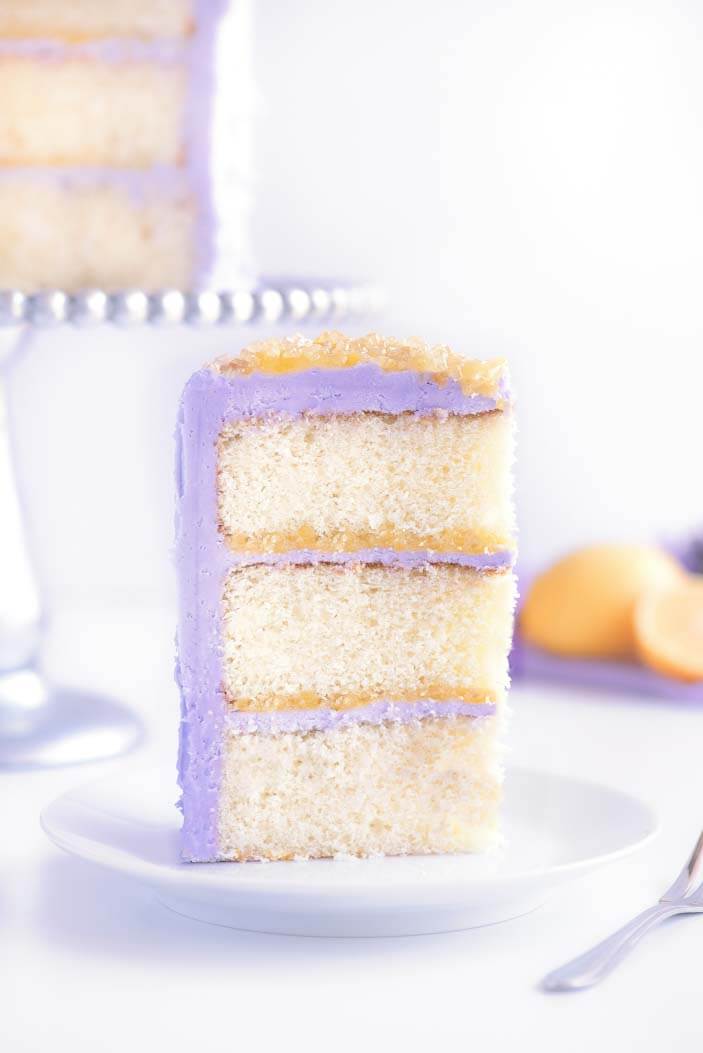 It's actually a lot better than good. This is the kind of cake that gets those jaw dropping reactions I love so much. You know what I'm talking about,
The…
"Oh my god. This is the best cake I have ever had"
…kind of responses.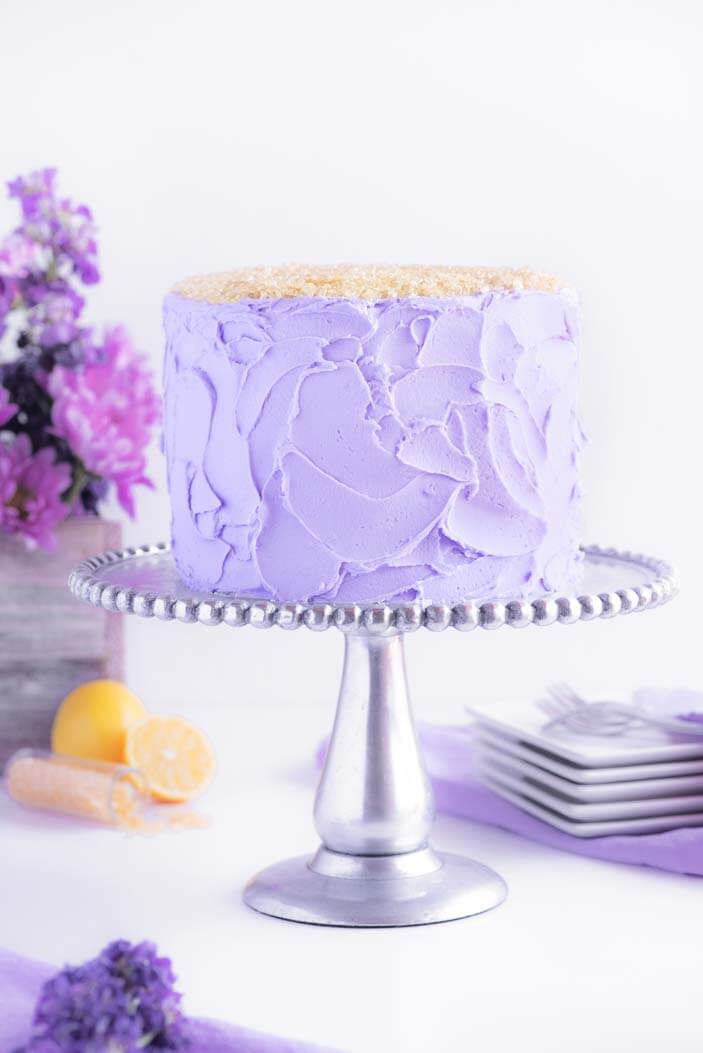 I go light on the lavender so you don't feel like your get a mouthful of flowers, but there is enough in there to peak you youngest interest. And then you have that homemade lemon curd between each layer.
Inspired by my lemon lavender macarons, this cake is the perfect way to celebrate spring. Or summer. Or winter. Or fall. I mean, once you taste this cake, there is no going back. It's going to be your new favorite.
LEMON LAVENDER CAKE
Ingredients
LEMON CURD
1/4 cup lemon juice

Zest of three lemons

3 egg yolks

1/2 teaspoon of cornstarch

1/2 cup sugar

1/4 cup unsalted butter, cut into pieces

Yellow sugar crystals (optional)
LAVENDER BUTTERCREAM
2 lbs. powdered sugar

2 cups unsalted butter, room temperature

1/4 cup milk

1 teaspoon vanilla extract

1/4 teaspoon lavender extract or flavoring

Purple food coloring (I used 20 drops of Violet Americolor)
VANILLA CAKE
2 eggs + 1 egg white, room temperature

1 cup whole milk, room temperature

2 1/4 teaspoons pure vanilla extract

3 cups cake flour, sifted

1 3/4 cups sugar

1 tablespoon + 1 teaspoon baking powder

3/4 teaspoon salt

12 tablespoons unsalted butter, room temperature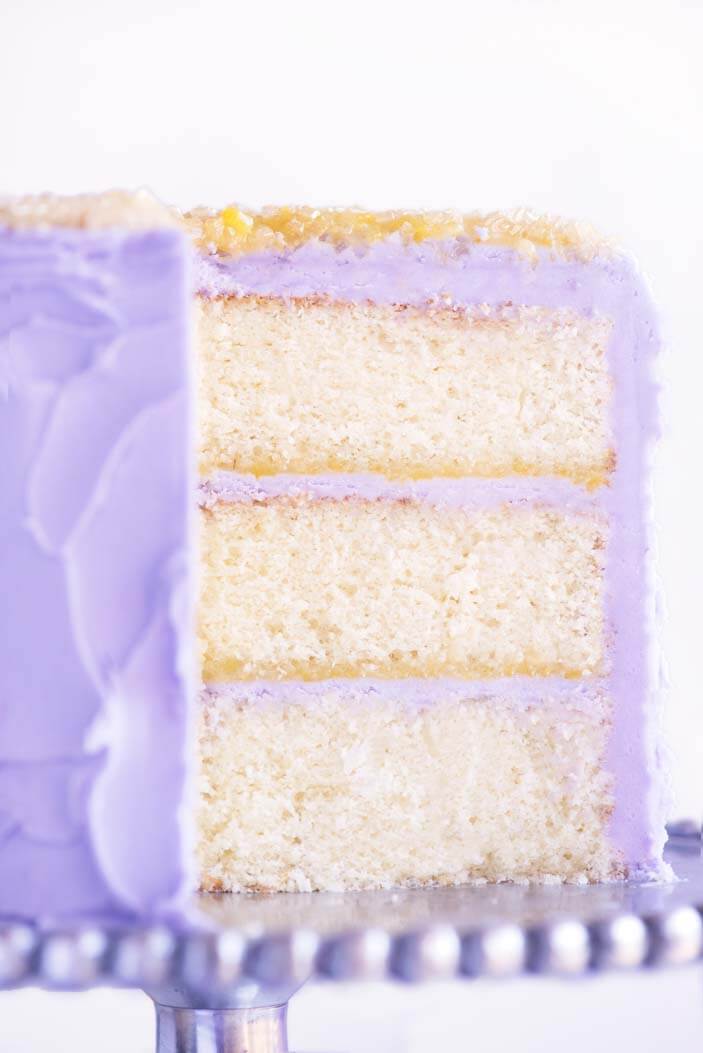 Instructions
LEMON CURD
In small saucepan, combine lemon zest, lemon juice, egg yolks, sugar, corn starch and butter.

Cook on low heat until everything is combined.

Once everything is combined, increase the heat to medium. Stirring every 30 seconds, cook the mixture 12-15 minutes, or until it thickens.

Pour the curd into a heat proof bowl. Place a piece of plastic wrap over the lemon mixture. Press it down so it directly touches the curd.

Set aside and allow the curd to come to room temperature.

Once the curd is set, divide it into three portions. Two portions go in between the layers.

The third portion is spread at the top of the cake over the Lavender buttercream. Then add sprinkles.
BUTTERCREAM
In a stand mixer fitted with a paddle attachment, beat butter until light and fluffy.

Add 1 lb of powdered sugar. Mix on a slow speed until combined.

Add the other 1 lb of powdered sugar. Mix on slow speed for about a minute.

Add milk and mix until everything is combined.

Once everything is combined, mix on high speed for 3-5 minutes, until light and fluffy.

Add in vanilla extract and lavender flavoring.

Add purple food coloring until you get desired color.
VANILLA CAKE
Preheat oven to 350 degrees. Prepare three 6" cake pans with pam and parchment.

In a medium bowl combine eggs, egg white and the vanilla. Set aside.

In a bowl with an electric mixer fitted with a paddle attachment, combine dry ingredients and mix on a low speed for 30 seconds.

Add butter and milk. Mix on a low speed until just combined.

Increase to medium speed and mix for 1-2 minutes.

Scrape down the sides of the bowl and add egg mixture in 2 separate batches. Beat on medium speed until it is just combined.

Divide batter into three cake pans. Bake for 30-35 minutes, or until a toothpick comes out clean.

Let cakes cool for 10-15 minutes and then remove from cake pans. Place cakes on wire racks until completely cool.