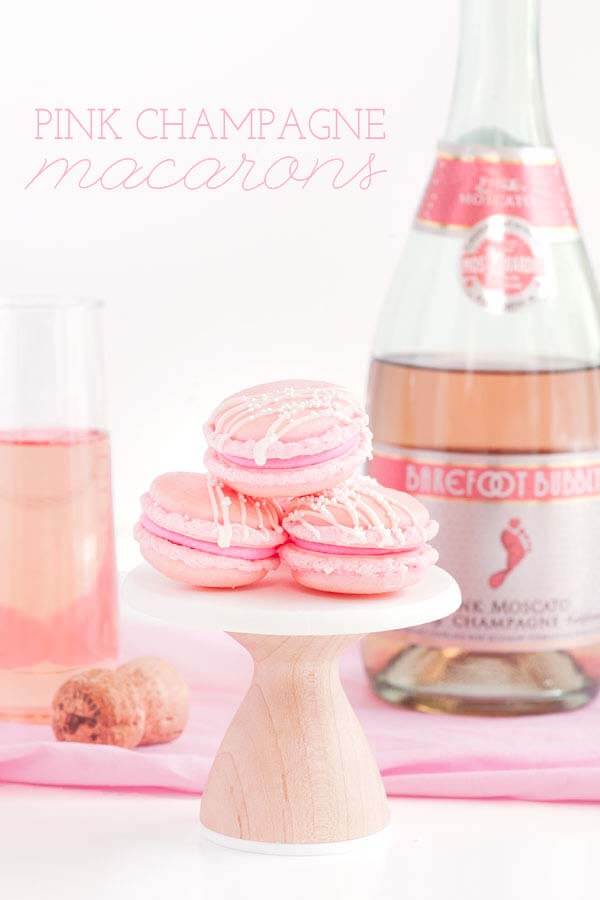 Throughout my life I have made hundreds of cakes – vanilla, chocolate, carrot, peanut butter, red velvet – you name it, I have probably made it. But it wasn't until I began working at a cake shop in New York City that I was introduced to the Pink Champagne Cake.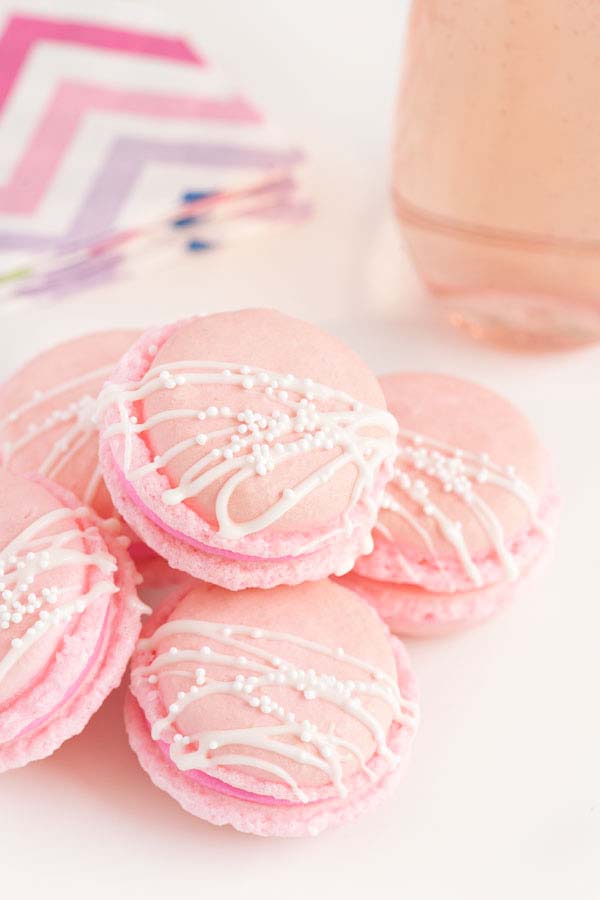 We made a lot of cakes in that shop, but the Pink Champagne Cake was by far one of our most popular requests. It just seemed to make sense – champagne went great with cake – so why not just put it in the cake!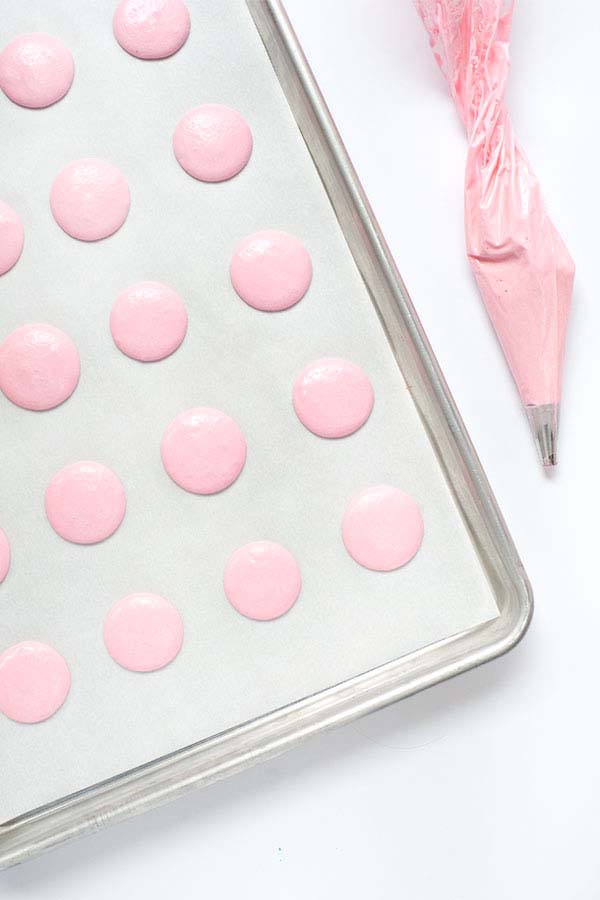 But then I got to thinking, champagne goes well with a lot of things…so why should it be limited to just cake? There was an opportunity for so much more! So, I decided to team up with my friends over at Barefoot Wine & Bubbly to create some brunch inspired desserts with their Pink Moscato Champagne!
They have already shared my Pink Champagne Doughnuts and Cinnamon Rolls with Pink Champagne Frosting on their Instagram. So if you haven't seen those yet, you should definitely go check it out. But today, I am sharing these awesome Pink Champagne Macarons.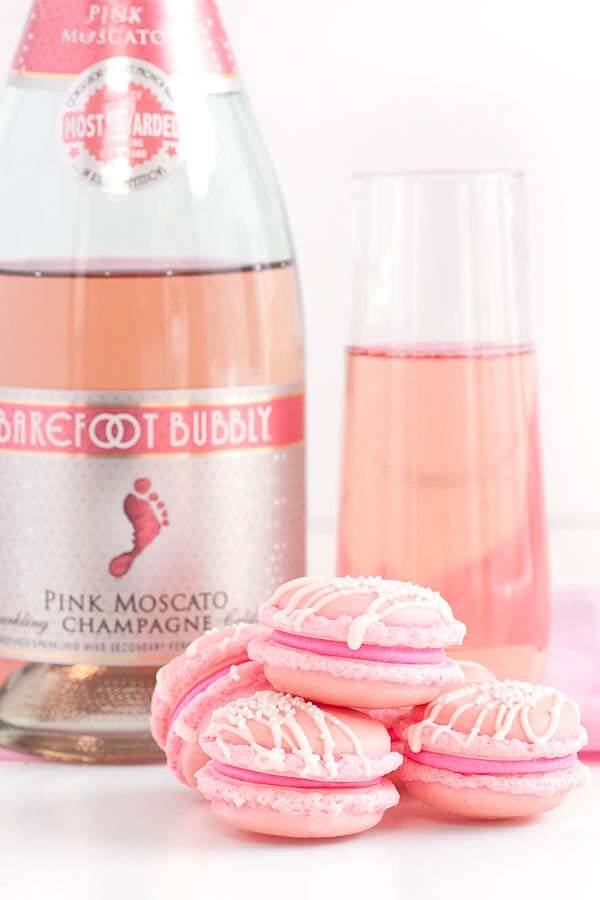 PINK CHAMPAGNE MACARONS
Ingredients
MACARON SHELLS
1 1/2 cups powdered sugar

1 cup + 2 tbs almond flour

3 eggs whites

1/2 cup sugar

Pink food coloring

1/4 cup high quality white chocolate

White sprinkles
PINK CHAMPAGNE FILLING
1/2 cup unsalted butter

1 3/4 cup powdered sugar

2 teaspoons Barefoot Bubbly Pink Moscato

1/4 teaspoon salt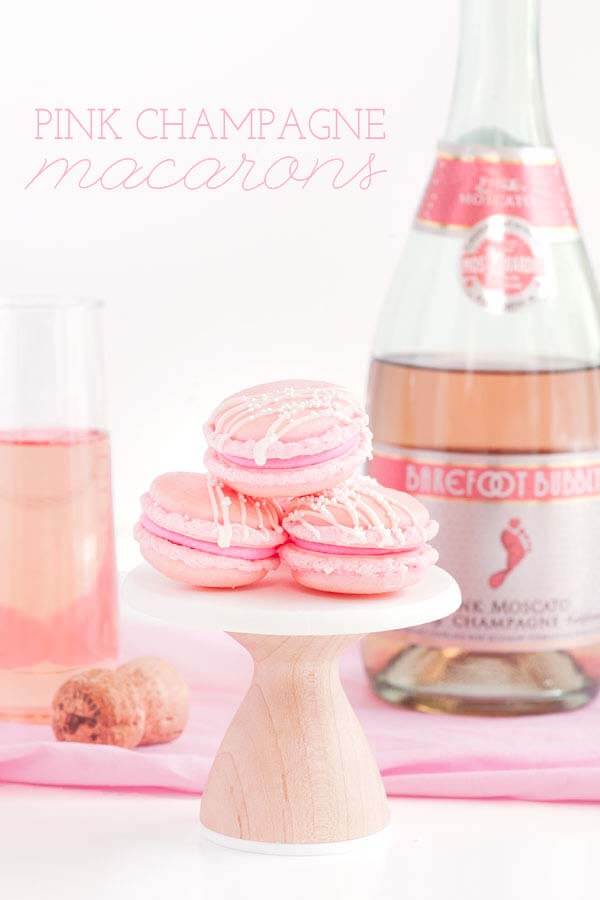 Instructions
For the shells:
Preheat oven to 325 degrees and prepare a baking sheet with parchment.

In a medium bowl, sift almond flour and powdered sugar together. Set aside.

In a stand mixer with a whisk attachment, beat egg whites on high speed until they form soft peaks.

Lower the mixer's speed to medium and add sugar.

Put mixer back on the highest speed and beat until they form stiff peaks.

With the mixer still on high speed, add food coloring.

Take bowl off of mixer and add almond flour/sugar mixture.

Using a rubber spatula, aggressively fold in dry ingredients until the batter starts to loosen and becomes a little runny.

Put batter a pipping bag with a round tip.

Pipe 1 1/2" circles on prepared baking sheet and firmly tap the bottom of the tray so the batter flattens out.

Let them rest for 30-45 minutes until they form a skin.

Bake for 10-12 minutes, or until they are set.

Let cool before peeling them off parchment paper.
Pink Champagne filling:
In a stand mixer with a whisk attachment, cream butter until it is soft and smooth.

Add powdered sugar, salt and Barefoot Bubbly Pink Moscato. Mix until light and fluffy.
Assembly
Pair macarons according to size.

Fill a piping bag with a round tip with filling and pipe a small dollop on one half of a pair of cookies.

Melt 1/4 cup white chocolate and use a fork to drizzle over the macarons. Immediately add sprinkles.
Notes
*Makes 20-25 Macarons
This post was sponsored by Barefoot Wine & Bubbly.