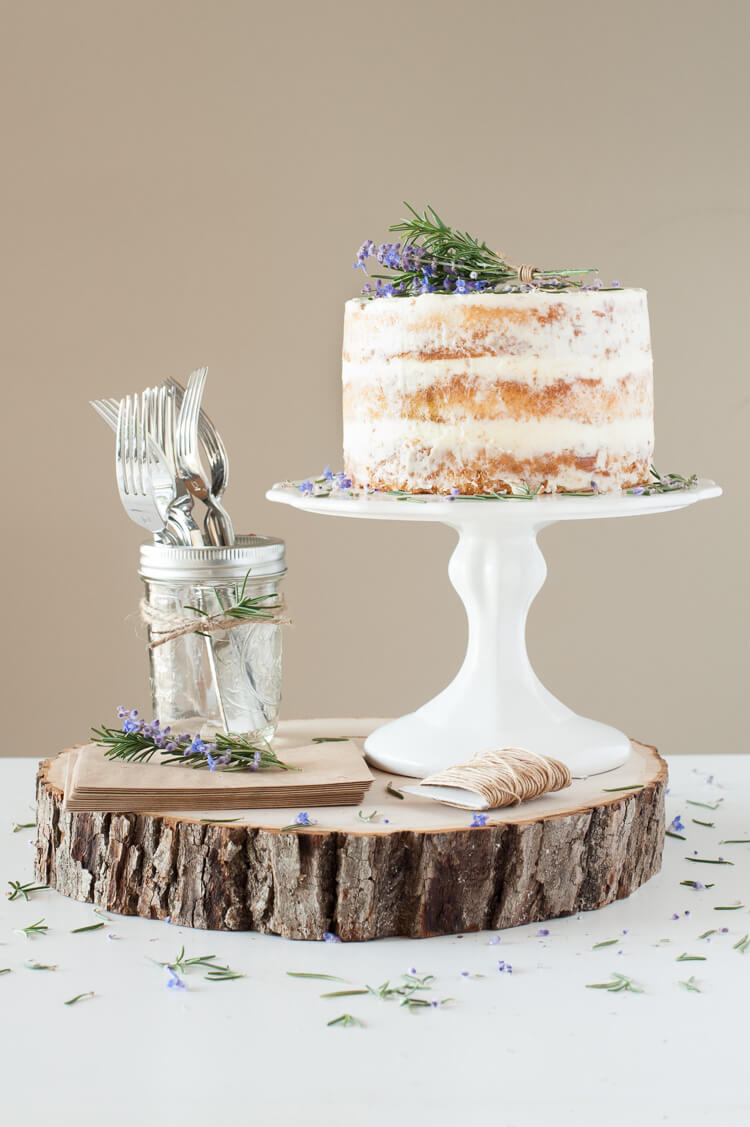 Naked cakes have been popping up all over the place in the past year, and it turns out, I am pretty obsessed with them. In theory, you would think a naked cake would look sloppy or unkempt, because by definition, it is an unfinished cake. But, for some reason, naked cakes actually turn out looking pretty beautiful and elegant. This is especially true when they are paired with natural elements like colorful flowers or simple greenery.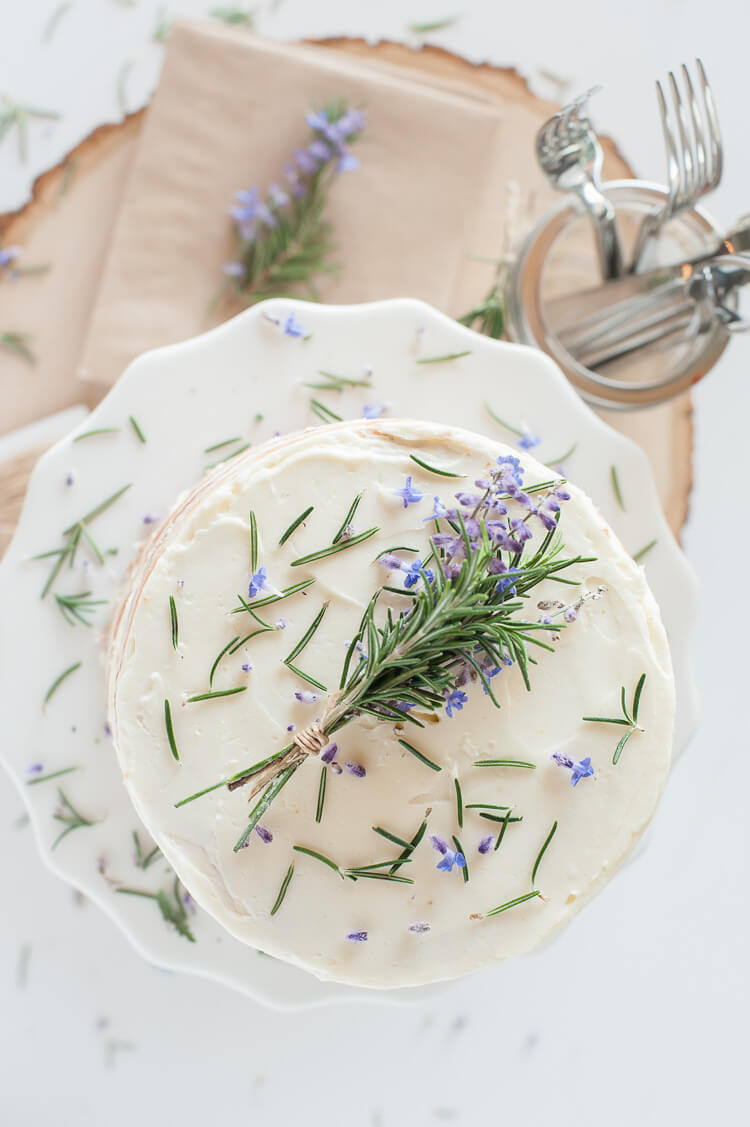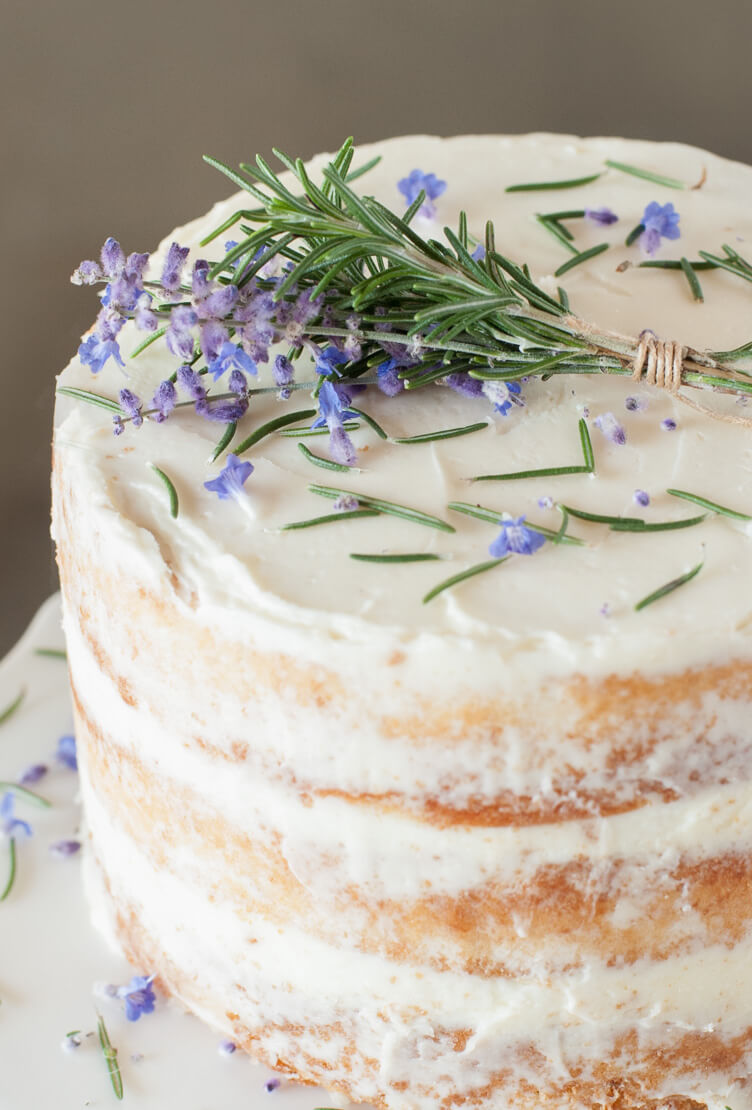 So, we decided to try it out for ourselves. This is our Vanilla Vanilla Cake recipe filled with a delicious Honey Buttercream and decorated with a little Lavender and Rosemary. All we did to make the honey buttercream was add a little honey to the original vanilla buttercream recipe until it tasted the way we wanted it to. It was super easy and turned out really well!
What better way to welcome the first day of Spring?!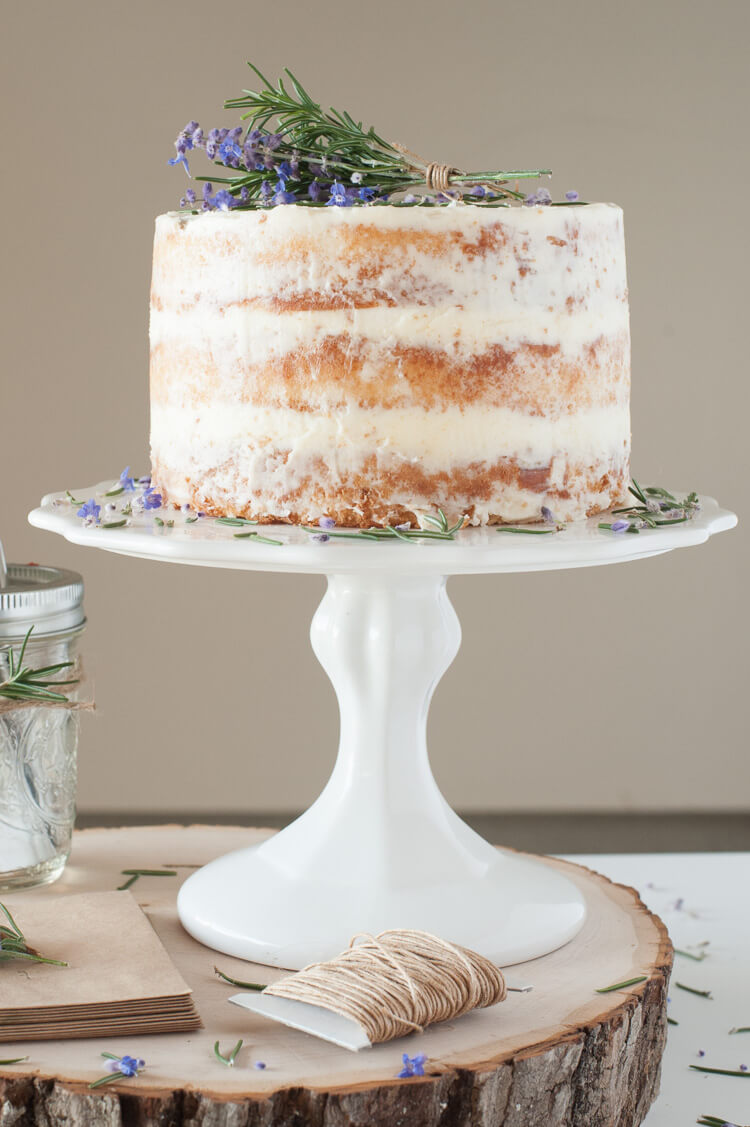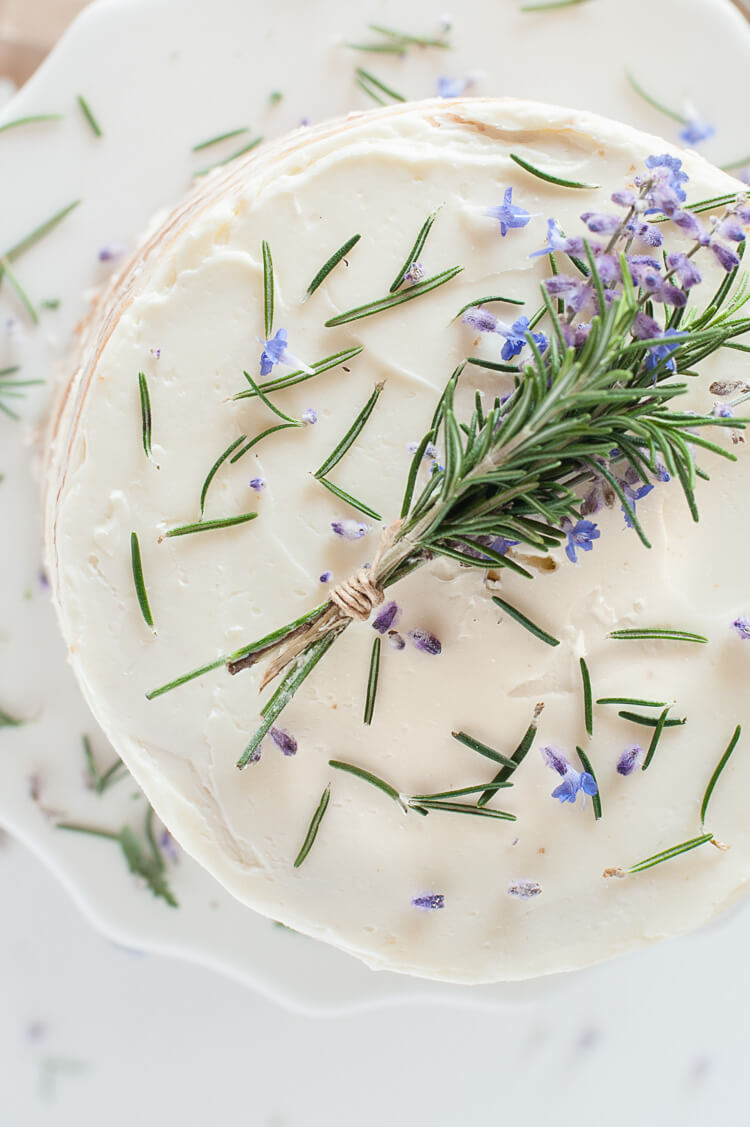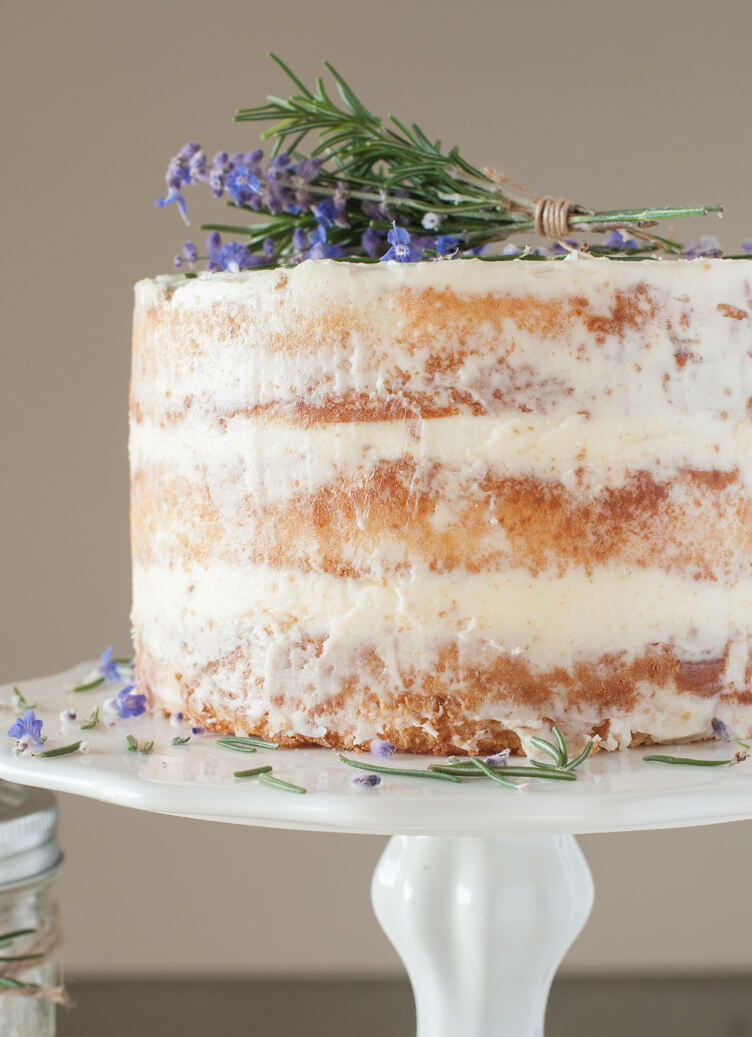 ROSEMARY LAVENDER CAKE
Ingredients
CAKE
5 large egg whites at room temperature

1 cup whole milk at room temperature

2 1/2 teaspoons pure vanilla extract

3 cups cake flour, sifted

1 3/4 cups sugar **If you do not have cake flour just lying around you can use all purpose flour. Cake flour is obviously better…but this works too. 1 cup of cake flour = 1 cup of all purpose flour – 2 TBS.

1 tablespoon + 1 teaspoon baking powder

3/4 teaspoon salt

12 tablespoons unsalted butter, at room temperature and cut into cubes

3-4 springs of fresh rosemary (optional)

3-4 sprigs of fresh lavender (optional)

3 teaspoons fresh rosemary, chopped
BUTTERCREAM
1 lb (2 cups) room temperature butter

5 egg whites

1 cup sugar, divided

1/4 cup honey

1 teaspoon vanilla extract

1 teaspoon lavender extract

water

candy thermometer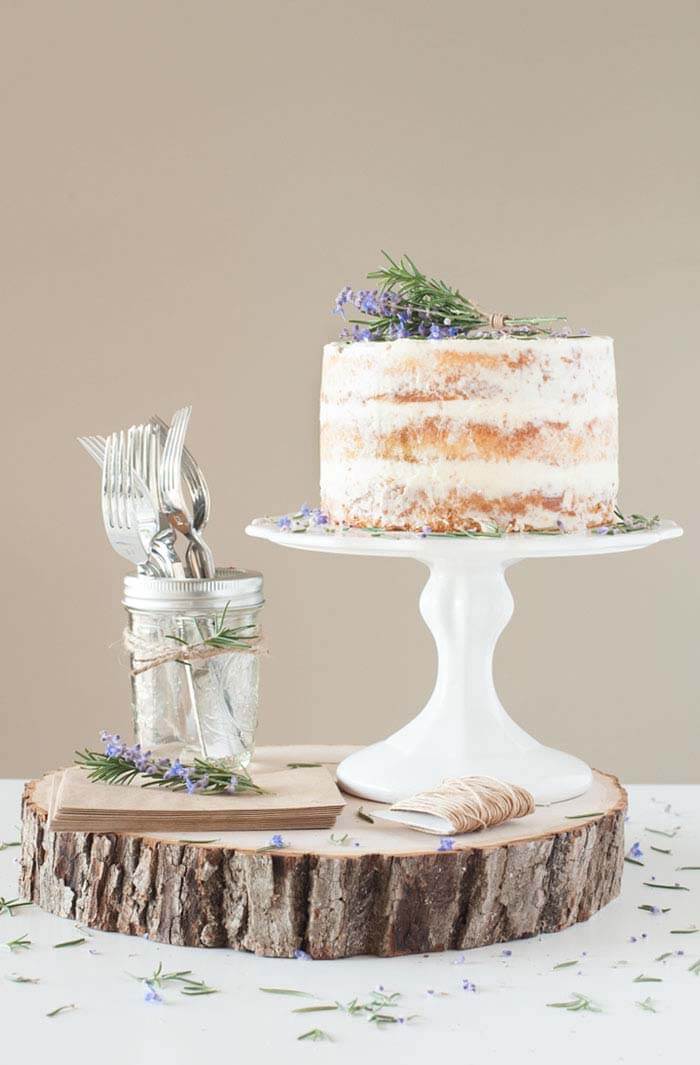 Instructions
For the cake:
Preheat oven to 350 degrees. Prepare three 8" cake pans with pam and parchment.

In a medium bowl combine the egg whites chopped rosemary and vanilla set aside.

In the bowl of an electric mixer fitted with the paddle attachment, combine flour, sugar, baking powder, and salt together on low speed for 30 seconds.

Add the butter, and mix on a low speed until just combined.

Add milk and mix until just combined. Increase to medium speed and mix for 1-2 minutes.

Scrape the sides of the bowl and begin to add the egg mixture in 2 separate batches, beat on medium speed until it is just combined.

Divide the batter between the three cake pans.

Bake for 25-30 minutes or until a toothpick comes out clean.

Let cool on racks until cooled completely.
For the buttercream:
In a small sauce pan put 3/4 cup of sugar. Cover the sugar with a little bit of water until the sugar looks like wet sand. Cook on a stove top over high heat until it reaches 248 degrees (you will need a candy thermometer).

While the sugar is cooking, whip eggs whites in a bowl of an electric mixer fitted with the paddle attachment at a high speed until they reach soft peaks.

Once the egg whites reach soft peaks add the remaining 1/4 cup of sugar and mix on a high speed until the egg whites reach stiff peaks. You can keep mixing the egg whites at a high speed until the sugar is done cooking.

Once the sugar reaches 248 degrees, place the mixer on high speed and stream sugar into egg white mixture. Mix on a high speed for 30 minutes.

After 30 minutes, add the room temperature butter and mix on a high speed for 5-10 minutes until the butter is fully combined and the mixture resembles buttercream.

Add honey, vanilla and lavender and mix until just combined.
Assembly
Once cakes are cool, take them out of the pans, and place one layer onto a cake plate. Using an offset spatula, spread 1 cup of frosting on the cake.

Turn the second layer upside down (so the bottom is face up) and gently place it on top of the first layer. Spread another cup of frosting on the cake.

Turn the third layer upside down and gently place in on top of the second layer.

Spread a generous amount of frosting on the top of the cake. Spread the frosting to the edge of the cake and then start to work your way down the sides.

Using a bench scraper or an offset spatula, scrape some of the frosting off the sides of the cake so you can see the cake layers.

Using twine or string, tie together a couple of springs of rosemary and lavender and place on top of the cake.
Notes
* Serves 10-14 people depending on how big you cut your cake slices.