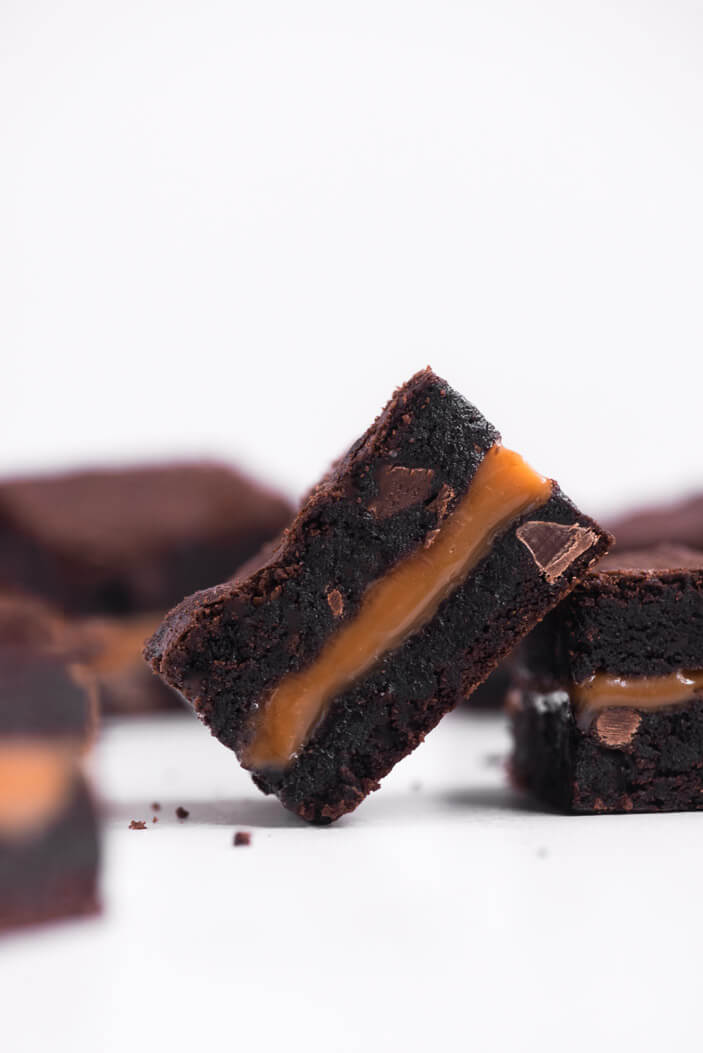 I have a confession to make – this recipe was solely created to impress a boy. Unfortunately, in the time it took me to perfect the recipe, the boy decided that he was no longer interested in seeing me. Cool cool cool. No brownies for you, SIR.
In the end, these caramel brownies turned out to be far more interesting and far more comforting than that boy could ever dream of being. So it looks like I am the real winner here.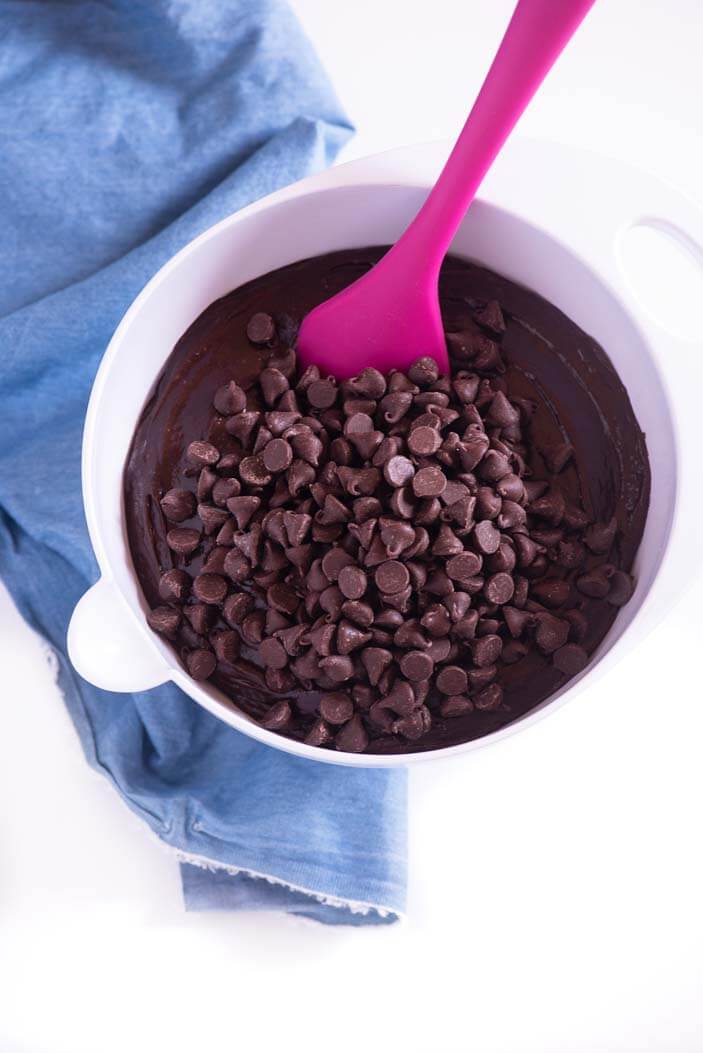 This recipe took me so long to perfect because of that trick caramel center. I knew I wanted these brownies to be thick and chewy and chocolatey – but I also wanted them to have this perfectly gooey caramel center. The problem was, the caramel kept sinking to the bottom. Don't get me wrong, it still tasted good – but it just wasn't what I wanted.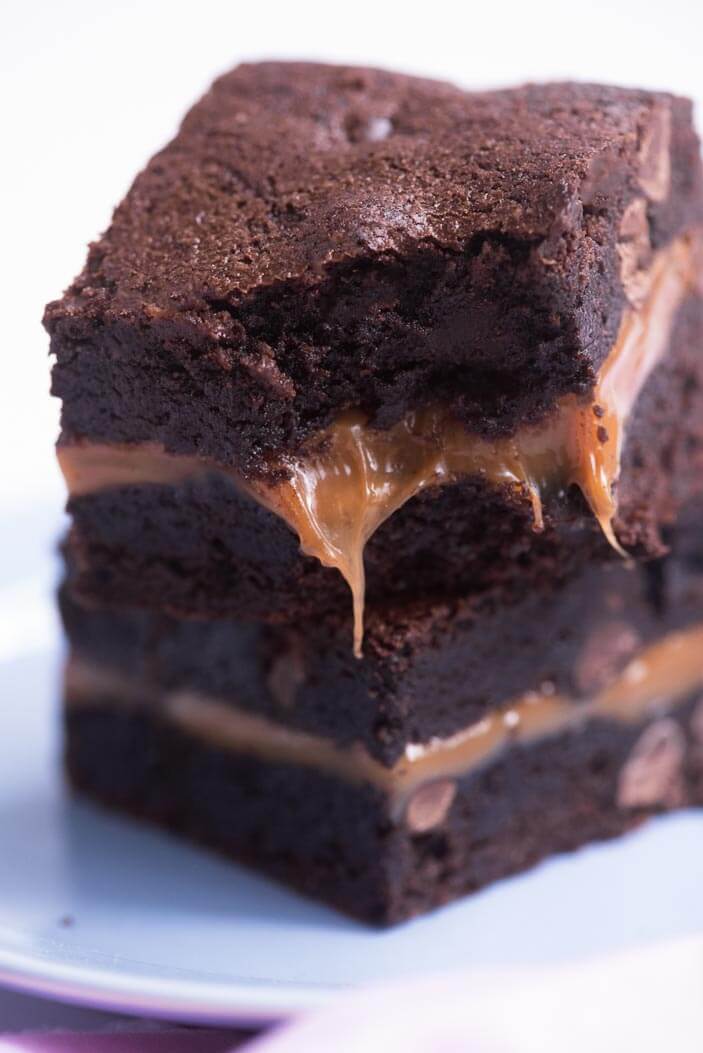 So the question remained…
HOW DO YOU GET THAT PERFECT CARAMEL CENTER?
There are two parts to this answer. The first answer is sweetened condensed milk. Adding sweetened condensed milk to the caramel gives it a nice smooth and silky texture. The answer is…freezing it. When you freeze the layer of caramel, it forces the caramel to hold its position as the middle layer. This is because the frozen caramel takes much longer to melt than room temperature caramel. So by the time the frozen caramel gets warm and gooey enough to sink, the bottom layer of brownie batter has already started to cook up. So it holds that caramel layer in place – right in the center (which is exactly where we want it).
So do not skip either of these steps! They are what make this recipe so phenomenal. They leave you with these perfectly fudgy chocolate brownies with the most delicious silky caramel center.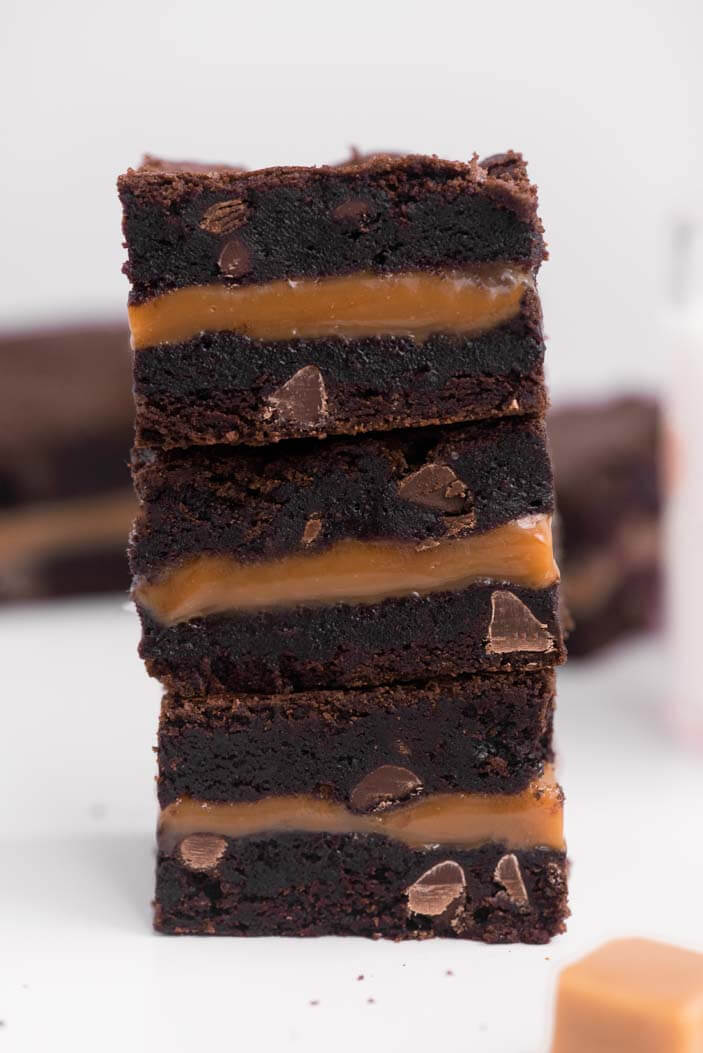 Another tip for these brownies is to make sure they are COLD when you cut them. Brownies can be a mess if you cut them at room temperature – and adding the caramel in there makes them even trickier to cut. So to ensure that you get perfect brownie squares with smooth edges, do yourself a favor and put these bad boys in the fridge before you cut them up.
GOOEY CARAMEL BROWNIES
Ingredients
BROWNIES
1 cup unsalted butter, melted

2 tablespoons vegetable oil

2 1/4 cups sugar

4 eggs

1 tablespoon vanilla extract

1 cup all purpose flour

1 cup unsweetened cocoa powder

1/2 teaspoon salt

1 cup chocolate chips
CARAMEL FILLING
1/4 cup sweetened condensed milk

1 (11 oz) package of Kraft Caramels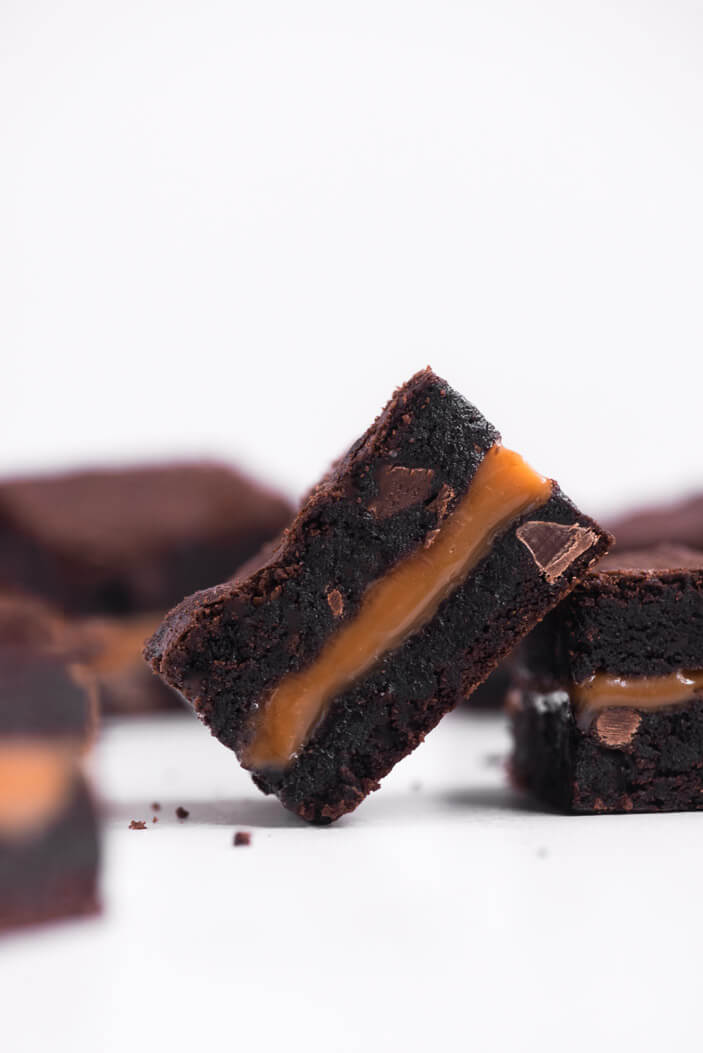 Instructions
1 (11 oz) package of Kraft Caramels
Prepare an 8x8" baking pan with parchment. Set aside.

In a microwave safe bowl, combine sweetened condensed milk and caramels.

Microwave in 30 second intervals, stirring between each interval, until combined and melted.

Pour caramel onto the parchment in prepared 8x8" pan. With an offset spatula or knife, create one even layer of caramel.

Place pan with caramel in the freezer for at least one hour.

Once the caramel is frozen, take it out of the pan and keep it in the freezer. Allow the pan to come back to room temperature before you cook the brownies.
BROWNIES
Preheat the oven to 350 degrees and prepare an (room temperature) 8x8 pan with parchment paper.

In a medium bowl, whisk together flour, cocoa powder and salt. Set aside.

In a stand mixer fitted with a paddle attachment, combine melted butter, oil and sugar on medium speed. Whisk until fully combined, about 1- 2 minutes.

Add eggs and vanilla extract. Mix until full combined, about 1 minute.

Fold in dry ingredients until just combined.

Add chocolate chips. Mix until combined.

Place half of the batter in prepared pan. Smooth into an even layer with a knife or offset spatula.

Remove caramel from the freezer. Remove the parchment paper and place on top of the brownie layer.

Pour the remaining batter on top of the caramel layer. Spread it into an even layer.

Set brownies aside to cool.

Place brownies in the fridge for 3-4 hours before cutting them.