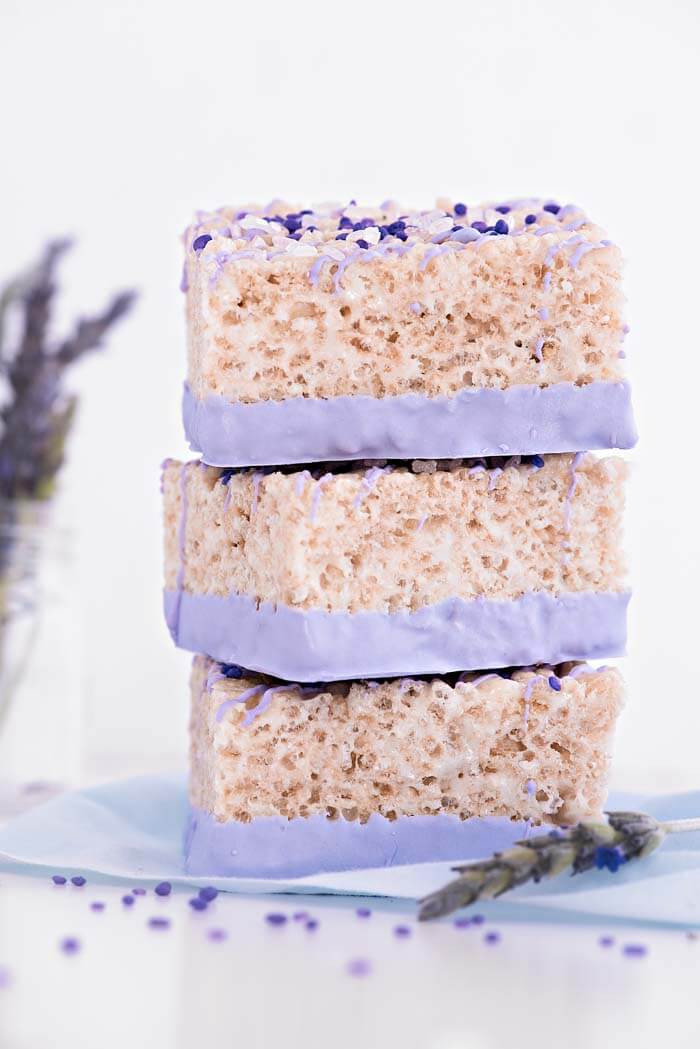 It has recently come to my attention that Rice Krispy Treats are generally considered a second rate dessert. I was at a wedding and this girl was going on and on about how she wished her mom had taught her to bake. Apparently, her mom was a complete disaster in the kitchen and the only thing she could ever make successfully was Rice Krispy Treats.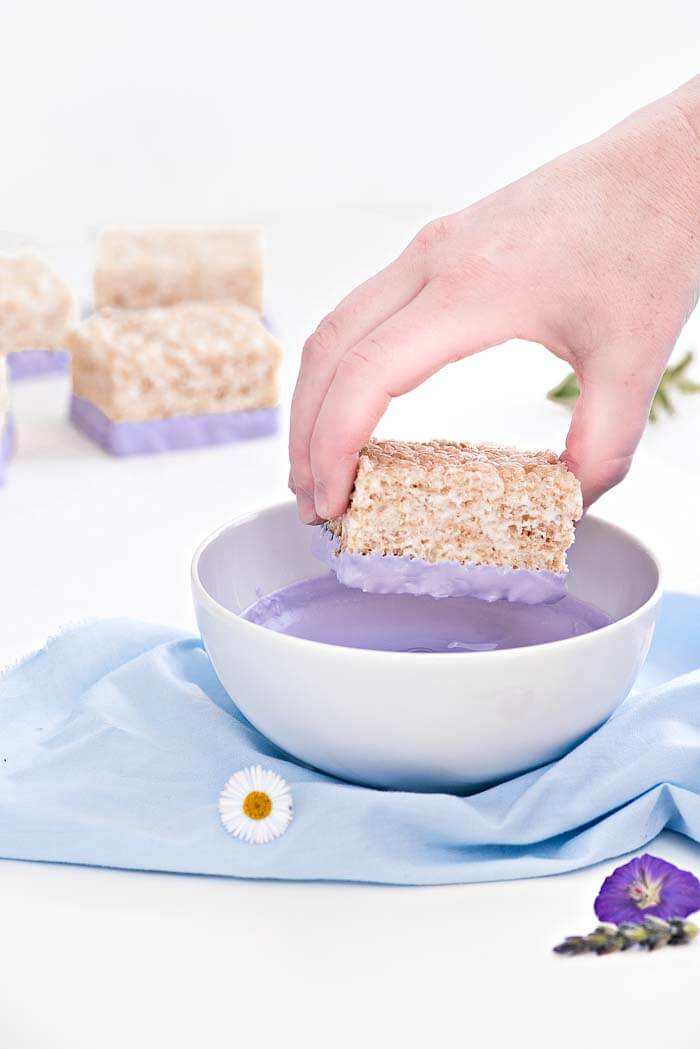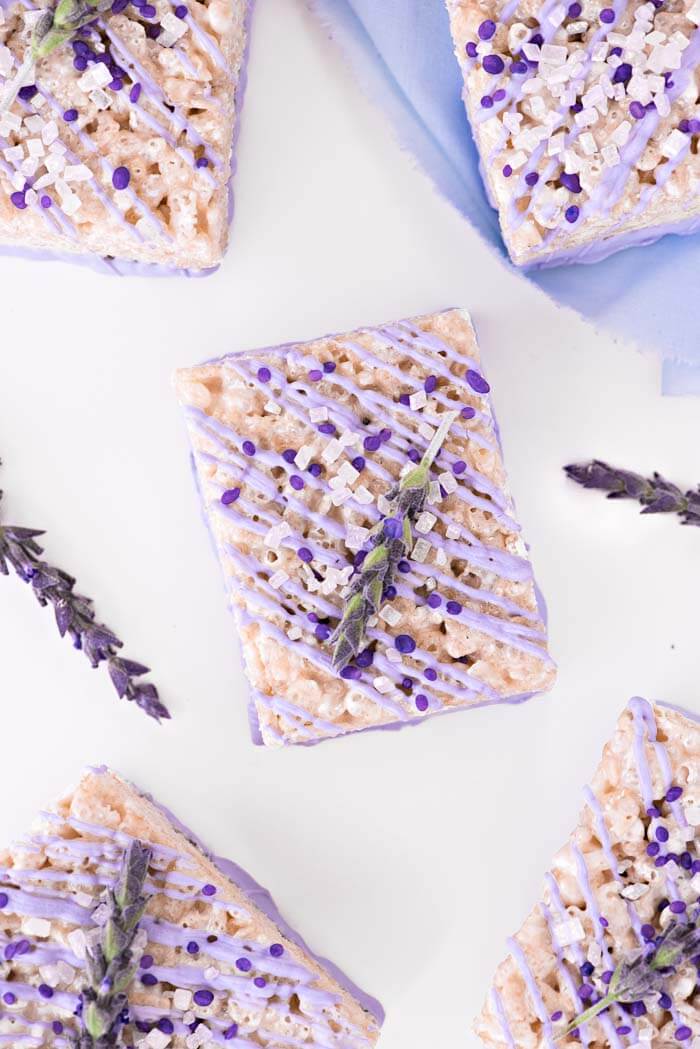 I mean, I understand Rice Krispy Treats only require a few ingredients and are very easy to make – but I think making an amazing batch is something to be celebrated. I don't think their ease should qualify them as anything less than TOP NOTCH.
And if I am being honest with you, a lot of times Rice Krispy Treats (the homemade ones – not the ones from the package) are a whole lot better than some fancy pants dessert that takes hours or even days to make. So I decided it was time to show everyone that Rice Krispy Treats CAN be impressive and elegant and straight up fancy AF.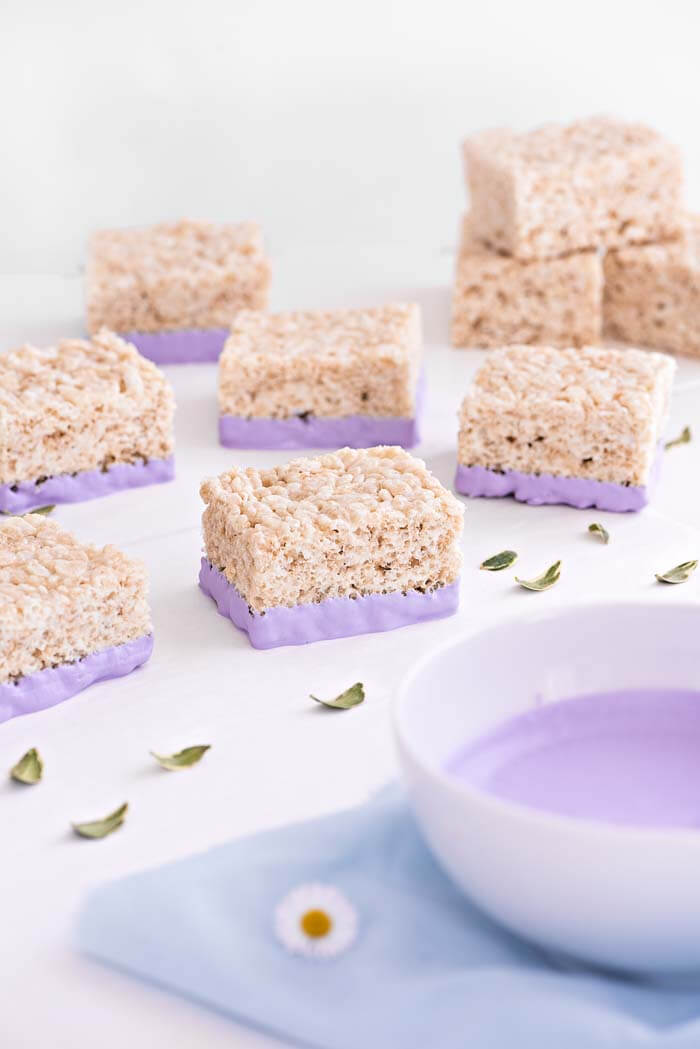 There are a lot of different ways you can do this, but for today's recipe I decided to go with a Lavender theme. The basics are still the same. Make the krispy's as you usually do, and just add a touch of Lavender Extract. Then, after they are all set up, cut them into bars and decorate. I dipped the bottoms in some purple melting chocolate, added some purple chocolate drizzle on top. Then, I added sprinkles (duh) and fresh lavender. And there you have it – a dessert fit for a queen!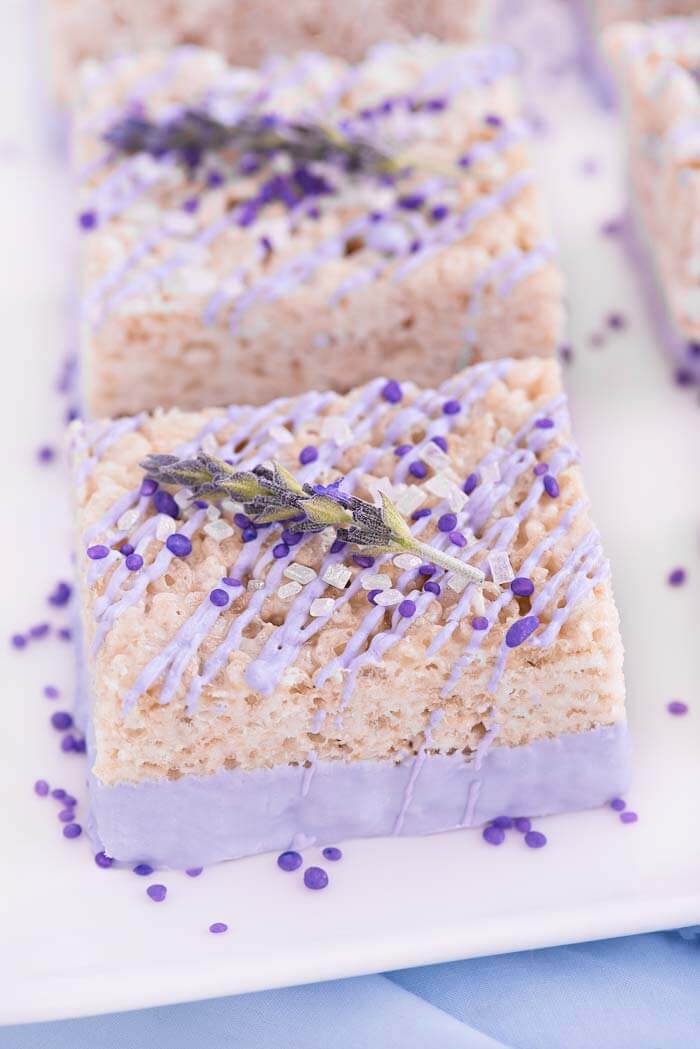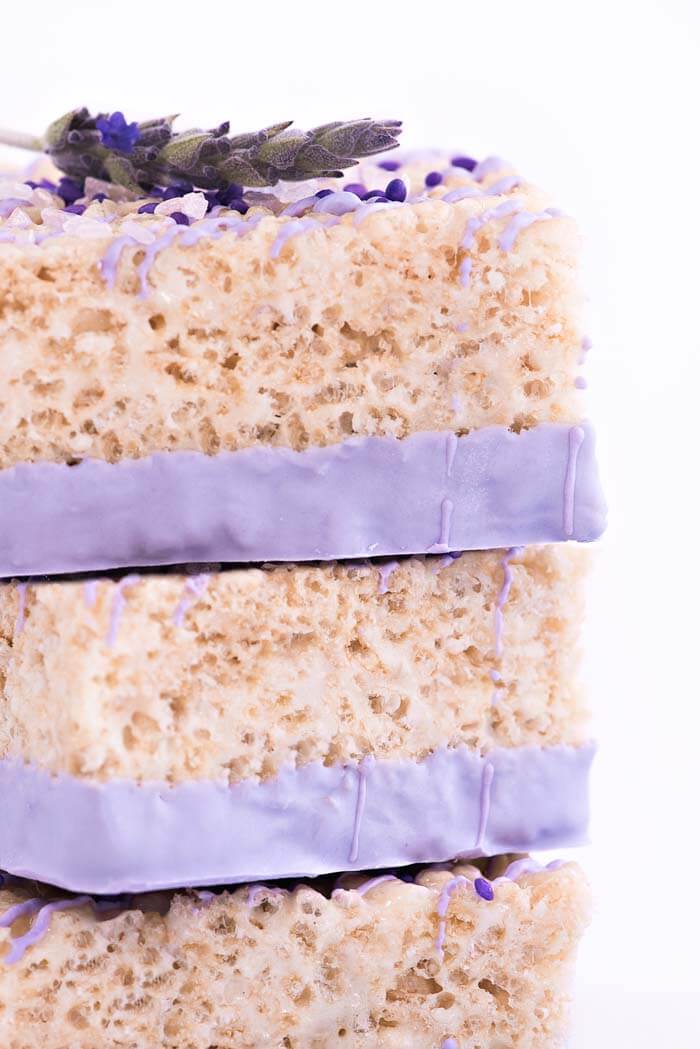 The moral of this story is, never underestimate your ability in the kitchen! These Rice Krispy Treats are proof that even the most novice baker can create IMPRESSIVE and DELICIOUS desserts!
LAVENDER RICE KRISPY TREATS
Ingredients
6 cups Rice Krispy Cereal

16 oz. bag or 9 cups mini marshmallows

4 tablespoons butter

1/2 teaspoon vanilla extract

1/4 teaspoon lavender extract

9 oz. Purple Melting Chocolate

Sprinkles

Fresh Lavender (optional)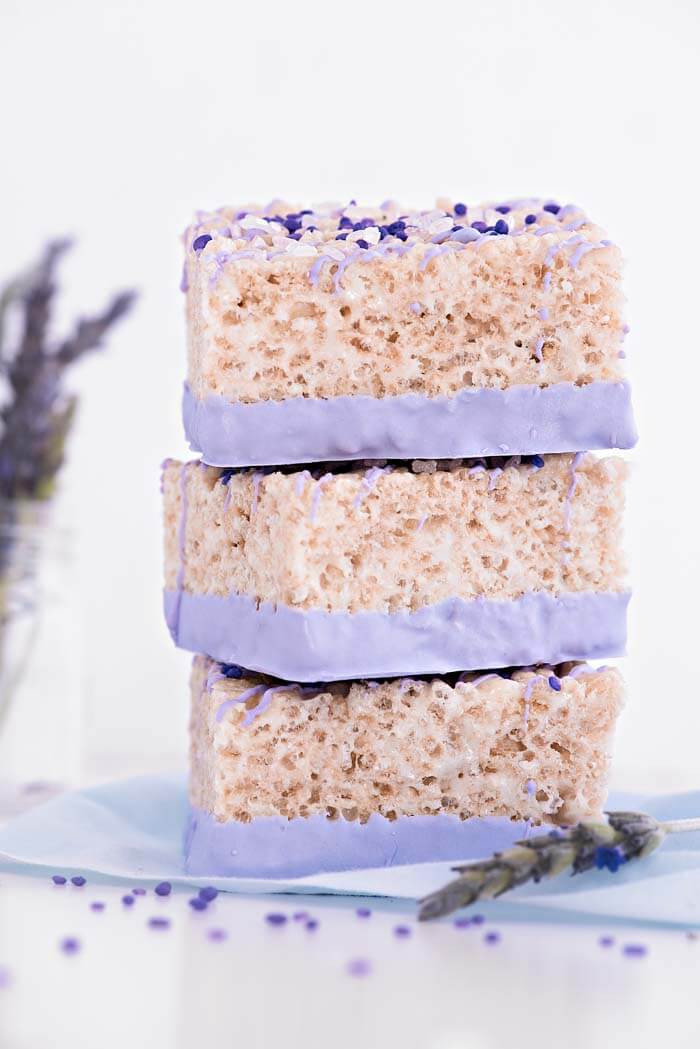 Instructions
In a large pot, melt butter and 7 cups of mini marshmallows on medium heat. Make sure you stir every 15-30 seconds until the two ingredients are combined.

Mix in vanilla and lavender extract.

Add in Rice Krispy cereal and mix until everything is coated in the marshmallow mixture.

Let sit for 1 minute to cool.

Stir in remaining marshmallows.

Spray a 9 x 13" pan with non-stick spray and then pour krispy mixture into pan.

Spray non-stick cooking spray on your hands and press mixture down into the pan until it is one even layer

Place in the refrigerator for at least 30 minutes.

While the krispys are cooling, place melting chocolate in a microwave safe bowl. Melt using 30 second intervals.

Once the treats and cooled, cut them into individual servings and place them on a baking sheet lined with parchment paper.

Dip the bottom 1/3 of a krispy into the melted chocolate. On the side of the bowl, tap off excess chocolate and then scrape the bottom.

Place back on parchment paper to dry. Repeat with remaining krispys.

Once you are finished dipping, place chocolate in a piping bag.

Drizzle chocolate over the top of the krispys.

Add sprinkles and fresh lavender.