Let's talk Chocolate Bark for a second. In my 10 plus years of baking I have discovered bark is the BEST dessert to make in a pinch. It's easy, it's quick, and it's visually stunning. And for all you Drama Queens out there who are all like "I can cook…but I can't bake" – guess what? There is NO BAKING required. So you have no excuse with this one.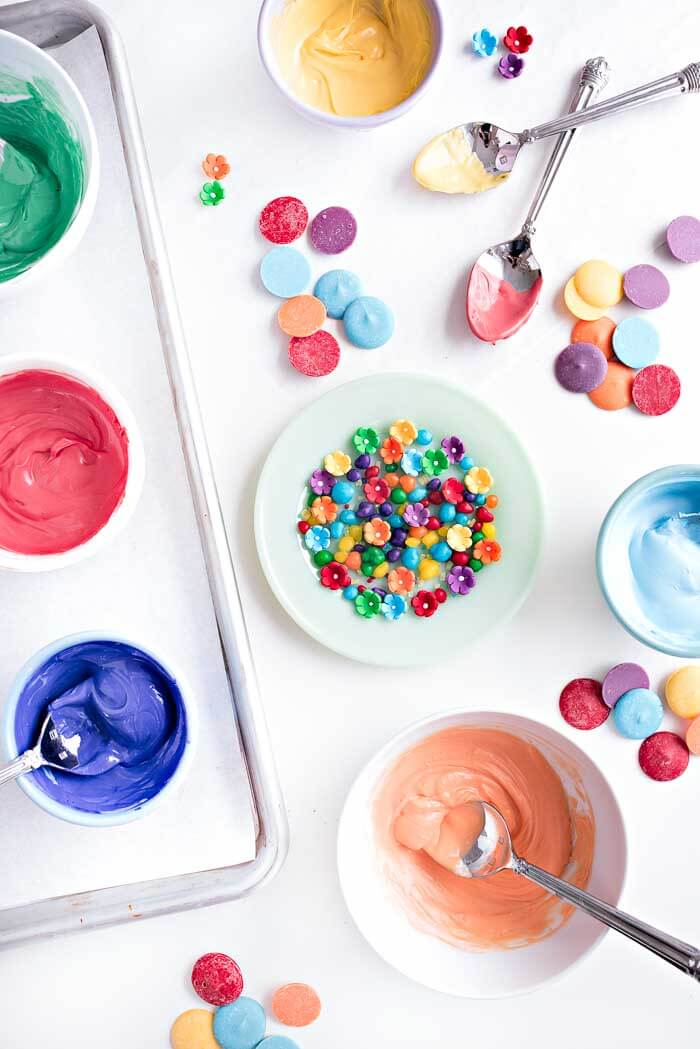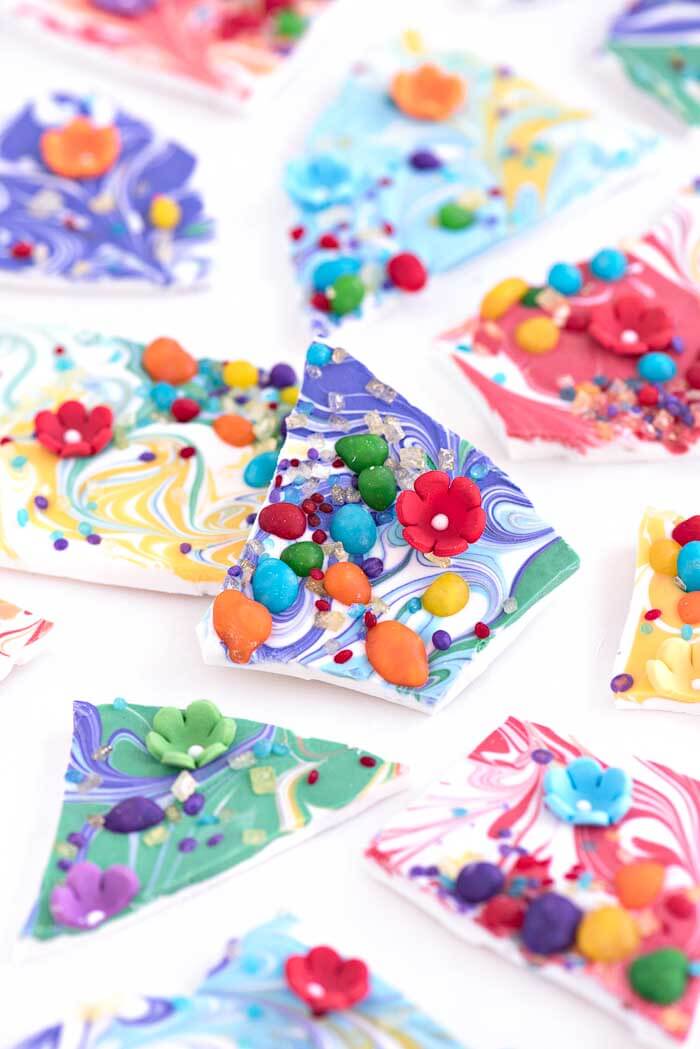 Basically, as long as you can use a microwave, you can make this dessert. It doesn't matter what kind of bark it is – Floral Bark, Cadbury Egg Bark, Sprinkle and Swirl Bark – you have the ability to make it. So, congratulations you have now acquired a skill you never even knew you had!
My only suggestion to those new bark makers out here is to watch out for over swirling. I know it's super fun to make those swirly motions, but too many of them can result in the chocolates mixing together and becoming one color rather than the magical swirl you are looking for. Here, less is more.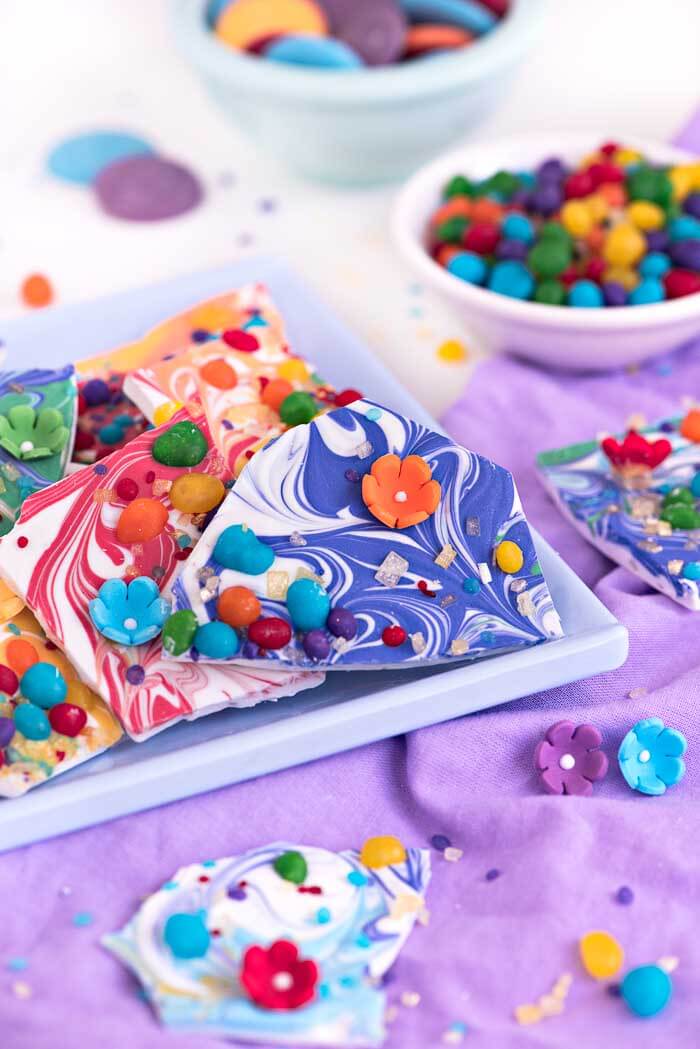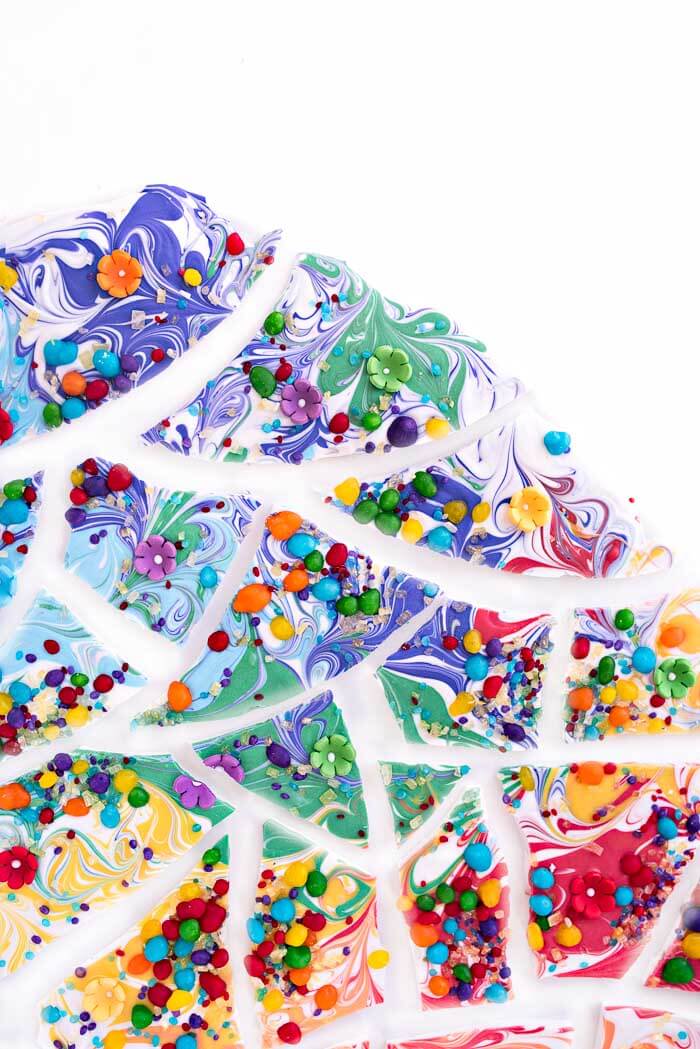 As for the candy, you can use any colorful toppings that you want. I love using Candyfetti because it adds a crunch and flavor you can't get from anything else. If you have not tried this stuff yet, get on it.
Now, all that is left to do is make yourself some bark!
RAINBOW CANDY BARK
Ingredients
RAINBOW CANDY BARK
1 lb white melting chocolate

2 oz red melting chocolate

2 oz orange melting chocolate

2 oz yellow melting chocolate

2 oz green melting chocolate

2 oz blue melting chocolate

2 oz purple melting chocolate

Candy or Sprinkles (optional)

Sugar Flowers (optional)
Instructions
RAINBOW CANDY BARK
Prepare a baking sheet with parchment paper.

Melt chocolates in the microwave at 20 second intervals until completely melted.

Spoon large dollops of white chocolate randomly on the pan. (Stay closer to the center. It will not fill up the whole pan)

Add dollops of colored chocolate to the white chocolate. (I put each color in it's own section)

Pick up the tray about 2 inches above surface and drop it back down. Repeat a few more times until chocolate is spread out evenly.

Using a knife or lollipop stick, make swirling motions all over the pan to combine chocolates together.

Immediately add sprinkles and sugar flowers.

Place chocolate in fridge for at least one hour.

Once it is set up, break into pieces and serve.