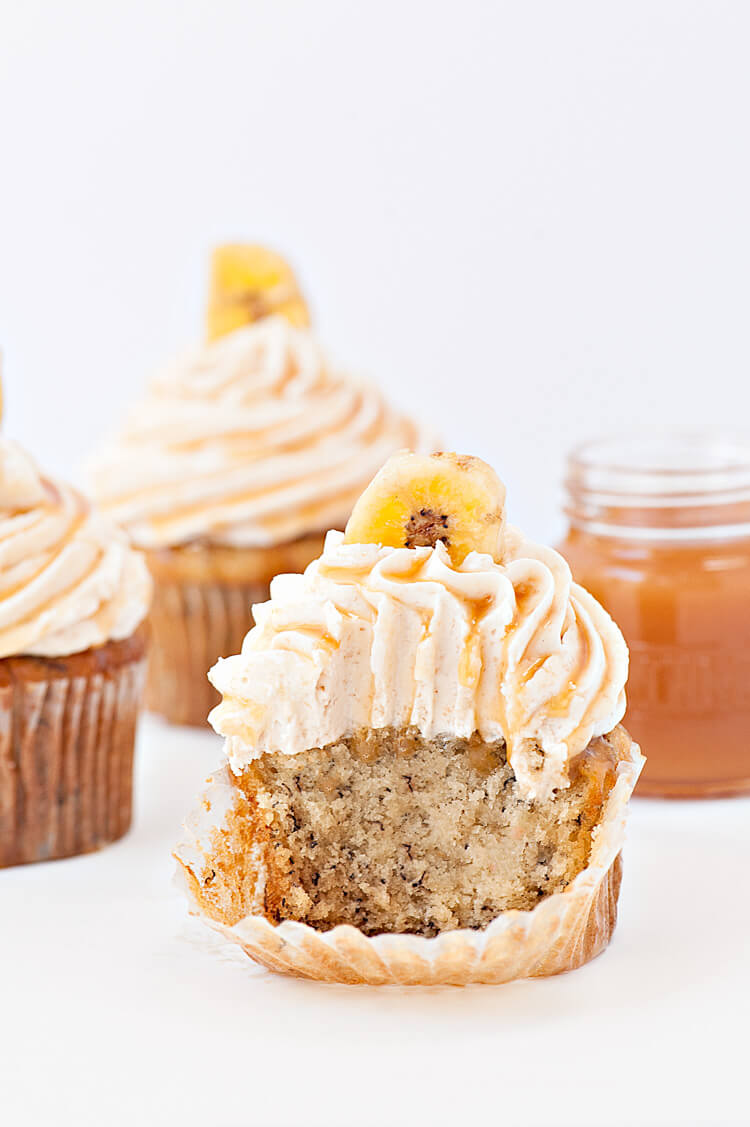 I hope everyone had a wonderful Thanksgiving! I spent most of my weekend relaxing with family, eating inappropriate amounts of food and answering A LOT of questions about why I'm not dating anyone. It was super fun.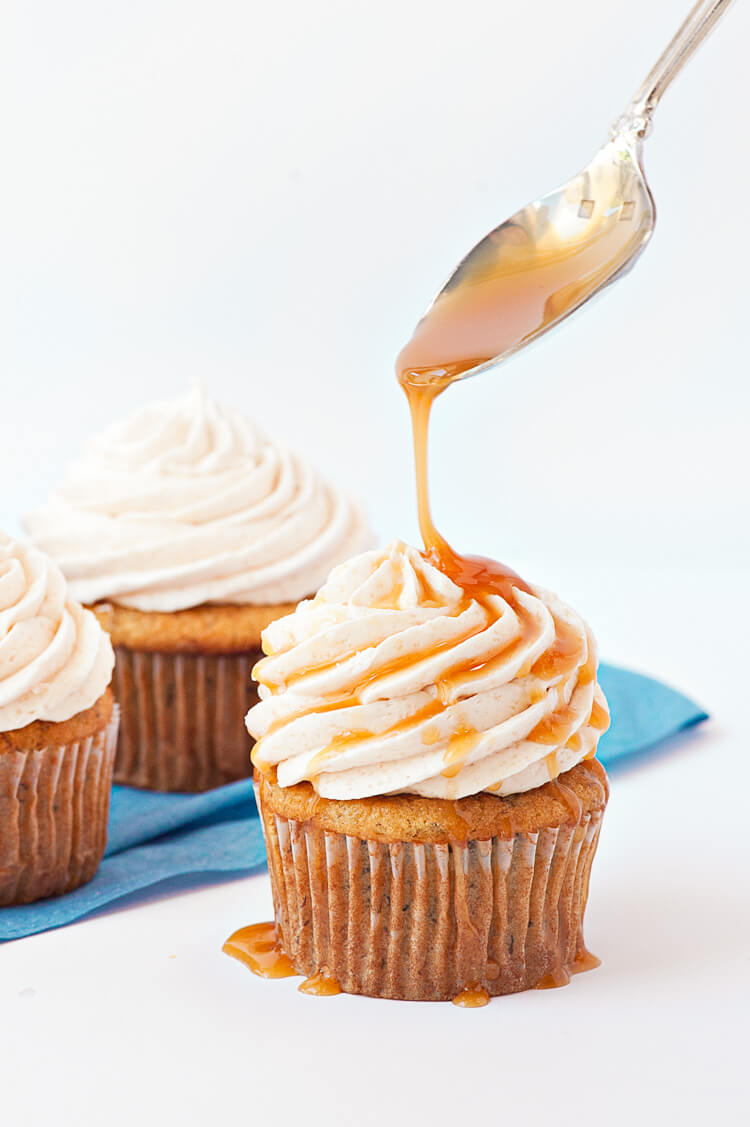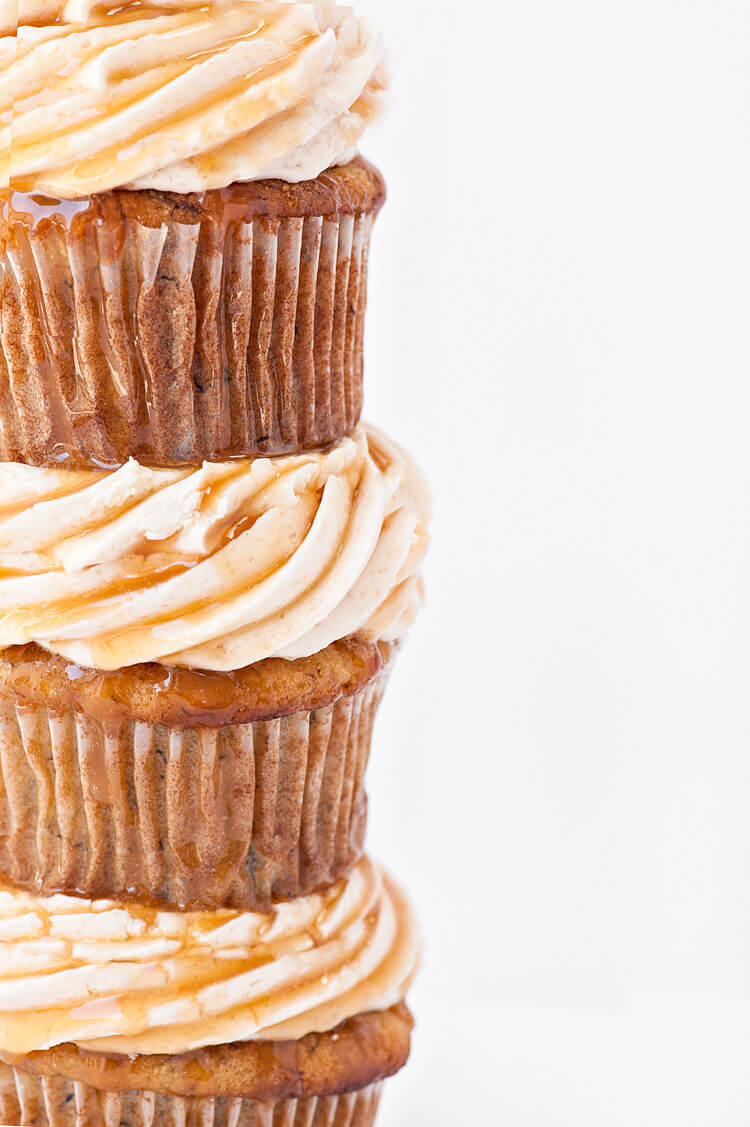 I was like guys…I'm FULLY aware I'm the only one in the family who is single. You don't need to rub it in. And after my 34 minute date last week, I think I deserve to take a little break from the dating world.
For now, I will stick to what I am good at…baking. This week I went for Banana Caramel Cupcakes. This banana cake base is a family favorite. I even used it for my cousins wedding cake a few months ago. You know if someone picks it for their wedding
The cupcakes themselves are not overly sweet, so the Caramel Buttercream is the perfect compliment. Personally, I like to save a little caramel on the side so I can drizzle a little extra on top. Then the banana chip adds the perfect little crunch!
BANANA CARAMEL CUPCAKES
Ingredients
BANANA CUPCAKES
1 cup unsalted butter, room temperature

1 cup sugar

2 eggs

1 tsp vanilla extract

1 cup mashed bananas (2- 3 bananas)

1 3/4 cups flour

1/2 teaspoons salt

2/3 teaspoons baking soda

5 tablespoons buttermilk
CARAMEL SAUCE
1 cup sugar

6 tablespoons water

4 tablespoons butter

1/4 c heavy cream

1/4 teaspoon salt
CREAM CHEESE ICING
1/2 cup salted butter, firm but not cold (if using unsalted add 1/8 tsp salt)

6 oz cream cheese

1/2 teaspoon vanilla extract

3 1/2 cups powdered sugar

Banana chips for decoration
Instructions
For the cupcakes:
Preheat the oven to 350 degrees and fill cupcake pan with liners.

In a medium bowl, mix together flour, salt and baking soda and set aside.

In a large mixing bowl, using an electric mixer with a paddle attachment, cream butter and sugar until light and fluffy (about 3 minutes).

Beat in eggs one at a time and then add vanilla extract.

In a separate small bowl, mash 1 cup of bananas. Once bananas are mashed, add them to the sugar mixture and mix until just combined.

On low speed alternatively add flour mixture and buttermilk until just combined (starting and ending with flour mixture). Do not over mix!

Using a medium ice cream scoop, scoop batter into each cupcake liner.

Let pans cool on top of a cooling rack.
For the caramel sauce:
Place sugar and water into a saucepan over medium low heat and stir until sugar has dissolved. Dissolve any crystals forming on the side with a wet pastry brush.

Once sugar has dissolved increase heat to high.

At this point do not stir the mixture directly. Now and then, using the saucepan handle, give the pot a swirl to keep the mixture moving. The mixture will start to bubble after a minute or so.

After 3-4 minutes the mixture will turn from a light amber to medium amber and then finally to a dark reddish brown color. Once the mixture starts to smoke, add the butter and heavy cream. The mixture will bubble wildly. Whisk to combine.

Transfer to a small bowl and set aside to cool.
For the cream cheese frosting:
Using an electric mixer with a whisk attachment, whip together butter and cream cheese on high speed until pale and fluffy.

Mix in vanilla extract. Add powdered sugar and beat until smooth, light and fluffy - about 3 minutes. Slowly stream in caramel sauce and mix until it is fully incorporated. (I like to save a little extra caramel on the side to add on top of the cupcakes).

Frost cupcake and add banana chip on top.