Wanna learn how to adult like a pro? I'm talking career satisfaction, healthy eating habits, and a gym routine you actually stick to. A satisfying dating life, a great 5 year plan, and an understanding of how to do your taxes correctly and efficiently.
Well, me too.
Sadly, I can't help you achieve most of these things because I am over here using cookies to bribe my cousin to help me with my taxes. But, what I can do for you is make the whole adulting process a little bit easier with this Boozy Confetti Oreo Milkshake (emphasis on the BOOZY).
This amazing creation was inspired by my little brother. He has never been a big sweets person (which I still don't understand), but he has always been down for an Oreo Milkshake. Unfortunately, he has had to do a lot of adulting himself lately, and like the rest of us, has quickly discovered that it SUCKS (hence the addition of the alcohol).
But, he is doing it – and I have never been so proud of him.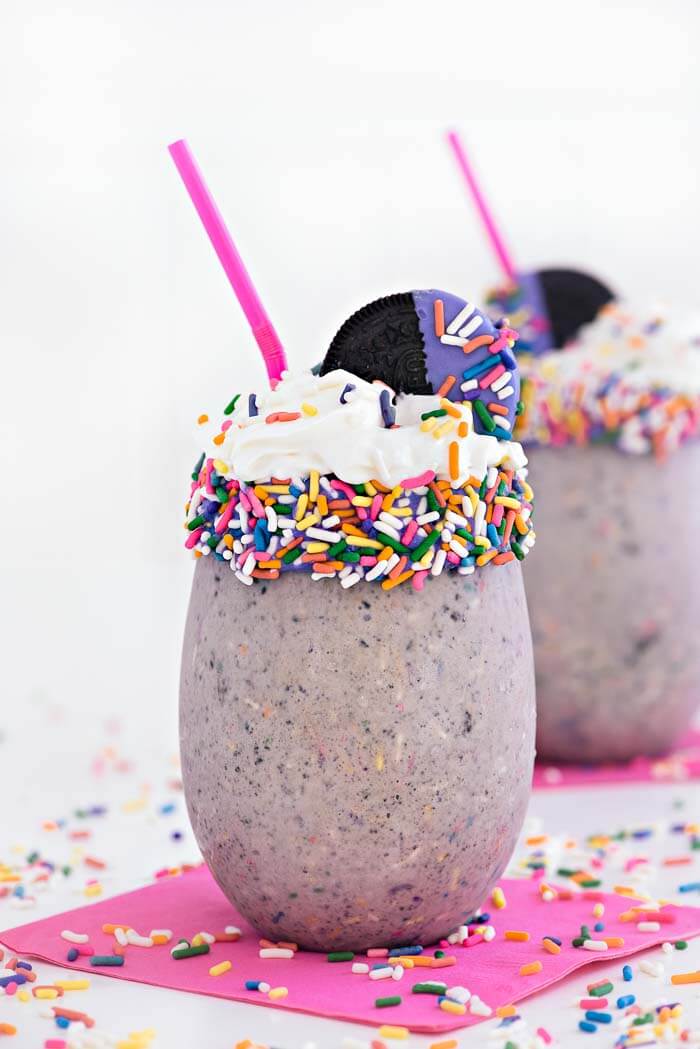 Zach has been there for me through the good, the bad and the ugly. I mean, you really gotta love someone to sit through the train wreck that was my first attempt at shooting a video tutorial (see below).
Yeah…not pretty. But he stuck it out…all 22 takes of it.
So I just wanted to take a second and say thank you for being the best brother anyone could ever ask for. And, I also wanted to let you know that no matter how hard being an adult gets, I will always be here for you – most likely with an Oreo Milkshake in hand.
Oh, and I'm still very sorry for that one time I ran over your foot with my car. It really was an accident.
So if you or someone you know is having a hard time adulting, it's time to break out the oreos and the vodka and make one of these Boozy Confetti Oreo Milkshakes. You won't regret it.
BOOZY CONFETTI OREO MILKSHAKE
Ingredients
16 oz. vanilla ice cream

6 Oreos

1/4 cup high quality vodka (like Wheatley Vodka)

1/2 cup Sprinkles, plus more for rim

4 oz purple melting chocolate

Whipped cream
Instructions
Place sprinkles into a shallow bowl and put aside.

Place purple melting chocolate in a microwave safe bowl and melt in 30 second increments (stirring between each).

Dip rim of cup into melted chocolate.

Roll the chocolate rim in the bowl of sprinkles so it is completely covered.

Place ice cream, Oreos, vodka and 1/2 cup sprinkles in a blender. Blend until combined.

Pour mixture into sprinkled cup.

Add whipped cream and a sprinkle Oreo.