With a buttery crust and a filling that only takes 10 minutes to make, this Classic Pecan Pie Recipe is going to be your new favorite holiday tradition
Even though my family served it every year at Thanksgiving, Pecan Pie was something I spent most of my life ignoring. It was just not something I was ever that interested in. But, all that changed when I met the Pie Sisters. These girls taught me that when Pecan Pie is done correctly, it is literally heaven in your mouth. It is sweet, smooth and crunchy all at the same time. It is unbelievable.
How to Make This Classic Pecan Pie
I have made a lot of pies in my life, and this one is by FAR the easiest.
Mix Ingredients Together. This takes 5 minutes and you don't need a fancy mixer – just a whisk.
Add Pecans to Pie Crust (more on the pecans below)
Pour in the mixture over the pecans.
Bake.
Literally the easiest thing ever.
What Pecans Should You Use For A Classic Pecan Pie?
I like to use a mixture of chopped pecans and pecan halves. I think the mixture gives the pie the best texture.
Can I Use Store-Bought Pie Dough?
Yes, you can. If you choose to use a pre-made crust, just make sure the pie dough is no longer completely frozen when you add the pecans and filling.
Homemade Pie Crust
It's really the best thing ever. Here is a step-by-step video on how to make this pie crust. 
Also, there are a few techniques you can use to make your crust look pretty in the pie plate. You can check out my post on a few different ideas here.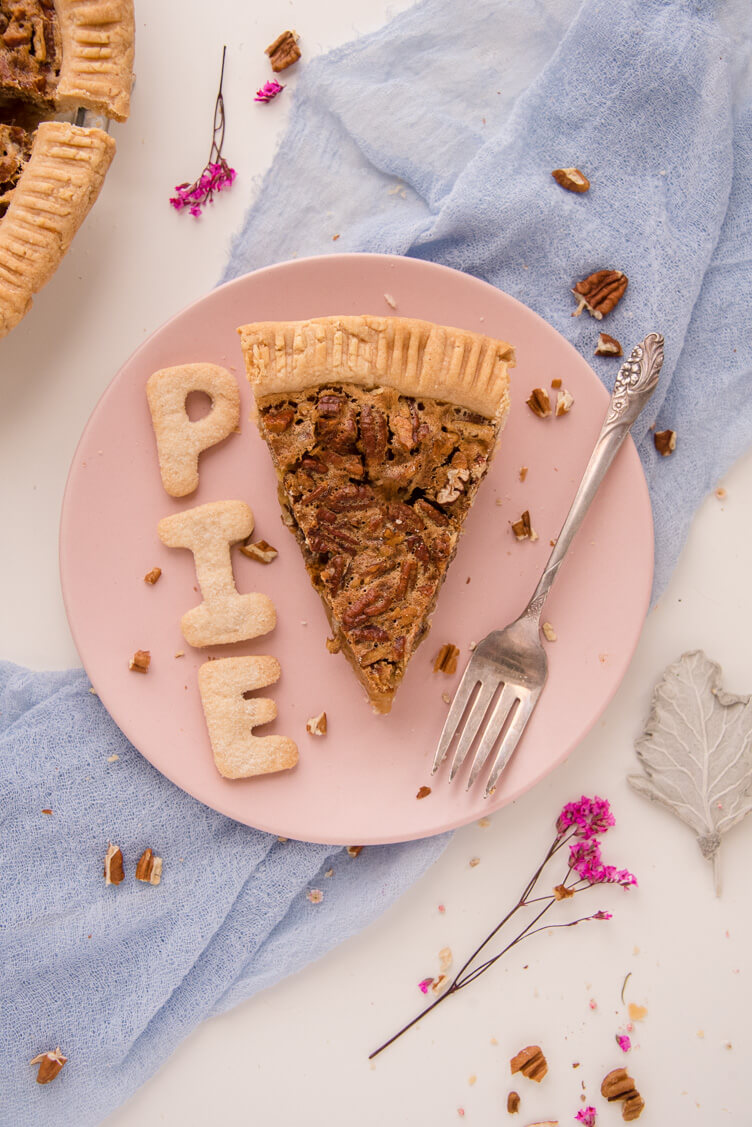 CLASSIC PECAN PIE
Ingredients
CRUST
2 cups flour

1 tsp salt

1 tsp sugar

2/3 cup + tbs cold unsalted butter (cut into cubes)

7 tablespoons cold milk
PIE FILLING
1/3 cup unsalted butter, melted

1 cup light corn syrup

2/3 cup sugar

3 eggs

½ tsp salt

1 tablespoon maple syrup

3/4 cup chopped pecans

1 cup pecan halves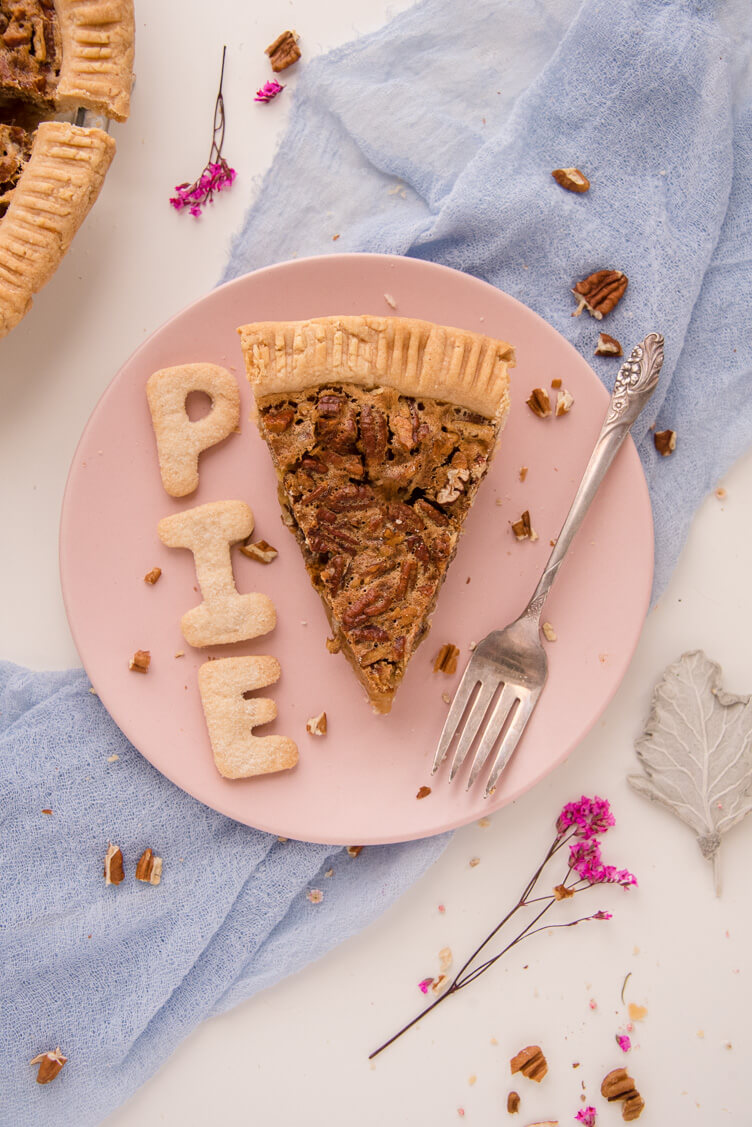 Instructions
For the crust:
Combine flour, salt and sugar with a light whisk.

Add the shortening. With a dough blender or your hands work the cold butter cubes into the dry ingredients until it's in pea-size pieces.

Add cold water and milk 1 tablespoon at a time, tossing with fork until all flour is moistened and the dough comes together.

Gather dough into a ball and then shape it into a flattened round on a floured surface.

Roll pie crust into a circle 2 inches larger than the upside down pie plate.

Fold crust into fourths and place into pie plate. Unfold and ease into plate.

Using kitchen shears, trim dough to a 1-inch overhang and create desired decorative edge.

Once you have finished the crust, use a fork to poke a few holes into the bottom.

Use the back of the fork to press the edges of the crust up against the side of the pie plate.
For the filling:
Preheat oven to 350 degrees.

In a large bowl, whisk together melted butter, corn syrup, sugar, maple syrup, and salt until combined.

Once combined, add the eggs. Whisk until they are fully blended with the mixture. (It should be a solid pale yellow color with no specks of dark yellow yolk)

In the bottom of the crust spread the pecans evenly.

Pour mixture over pecans.

Place pie on a standard cookie sheet and bake for 50-65 minutes or until filling is coagulated and let cool completely before cutting.
Notes
** To test if the pie is done, take a knife and poke it into the top going past the pecans and into the filling. If it is done the filling will be coagulated and somewhat solid, if it is still runny bake for a few more minutes.
*One 9 Pie