Soooo something very strange happened last night. Donald Trump is now the president of the United States of America?? I spent the night very confused as I watched it come closer and closer to a reality. And what do I do when I'm nervous…I eat. Luckily for me, I had these Lavender Toffee Ice Cream Sandwiches on hand.
I'm not going to tell you how many I actually ate, because that would be embarrassing. But, I am going to spare you my opinions about the future of the country, and talk about these Ice Cream Sandwiches instead. To be honest, I understand them much more than what happened last night.
I discovered my love for lavender when I created this Honey Lavender Cheesecake. The floral flavor was not super overpowering like I find most rose flavored items to be. Instead, it was just a subtle and refreshing taste. As I was shoveling the cheesecake in my face, I thought "This would be a great ice cream flavor!"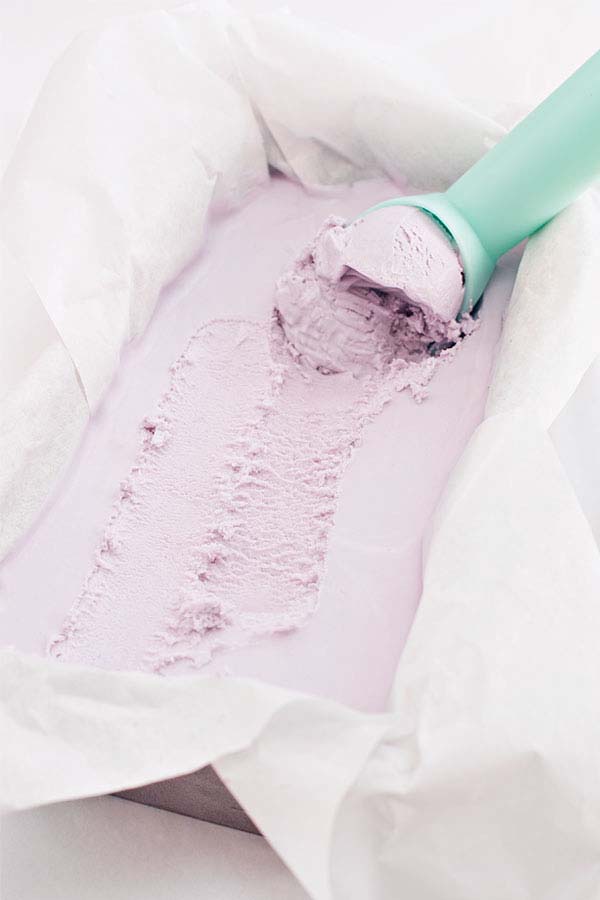 It turns out, I was right. Then, to take tone step further (because I am an overachiever) I decided to turn it into an Ice Cream Sandwich. The subtle lavender flavor pairs extremely well with the soft and crunchy oatmeal toffee cookie. It's basically heaven in your mouth. I also have first hand experience that these are so good, they will allow you to forget all the troubles going on in your life. Here's to hoping we get through the next four years alive…
LAVENDER TOFFEE ICE CREAM SANDWICHES
Ingredients
LAVENDER ICE CREAM
1 can (14 oz.) sweetened condensed milk

1 tablespoon pure vanilla extract

2 cups cold heavy cream

1/2 teaspoon lavender extract

Purple food coloring

1 Loaf Pan
OATMEAL TOFFEE COOKIES
1 cup unsalted butter, softened

2 cups packed light brown sugar

2 eggs

2 teaspoons vanilla extract

1-3/4 cups all-purpose flour

1 teaspoon baking soda

1 teaspoon ground cinnamon

1 teaspoon cream of tartar

1/2 teaspoon salt

3 cups quick-cooking oats

1-1/3 cups (8 oz. pkg.) Toffee Bits, divided
Instructions
For the ice cream:
In a medium bowl, mix condensed milk, and vanilla extract.

In a stand mixer with a whisk attachment, beat the heavy cream until stiff peaks form.

Fold whipped cream into condensed milk mixture.

Stir in lavender extract and a few drops of purple food coloring.

Line a 4 1/2 x 8/12 inch loaf pan with parchment.

Pour ice cream mixture into pan.

Place loaf pan into the freezer overnight, or until firm.
For the cookies:
Heat oven to 350°F and lightly grease cookie sheet or line with parchment paper.

With a standard mixer with a paddle attachment, beat butter and brown sugar on high speed until well combined.

Add eggs and vanilla on medium speed and mix until just combined.

Add flour, baking soda, cinnamon and salt on slow speed and beat until just blended

Stir in oats and 1 cups of toffee bits.

Use a medium Drop 1 1/2 inch balls of dough on cookie sheet about 2 inches apart. These cookies will spread.

Bake 10 to 12 minutes or until edges are lightly browned.

Immediately sprinkle on some of the leftover toffee bits.

Let cool for one minute on the baking sheet and then transfer to wire rack.
Assembly:
Pair cookies according to size.

Place cookies in the freezer for at least 30 minutes.

Put a scoop ice cream into the middle of one of the cookies.

Sandwich the ice cream with the other cookie.
Notes
*Makes about 9 sandwiches