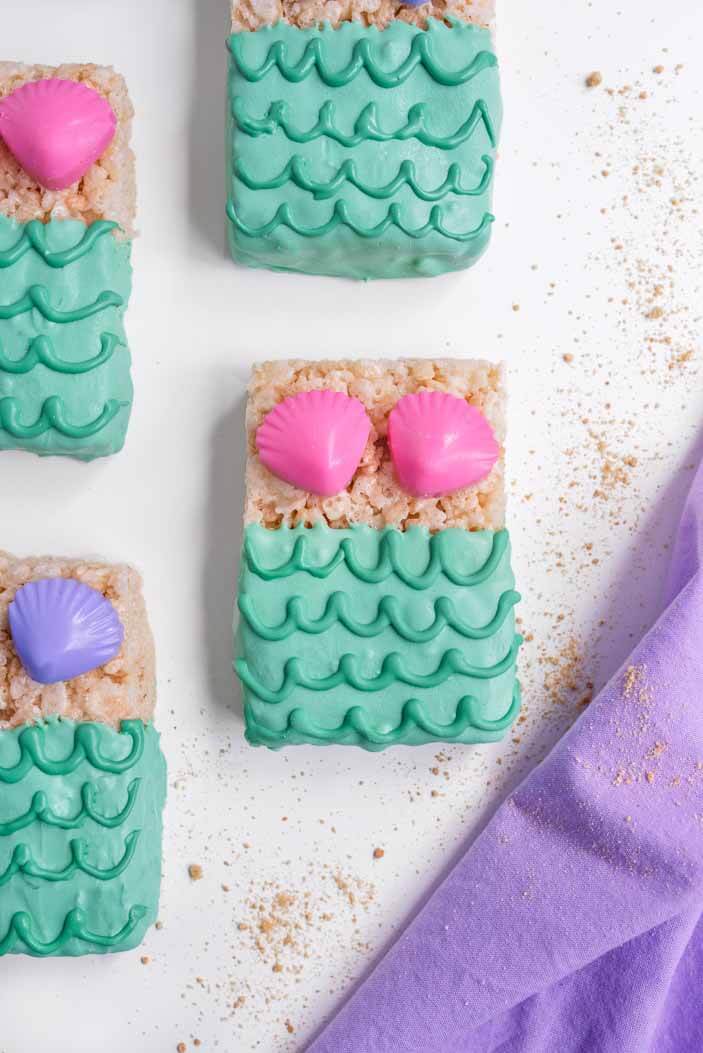 I love Rice Krispy Treats. Let me tell you why…1. They are super easy to make. 2. They are absolutely delicious. I mean, have you ever met anyone who doesn't like rice krispy treats? 3. They can be the base to SO many fun and cute treats! Like, for example, these mermaid rice krispy treats.
Dipping rice krispy treats are one of the most popular ways to dress up this fun treat. These mermaid rice krispy treats use the dipping technique and then take it one step further adding white chocolate scales and some white chocolate sea shells.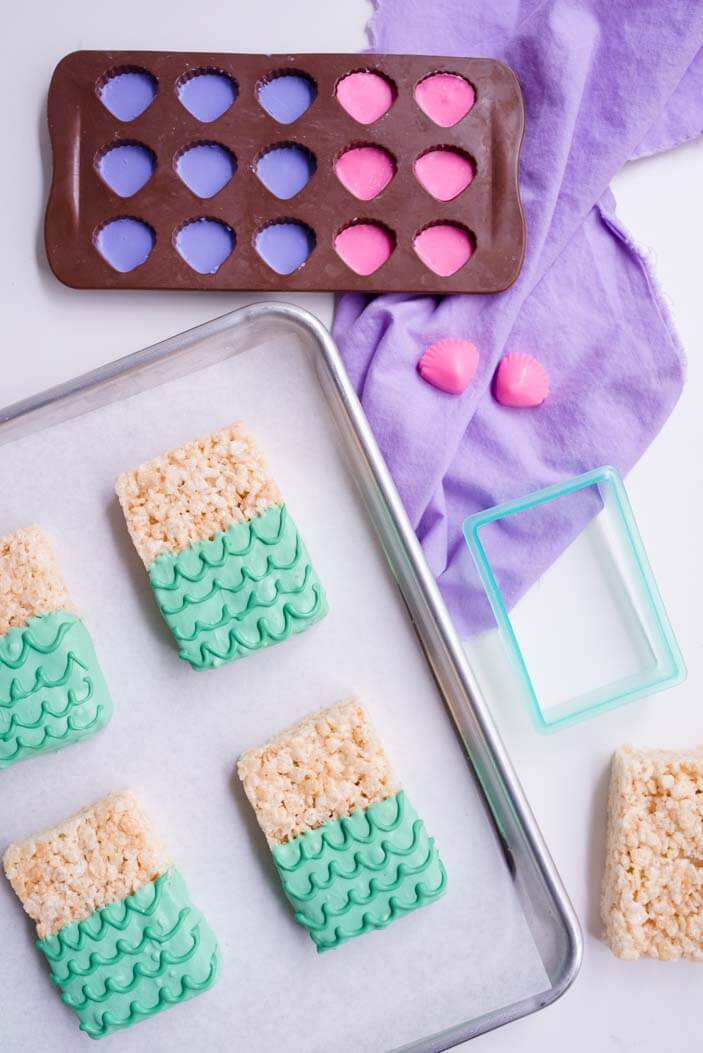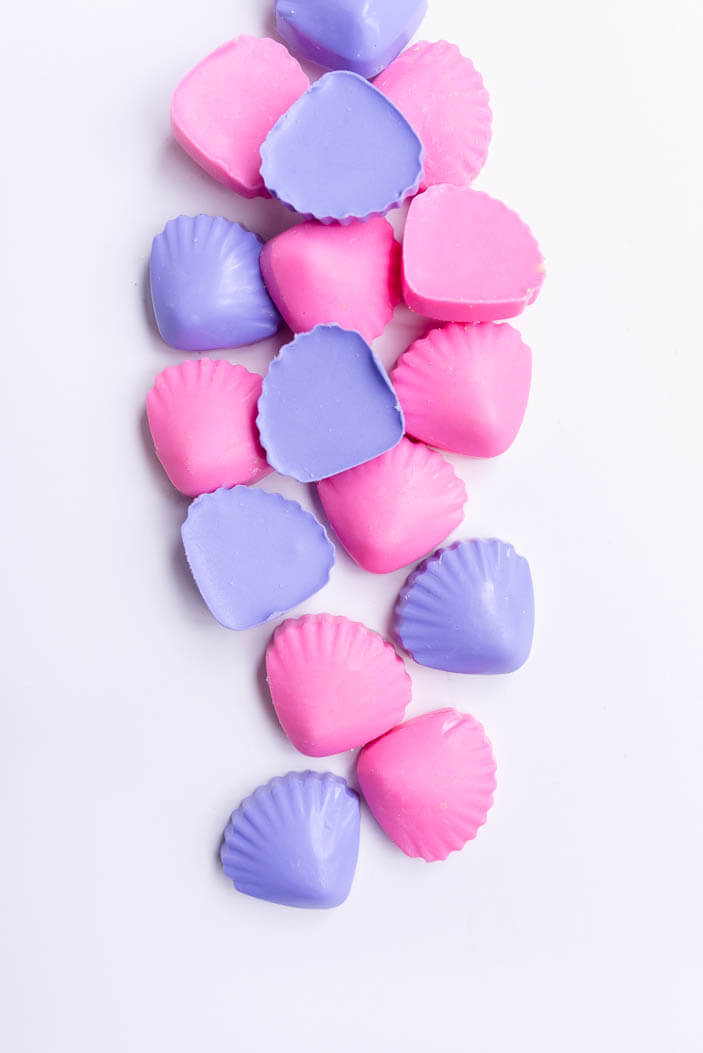 Overall, they are very easy to make – but these is one key thing you need to ensure your success with these. And that is quality melting chocolate.
WHY YOU NEED GOOD MELTING CHOCOLATE
Bad melting chocolate can result in a few different scenarios. Your chocolate can be chunky – it never gives you that smooth finish you want. It can cause "elephant skin" where the chocolate separates and creates a strange elephant skin like texture after you dip. Or, it can easily cause the chocolate to crack as it dries on your treat.
I have found that Merckens Melting Chocolate is the best when it comes to melting chocolate. It melts nicely and gives the dip a nice even coat with a smooth finish. Guittard Melting Chocolate works wells too. If you are going to go with the Wilton Candy Melts, you might run into a few of the previously mentioned problems. So if you do decide to use Wilton, make sure you have some of these handy Paramount Crystals to help thin out the melted chocolate.
HOW DO YOU COLOR MELTING CHOCOLATE?
One of the best parts about using melting chocolate is the fact that you can color your chocolate any color you want! But a lot of people make the mistake of using the typical water-based food coloring to try to color their chocolate. You know, the ones you use to color frosting or cake batter. The water in these will cause your chocolate to seize up and it will be ruined. So when you are coloring your melting chocolate, make SURE you use candy coloring and not regular food coloring. You can easily find these on amazon, in baking or craft stores, and even some grocery stores.
And the last thing you guys are going to need are these silicone shell molds for your sea shell bras! They are the perfect size for these Mermaids!
Happy Baking!
MERMAID RICE KRISPY TREATS
Ingredients
RICE KRISPY TREAT
12 cups crisped rice cereal

6 tablespoons butter, melted

24 oz mini marshmallows
MERMAID DECORATIONS
6 oz melting chocolate for seashells

20 oz melting chocolate for the light green tail

6 oz melting chocolate for the dark green scales

Candy Coloring (I used pink, purple and green)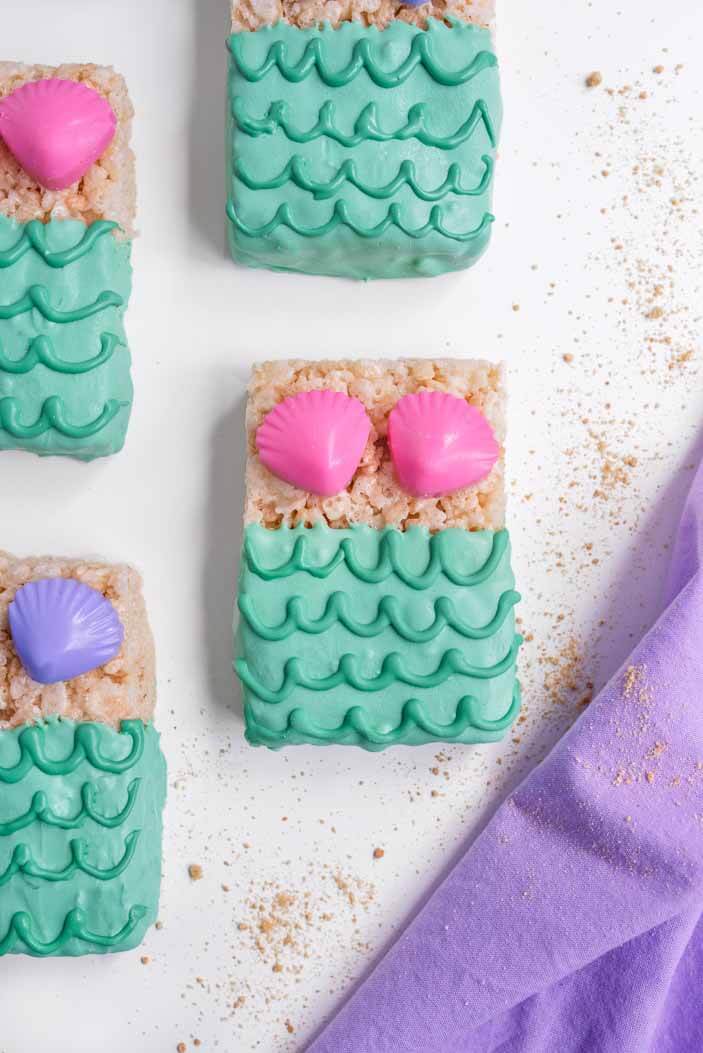 Instructions
RICE KRISPY TREAT
In a large pot, melt butter and mini marshmallows on medium heat. Make sure you stir every 15-30 seconds until everything is melted.

Take the pot off the heat and add the crisped rice cereal. Stir until all the cereal is fully coated.

Pour mixture onto prepared parchment paper and create one even layer.

Place in the fridge for at least 30 minutes.

Once the krispies are cool, remove them from the baking sheet and cut them into rectangles (4" x 2.5").
MERMAID DECORATIONS
In a microwave safe bowl, melt 6 oz of of melting chocolate in 30 second intervals until melted. Divide the chocolate in half.

Using candy coloring, color one half pink and one half purple. Fill each silicone shell cavity about half way up. Set aside to let the chocolate set.

Prepare a fresh sheet of parchment paper on a baking sheet or table.

In a deep microwave safe dish, melt 20 oz of of melting chocolate in 30 second intervals until melted.

Use candy coloring to color the chocolate light green.

Dip half of each rectangle rice krispy in the green chocolate. (It is easier if you tilt the bowl slightly to one side to pool the chocolate when you dip). Set on prepared parchment.

Use remaining chocolate to attach seashells to the non-dipped part of the rice krispy.

Set mermaids aside so the chocolate can set.

Prepare a piping bag with a small round piping tip. Set aside.

In a microwave safe bowl, melt 6 oz of of melting chocolate in 30 second intervals until melted.

With candy coloring, color this chocolate a dark green.

Place chocolate in prepared piping bag.

Pipe small "u" shapes across the light green chocolate.

Allow chocolate to set before serving.