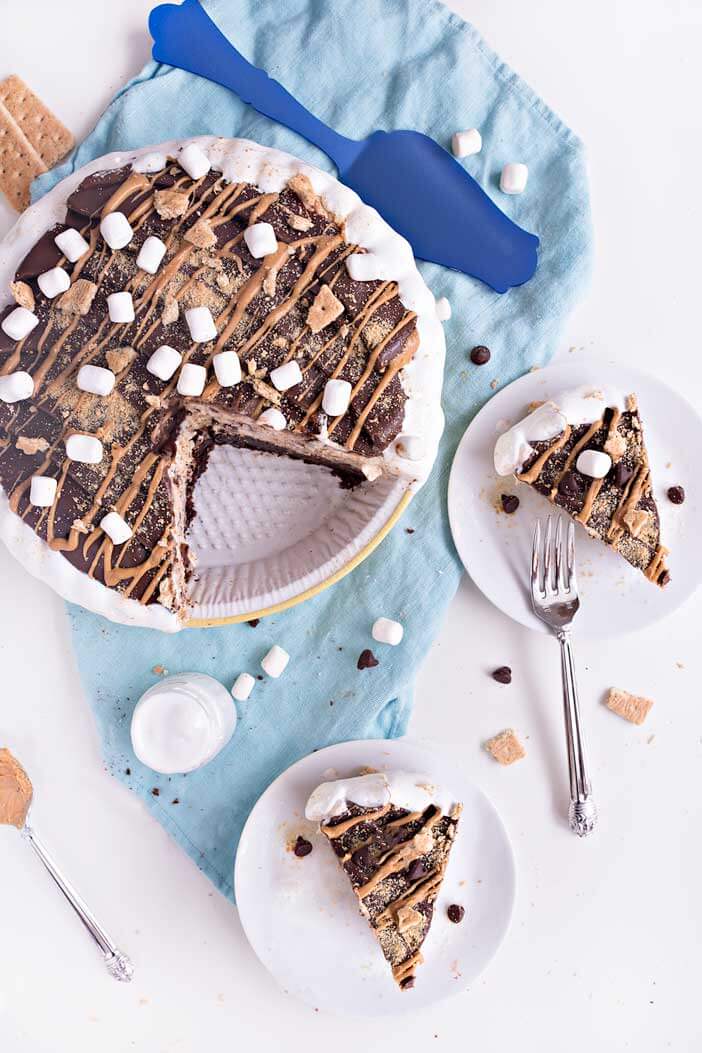 Since I was little, S'mores have always had a special place in my heart. Something about the graham cracker, marshmallow and chocolate combination really does something for me. I know S'mores is usually a summer delicacy, but I like to mix things up and bring it out in November – usually for Thanksgiving.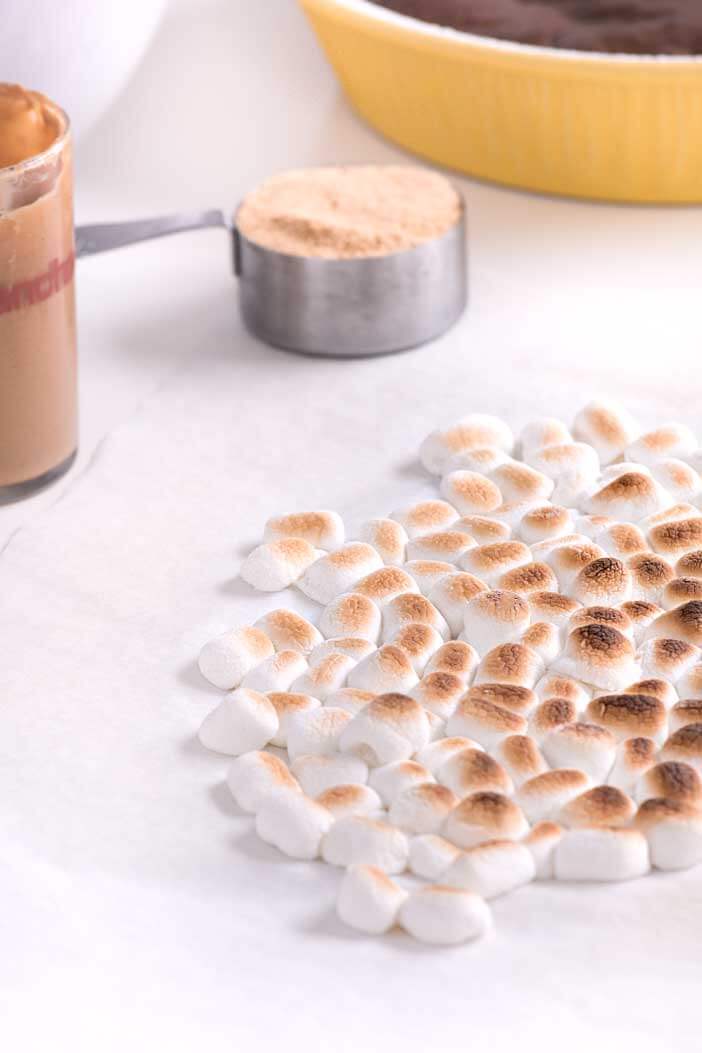 There are two reasons for this –
1. My favorite pie ever is this S'mores Pie recipe my mom cut out of the back of a Southwest magazine years ago. And I believe, if you are going to make an EPIC pie, Thanksgiving is the time to do it.
2. My friend Abbi loves S'mores more than I do. The girl FREAKS out over anything S'mores flavored (and usually sends me a picture of said S'mores item). And Abbi's birthday is November 22 – right around Thanksgiving.
So here we are, the week of Thanksgiving, and I have made a Peanut Butter S'mores Ice Cream Pie (with a brownie base of course)! I obviously already sent pictures of it to Abbi, and she has been patiently waiting for the recipe so she can make it for her birthday.
So have at it Abs! But for everyone else, be warned you have to make this the day BEFORE you are serving it because it has to sit in the freezer overnight! And if you are not a brownie fan, I suggest a standard graham cracker crust on the bottom!
I hope everyone has a great Thanksgiving!
PEANUT BUTTER S'MORES ICE CREAM PIE
Ingredients
S'MORES PIE
Boxed Brownie (plus ingredients to make this)

1 can (14 oz) sweetened condensed milk

2 teaspoons pure vanilla extract

2 cups cold heavy cream

1/2 cup graham cracker crumbs

3/4 cup semi-sweet chocolate chips

1/2 cup peanut butter, melted (plus more for drizzle)

2 cups mini marshmallows, divided

4 graham crackers, roughly chopped

1 jar Richard's Hot Fudge

1 jar marshmallow fluff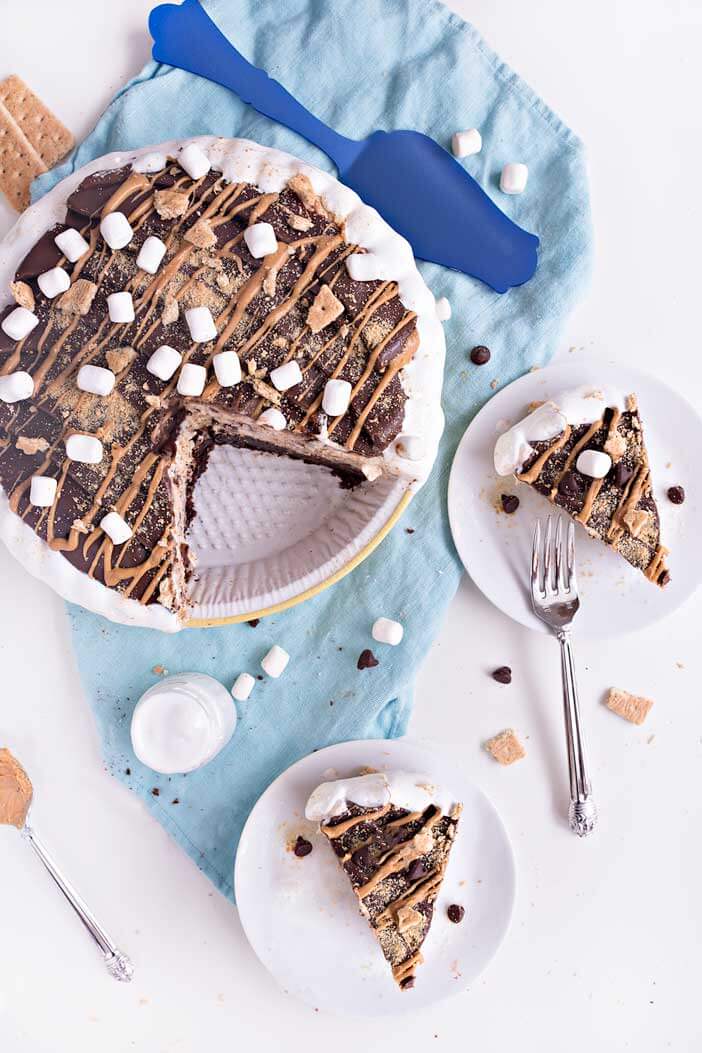 Instructions
S'MORES PIE
Prepare a boxed brownie according to the instructions on the back. Bake in a deep dish pie dish and allow to cool.

Pre-heat the oven on Broil (HIGH). Place 1 1/2 cups of mini marshmallows on a baking sheet with parchment paper. Broil in the oven for 1 -2 minutes or until the tops start to turn brown. Set aside. 

In a medium bowl, mix together condensed milk and vanilla extract.

In a stand mixer with a whisk attachment, beat heavy cream on high speed until stiff peaks form.

Fold whipped cream into condensed milk and vanilla mixture.

Once the whipped cream is fully incorporated with the condensed milk, stir in graham cracker crumbs, crushed graham crackers, chocolate chips, and broiled marshmallows.

In a small, microwavable bowl, melt peanut butter.

Pour 1/2 of the ice cream mixture on top of the cooled brownie. Drizzle half of the peanut butter over the ice cream. Use a knife to swirl in the peanut butter. Repeat with the remaining ice cream and peanut butter.

Place in the freezer overnight or until completely frozen.

Once the ice cream is frozen, place hot fudge in a large piping bag fitted with a large flat tip. Pipe up and down along the top of the pie to cover the ice cream.

Place marshmallow fluff in a large piping bag with a large star tip. Pipe a border around the edge of the pie and immediately place back in the freezer for at least one hour.

Allow to sit for 10 minutes before cutting and serving.
Notes
*Makes 1 Pie
*I suggest placing a knife in hot water and dabbing it off before cutting.